Vampires are hot stuff right now. The preternatural creatures leer seductively from the covers of books and lust dramatically after their prey in television shows and movies. A glance at recommended reading lists for those who enjoyed Twilight, Stephenie Meyer's wildly popular vampire-romance series, yields hundreds of vampire entries, the majority published in the past three years.
This isn't the first time the undead have become a cultural obsession. Religious scholar J. Gordon Melton traces the word vampire to the Slavic "upyr," first recorded in 1047. Folkloric tales of night-walking monsters that drink blood to gain immortality surface in the chronicles of ancient Mesopotamia, Africa, and Europe. But the vampire's most recent resurrection owes more to two 19th-century tales, John Polidori's The Vampyre and Bram Stoker's Dracula. Both authors transformed the vampire from a bloated, red-faced, flabby creature into a monster with sex appeal—sleek and suave, epitomized by Twilight's hero, Edward Cullen—shifting from the purely scary to the intriguing and tempting.
Anne Rice, whose Interview with the Vampire (1976) and subsequent Vampire Chronicles have established her as the premier vampire-centric storyteller of this generation, believes the creatures continue to fascinate because we see something of ourselves in them.
"The vampire is a monster who preys on his brothers and sisters, but loves them and needs them emotionally as well as physically," she told Christianity Today. "There are times when almost anyone might confess to feeling like a vampire—for using or abusing someone else, for taking rather than giving, for being in pain yet wanting to hang on to life no matter how difficult it gets."
Rice believes the current craze is most likely author-driven, following Twilight's success. "Certain authors develop the mythology, and their work catches on," she says. "The public appetite is potentially insatiable because the potential of the idea is so great."
Beth Felker Jones, a theology professor at Wheaton College and author most recently of Touched by a Vampire: Discovering the Hidden Messages in the Twilight Saga, believes Meyer's series is so popular because its romance resonates with readers' desire for radical love.
"There's nothing halfway about Bella's love for Edward," Jones says, "or her belief that she has found complete meaning and fulfillment in him." And that's what Jones finds disturbing about the series: Bella "doesn't have any hopes, interests, or desires outside of Edward. She's even willing to sacrifice her soul for his sake." And the vampire motif only raises the stakes: "Readers wait to see who will get bitten and who might have to die in the quest for love."
Shawna Ferrell, owner of the Christian review website Teen Lit Review, wrote cautiously about Twilight in 2008, concluding that she couldn't recommend it for teens.
"Teens today are bombarded with all kinds of shows about paranormal activity, witches, and vampires that are specifically designed to appeal to their generation," Ferrell says. To an adolescent girl who may feel undesirable, "the idea of a superbly handsome young man who is desperately in love with her is very appealing." Because vampires are both "cool and sexy," they possess "everything our media-worshiping society says it takes to be beautiful and thus accepted."
Blood Drives
While Meyer and the authors following her lead borrow heavily from Romeo and Juliet and other archetypal romances, traditional vampire folklore found much source material in Christian theology. The idea of achieving immortality through blood is central to both traditions—the Christian, through the life-giving blood of Christ, and the vampire, through drinking the blood of victims. Vampire legends are rich with Christian symbols, most notably the crucifix (believed to protect mortals) and the consecrated bread and wine of Communion.
University of Richmond English professor Elisabeth Rose Gruner notes that both Christianity and vampirism equate blood with life. Humans instinctually understand that blood is life-giving. But the blood-drinking aspect of vampirism is a "ghastly parody of Christianity," Gruner told CT. While the Christian believer attains eternal life by accepting the blood freely shed on his or her behalf, the vampire achieves immortality by sucking the life out of another.
What greater message is there than a creature ravaged by sin fi nding redemption? And how fi tt ing that redemption comes by way of blood.' ∼Tracey Bateman, author
Thomas Nelson was one of the first publishers to revisit the parallels between Christian thought and vampire myth, publishing in 2008 Field of Blood, the first installment in suspense writer Eric Wilson's Jerusalem's Undead trilogy. Wilson follows the tainted blood of Judas Iscariot as it reaches the Collectors, evil vampires who crave the blood of Christian believers yet know that it will destroy them.
"I figured this would spell the end of my writing career," Wilson laughs. But he wanted to respond to the "resurgence of interest in the vampire myth: the undead seeking unnatural life through the blood of the living." The fascination with blood is a perversion of the pure, atoning nature of Christ's blood, Wilson says—a "cheap counterfeit" of the salvation that Christians claim through the blood of Jesus. "It was time to reclaim the genuine concept."
Allen Arnold, senior vice president of Thomas Nelson Fiction, was on board from the beginning. Since the story of Christianity is one of redemption, Arnold says, Christian fiction should depict that redemption regardless of the subject matter. "Rather than flee from a genre, we prefer to dive in and try to redeem it through a wholly original take."
As to the Christian community's reaction to the trilogy, whose final installment, Valley of Bones, releases in spring 2010, Wilson readily admits that some have objected to the story. But not all: "With anything unique, the brave try it first and then word of mouth brings in the curious."
Leading to Dark Places?
Thirsty, Christian novelist Tracey Bateman's own vampire-themed book, was released by WaterBrook Press in October 2009. She believes the cultural fascination with vampires stems from their immortality: "There is something about the question, 'What happens when we die?' that compels us toward the eternal souls of vampires." The vampire in Thirsty is a metaphor for alcohol addiction and generational curses. Bateman told CT that when the book began to take shape, "I knew it was going to be very personal," and that writing a Christian vampire novel was "tricky." But "what greater message is there than a creature ravaged by sin, separated from God, finding redemption?" she says. "And how fitting that redemption comes by way of blood."
Shannon Marchese, senior editor for fiction at WaterBrook, says that while the goal of Christian publishing isn't to emulate worldly trends, it's important to critically engage what consumers are already reading. Christian vampire fiction allows readers to experience the mythology in a new way.
"Christians who have followed vampire stories back to Stoker's Dracula have been fascinated by the powerful theme of separation from God running through these stories," she says. "As followers of Christ who long to be in relationship with him, the idea of eternal separation—no death, no redemption—strikes empathy and heartbreak in us in a meaningful way."
If Christian vampire fiction is a trend to embrace, though, Felker Jones says it will require more discernment. "After my initial interest in Twilight and its popularity, I have peeked at some of the other vampire stuff out there, and I do worry that it leads to dark places." Many of the books dwell too heavily on the "disordered and grotesque connections between vampire lore and fallen sexuality," she says.
Rice thinks the worry over vampire fantasies is overblown. "Readers know perfectly well what is fantasy and what is reality," she says. "They don't gravitate to vampires because vampires are evil. They gravitate to them because of what they can reveal about us and our suffering and our desires."
The fantasy-reality line doesn't always hold, however, says William Schnoebelen, founder of the Iowa-based apologetics ministry With One Accord. Before coming to Christ, the former Freemason and Wiccan says that he was also a member of a vampire sect: a "full-blown 'church' with sacraments and a kind of Mass, a dark reflection of the Catholic liturgy." Drinking blood was a perverse facsimile of the Lord's Supper.
"It does not take much of a leap to see the vampire as a kind of dark Christ," Schnoebelen says, "who offers immortality through his blood but without all the moral standards." Yet Schnoebelen doesn't take umbrage at Christian vampire novels. "I am a living example of someone in vampirism who was redeemed and came to Christ."
Rice says the Christian vampire story is a logical extension of the vampire myth. "Since the vampire starts out as a human being," she says, "it's quite natural to explore the idea of his wanting redemption or to put an end to his cursed existence of drinking human blood. In other words, the myth is very compatible with Christian ideas and can obviously be developed well in that direction.
"The real evils in this world are not vampires," Rice says. "They are hunger, injustice, genocide, war. Vampire stories are a relatively safe way to explore human nature."
Elrena Evans is the editor of Mama, PhD and a regular contributor to Her.meneutics, the Christianity Today blog for women.
Related Elsewhere:
Christianity Today interviewed Beth Felker Jones and Anne Rice. CT also reviewed the first and second Twilight movies.
Have something to add about this? See something we missed? Share your feedback here.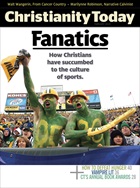 This article is from the February 2010 issue.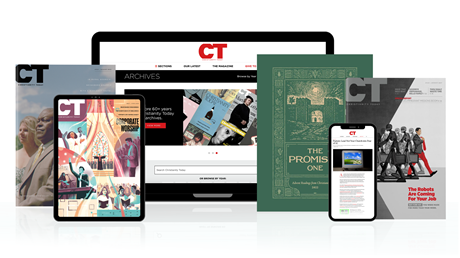 Annual & Monthly subscriptions available.
Print & Digital Issues of CT magazine
Complete access to every article on ChristianityToday.com
Unlimited access to 65+ years of CT's online archives
Member-only special issues
Subscribe
There's Power in the Blood
There's Power in the Blood