U.S. State Department spokesman Philip Crowley yesterday told reporters that Secretary of State Hilary Clinton would not directly intervene in the case of 10 Baptist missionaries charged by the Haitian government with child abduction. The missionaries were arrested January 29 as they tried to take 33 Haitian children to the Dominican Republic.
"We have had regular consular access and meetings with the 10 American citizens," Crowley said. "I believe we have facilitated getting medicine to, or other needs to, our citizens. We are doing exactly what we would do with detained Americans anywhere in the world. … We are monitoring the course of their legal process to make sure that we think it's in accord with Haitian law. And we will continue to do that. This is a Haitian legal process. The matters right now involve whether these individuals have broken Haitian law."
Meanwhile, Christianity Today spoke with Michele Bond, the State Department's deputy assistant secretary for Overseas Citizens Services, which oversees international adoptions as well as other children's issues. Bond has also coordinated the government emergency taskforce on Haiti orphans already in process of U.S. adoptions.
Bond declined to comment directly on the detained Baptists, but addressed concerns that the incident might harm future involvement of evangelicals in international adoptions.
What impact will the Idaho Baptists incident have on foreign adoptions in Haiti?
My guess is this incident is not going to change the prospects for foreign adoptions in Haiti. The fact that some people don't go about arranging adoptions in the right way is not a surprise to any government. But because this case has gotten a lot of attention, it is a good reminder that people need to be thoughtful and well informed so that they don't accidentally violate a law. All governments are vigilant about protecting their children; just because children are poor doesn't mean others can come in and scoop them up. People should make sure they are well informed.
The State Department has partnered with the Haitian government to expedite adoptions already in process before the earthquake. Almost 800 Haitian children have already been brought to the U.S., and as many as 1,100 will arrive by the end of February. This represents about three years' worth of adoptions. However, the Haitian government is not accepting new adoption applications at this time.
Have many evangelicals or others expressed a willingness to adopt Haitian children affected by the earthquake?
We are fielding lots of calls about this; my own brother even called me up. There are a lot of people looking at their TV sets and thinking about what they have to offer. People are stepping up now, very generously saying, "I want to help in a very specific way and adopt a child as my own beloved son or daughter." That is a major commitment; much bigger than writing a check. But these are people the Haitian government has never heard of.
Our answer to the people who are asking, "What can I do to adopt a Haitian child?" is that this isn't the time right now to be asking that question. The Haitian government has said their first priority is not going to be reading adoption applications. They are focused on identifying orphaned kids and getting them first into safekeeping and then to family members if possible. In the initial months after an incident like this, we don't want to move children away from the area where family members are searching for them. After the Southeast Asian tsunami in 2004, there were many small kids virtually unidentifiable, and yet a very high percentage of those children, thanks to DNA testing and other methods, were eventually returned to family members.
For people sitting in front of their TVs today wanting to do something, adoption is not going to be the February 2010 answer. What is needed right now is for people to make contributions to organizations that are working on the ground to provide shelter for children and working to identify them and reunite them with their families.
How is the State Department responding to newly willing Americans wanting to legally adopt orphans or abandoned children from the Haiti earthquake?
I completely sympathize, and I applaud the personal desire to reach out and change a life. But I also think the way to get it right is to figure out a way to change that life in Haiti on the ground. For churches or individuals thinking hard about how they can respond, think about this: What can we do as a nation to help Haitian families keep their children? The majority of kids in Haitian orphanages have parents. They are not there because their parents don't want them, but because their parents are so poor they can't afford to send their children to school or pay for their food or clothing. So what if there was a way for a child's own family to have the resources they need to raise their own child?
This is not an anti-adoption suggestion; the children who are adopted are blessed, and so are their families. But suppose you had a child in an orphanage and there was a way to restore him or her to the family. The better place to focus our imagination is: How would we do that? This is a way to take kids out of orphanages rather quickly.
There will always be children who need to be adopted at the end of the day, those who could not be returned to their own family or be adopted by another Haitian family. But if we are thinking about how we support these kids, what if there was an organization that helped Haitian families adopt Haitian kids? It's a way to move children into permanent loving homes but by the thousands. Realistically, you are not going to find 200,000 foreign adoptive families—nor do you want to. These children are Haiti's future. Haiti doesn't want them being raised as Americans or Canadians or Dutchmen; they want to raise their own kids, and they need our help to do that.
Let's look at this cataclysmic earthquake as an opportunity to do things in Haiti in a new way. Of course people want to get more children out as quickly as possible. But the question that should be asked is, "How do we get more kids into good families?"
Can the State Department do anything to streamline the international adoption process or make it less costly?
Most of the length of time it takes to adopt is related to the particular country the child comes from. A lot of work has gone into the U.S. side of the process to make it as transparent and fast as possible. The U.S. process takes 60 to 90 days on average, so it's not the issue. And most of the fees go to adoption agencies, not the U.S. government. Our website—adoption.state.gov—has resources that explain more.
The Haitian adoption process had some different restrictions compared to other countries. Some couples were not eligible to adopt in Haiti and needed special dispensation from the president, which added months to the process. This included couples married for less than 10 years; couples who already had a child; and couples where one member was less than 19 years older than the child they wanted to adopt. One thing I hope we can do going forward is to sit down with the Haitian government and say, "We now have a clean start. There are no cases pending. What do you think? Could you change your law and remove those restrictions? Other countries don't have those rules; maybe they are not necessary."
We hope to take advantage of this opportunity to streamline the adoption process so it does move faster. Haiti has these restrictions to make sure they aren't wiped clean of children by richer nations. But three years is a long time to wait for a young child.
Does the State Department have any initiative to encourage faith-based groups to partner more closely with the U.S. government on international adoptions?
We work with individual families, not with organizations. There is a big difference between supporting refugees and adopting children. Refugees don't arrive with a clear plan created for them. Adopted children are matched with specific families before they come; you don't have 100 kids arriving and waiting somewhere while arrangements are made. At the same time, we need the partnership of the faith-based community in getting accurate information out to the faith-based community on what international adoption is and isn't. Adoption isn't the solution for 90 percent of children in need; most will live and die in their birth country. The goal is to get children out of orphanages; every child should grow up in a loving home in order to maximize their potential.
Related Elsewhere:
Jedd Medefind, president of the Christian Alliance for Orphans, earlier wrote an opinion piece about the arrest of the Americans.
The Idaho Statesman has many more articles about the Baptist missionaries.
More Christianity Today coverage of Haiti earthquake relief is available in our full coverage section and our liveblog.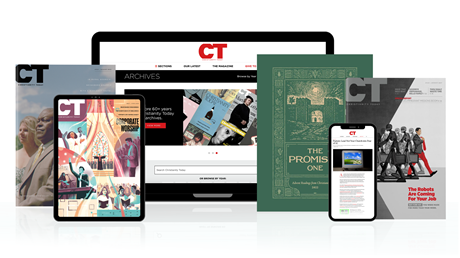 Annual & Monthly subscriptions available.
Print & Digital Issues of CT magazine
Complete access to every article on ChristianityToday.com
Unlimited access to 65+ years of CT's online archives
Member-only special issues
Subscribe
State Department: Now's Not the Time for Haitian Adoptions
State Department: Now's Not the Time for Haitian Adoptions