(10) "China's Own Marriage Crisis," by Alicia Cohn // Comments: 6
Gender imbalance due to sex-specific abortions signals imminent crisis in the Chinese family.
(9) "Hookup Culture: Mostly a Myth," by Donna Freitas, guest blogger // Comments: 8
Last Sunday's NYT piece only perpetuates the idea that college students are hooking up frequently, and that if they aren't, they should be.
(8) "Iris Robinson, Jesus Loves You More Than You Will Know," by Amy Julia Becker // Comments: 2
Speaking grace and truth into Ireland's sex scandal involving a born-again Christian woman.
(7) "Is Self-Promotion Sinful?" by Marlena Graves, guest blogger // Comments: 15
A lesson in soul care from J. D. Salinger, who lived in seclusion for a half-century.
(6) "Women at Halftime: Where to Go Next?" by Julia Duin // Comments: 9
For many women, turning 50 means the best is yet to come.
(5) " 'I Lived Next Door to a Brothel'," by Davita Maharaj, guest blogger // Comments: 7
Guilt is a poor motivator for fighting slavery and sex trafficking. What my sister calls 'active hope' is much better.
(4) "Saved by Spanking," by Caryn Rivadeneira // Comments: 15
Reconsidering the controversial form of discipline in light of a new study—and timeless Scripture.
(3) "Dr. Grace Augustine: Avatar's Christian Character?" by Amy Julia Becker // Comments: 14
Well, Christian-ish, anyway. Na'vi spirituality seems to mix pantheistic and monotheistic beliefs.
(2) "When to Leave If You Can't Cleave," by Alicia Cohn // Comments: 20
Homebound adult children in Italy are called 'big babies.' But can staying at home be a mature choice?
(1) "Saving the Life of a Shaken Baby," by Christine A. Scheller // Comments: 10 Byron and Susan Mondoks' adoption of their granddaughter, ...
1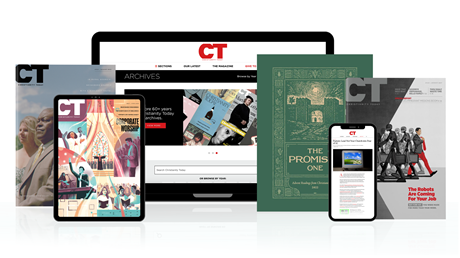 Subscribe to Christianity Today and get access to this article plus 65+ years of archives.
Home delivery of CT magazine
Complete access to articles on ChristianityToday.com
Over 120 years of magazine archives plus full access to all of CT's online archives
Subscribe Now
Top 10 Posts of the Past 30 Days
Top 10 Posts of the Past 30 Days