If, in the past two decades, your church has launched an arts ministry, or held a spiritual writing workshop, or devoted a few dollars to purchasing textiles or paintings for the expanses of previously blank walls, you might want to write Gregory Wolfe a thank-you note.
Let me not overstate: the energy around faith and art in evangelical circles has been, in recent years, enormous, and many organizations and individuals have contributed. But ask anyone who's involved in conversations about faith and art to tick off the sine qua nons, and they will include Wolfe.
Wolfe has devoted most of his adult life to weaving a braid of faith and art. The first strand of the braid is Image, a journal that Wolfe—who cut his journalistic teeth putting together a mimeographed literary mag in junior high—founded just over 20 years ago. He knew three things when he started Image: it "had to focus on art and faith"; it had to offer a "creative voice versus polemical, political, analytical"; and it had to focus on the present.
"However much I might love an essay on Rembrandt or Bach," says Wolfe, he won't run it. In Image's pages you'll instead meet sculptor Roger Feldman, poet Martha Serpas, memoirist Annie Dillard. These are, in the words of managing editor Mary Kenagy Mitchell, "people who would also be published in secular venues, but who want a venue for the best art and lit that engages with Christian faith." (If you've not read the magazine, the best way to get a taste is to pick up Bearing the Mystery, just out from Eerdmans, an anthology of work from Image's 20 years.)
The second strand is the Glen, a week-long writing and arts workshop Wolfe helped launch in the mid-1990s, and held, currently, at St. John's College in Santa Fe, New Mexico. Icon writers, collagists, poets, songwriters—artists of all stripes gather for a week of instruction, worship, and conversation. The Glen is a response to readers who said they felt alone in their pursuit of a life of faith and art until they read Image—and it's a response to Wolfe's own recognition that editing is lonely.
"We wanted to build community," he says, and he has.
Completing the troika is Seattle Pacific University's low-residency Master of Fine Arts in Creative Writing, which Wolfe directs. The mfa is intended not to produce "Christian writing" but to give people a space to work out writing and spirituality together. The stellar faculty includes novelist Bret Lott, novelist and nonfiction writer Robert Clark, and poet Jeanne Murray Walker.
Put a group of Image readers into a room, and the group will be diverse—religiously, politically. That said, one of the journal's strongest constituencies has been evangelicals. Wolfe chalks this up, in part, to the influence of Francis Schaeffer, who he says "opened the floodgate" to evangelical engagement with culture and the arts. Many evangelical organizations have been exploring questions of faith and art alongside Wolfe (who converted to Catholicism in 1983). "It's hard to imagine Image," says Wolfe, without the art departments at evangelical colleges like Biola, Wheaton, and Gordon, without artists like Bruce Herman (the Lothlórien Distinguished Chair in the Fine Arts at Gordon) and Joel Sheesley (a professor of art at Wheaton).
Lott says that the programs Wolfe has built have been "enormously sustaining for evangelicals who are artists." He says that the evangelical church tends to view its adherents as "pieceworkers" who are always looking for tangible outcomes: numbers of those saved or helped. "The making of art doesn't necessarily work that way," he says. "The making of art is an end in and of itself; it is an act of worship in and of itself; it as an act of humility and joy at once; and, in the life of the believer, it is accomplished as a gift back to the Creator who made us—art for God's sake instead of art for art's sake, as it were."
Lott says that the journal, the conference, and the graduate degree program "serve as a kind of body of believers, a kind of congregation that can share within itself the travails and triumphs of what it means to be that creator of art for God's sake, especially in a time when such an endeavor is suspect even when practiced in the secular world."
Working with What's Here
Different people will summarize Wolfe's project differently. Some will say that Wolfe is "about" excellence; every last story, poem, and piece of visual art that appears in Image is irrefutably top-grade, and in a culture where people (even Christian people) sometimes conflate Christianity with mediocrity, that's saying a lot.
Lil Copan, a Glen attendee and editor at Paraclete Press, says that before Image, "many evangelicals didn't even know how to utter the two words faith and arts in the same sentence." Wolfe, she says, not only renewed the arts conversation in liturgical churches but also created a place for such conversation among evangelicals. His journal "offered scholarship, engagement, edgy and explorative work—fearless work." And as such, "he pushed evangelicals past their comfortable places, and one by one they piled like hippies into the little vw Beetle."
Copan concludes, "His holding steady to a singular vision of quality work in literature, visual arts, and music has resulted in a commanding presence on any magazine stand, with Image being one of the top 10 literary/arts journals in circulation."
Poet Scott Cairns says that Wolfe has "assisted people of faith in reclaiming art as a viable mode of discovering and performing the joy, the beauty—even the exquisite ache—of life in Christ." As for himself, Wolfe says he is about "Christian humanism," by which I take him to mean that our story is intelligible only with reference to God's story, and vice versa.
But if I were pressed to sum up what Wolfe is doing, I would say this: He is trying to get us to take our present moment seriously. Attention to the present hasn't always been Wolfe's instinct. As a teenager—a self-described "right-wing weenie"—he was enamored with a certain narrative of decline: Under conditions of modernity, everything is tainted; thus, if you want to find art, you have to go back—back to Jane Austen, or to Chaucer.
But then, Wolfe says, he began to see that "modernity is not monolithic," and that the artist works within the forms of her age; artists use what's here, what's available. Consider T. S. Eliot, says Wolfe: Eliot is capable of looking to the past. But in Eliot we also find someone who says, Look at what the broken edge of our fragmentation gestures toward: the wholeness off in the distance.
The narrative of decline that initially captured Wolfe's imagination is pervasive among Christians: a fear of a present-day society that seems so degraded; a romanticized return to an idealized moment in the mists of time (America's agrarian past, the Great Awakenings, Europe's High Middle Ages). It's because of the pervasiveness of that narrative that I would say the most important thing Wolfe does is not simply help Christians to "appreciate the arts," though that's no small thing. The most important thing he does is call our attention to the present moment and tell us: Look here.
I don't wish to reduce art to utilitarian devotional ends. But whenever I put down an issue of Image, I find that my sense of wonder has deepened. I feel more able to live with a full sense of creation and human experience; I feel more able to fully live where I am, in this broken, needful present. Which makes me want to say to Wolfe, simply, "Thank you."
Lauren F. Winner is assistant professor of Christian spirituality at Duke Divinity School, and author of Girl Meets God, Mudhouse Sabbath, and Real Sex: The Naked Truth about Chastity.
Related Elsewhere:
Previous Christianity Today articles on Greg Wolfe and Image include:
Books & Culture's Book of the Week: Mystery and Message | Must they compete? (May 1, 2004)
The Dick Staub Interview: Transforming Culture into God's Image | Gregory Wolfe, author of Intruding Upon the Timeless, has opted out of the culture wars in order to build a Christian culture for others to imitate. (March 1, 2004)
Editorial: The Artist as Prophet | What is Christian art, and what does it look like? (December 4, 2000)
Wolfe also listed his favorite websites featuring spiritual literary writing.
Have something to add about this? See something we missed? Share your feedback here.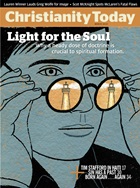 This article is from the March 2010 issue.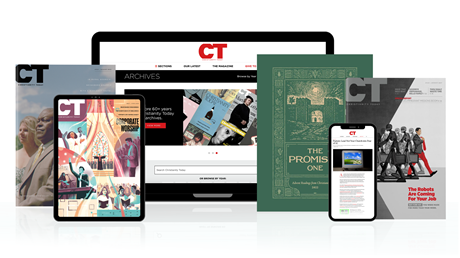 Annual & Monthly subscriptions available.
Print & Digital Issues of CT magazine
Complete access to every article on ChristianityToday.com
Unlimited access to 65+ years of CT's online archives
Member-only special issues
Subscribe
Art for God's Sake
Art for God's Sake