The New York Times last week told the story of eighth grader Margarite, who "sexted" (sent a naked photo of herself via cell phone) her boyfriend. When he and Margarite broke up, the boyfriend forwarded the message to another girl—a former friend of Margarite's with whom she was having some trouble—with the caption, "Ho Alert!" The girl forwarded it, and soon the whole school had access to the photo that the 14-year-old meant for her boyfriend's eyes. Several students were eventually charged with child pornography for their role in forwarding the message, although charges were eventually downgraded to harassment, punishable by community service.
As my oldest daughter prepares for middle school next year, I'm pondering the best ways to equip her to handle the changes and challenges of adolescence with wisdom and grace. One of my central concerns is how to help her (and our other two children) navigate the digital world of cell phones and laptops. Sexting, distracted driving, cyberbullying—these modern scourges can leave kids damaged, lonely, in legal trouble, or even dead.
Recognizing that online activity (sexting and cyberbullying, as well as less overtly threatening Facebooking and texting) has potentially negative effects on kids' physical and mental health, the American Academy of Pediatrics is urging pediatricians to inquire about media use during check-ups. Experts have coined the phrase "Facebook depression" to describe the plummeting self-esteem that can result from constant exposure to friends' happy status updates and photos indicating a packed social calendar. Although it has yet to show a causal link, one study found that teens who text a lot (120 text messages or more per day) are more likely to engage in sexual activity and drug use. Experts speculate that factors contributing to excessive texting (impulsivity, a need for constant stimulation and social interaction, inadequate parental supervision) also contribute to risk-taking.
What is a parent to do? Some parents might ban electronic media altogether, but that's not the right answer for most of us. Electronic connectivity will play a larger and larger role in the workplace and education. I am a writer for whom online media are indispensable for sharing and marketing my work (and frankly, central to both my social life and my household management). My husband is a librarian transitioning his university library from being a repository of printed material to an access point for online resources. My daughter's middle school homework will require Internet access, as many teachers post homework on web pages, rather than passing it out in class. Facebook, e-mail, and texting can also be tools for enhanced connections between people, if used with respect for others and within limits. Forbidding my kids from using computers and cell phones would be shortsighted and, really, impossible.
But we can have rules: No texting at the dinner table. All computer use takes place in public areas of the house, not behind closed doors. Cell phones will be turned in to us at bedtime. Kids must "friend" a parent if they want to use Facebook.
It seems to me, though, that the unhealthy, sometimes tragic consequences of teen media use are rooted in something deeper than a lack of parental supervision or teen impulsiveness. Teenagers, particularly girls, inhabit a culture that constantly tells them that their worth is measured by outward things—looks, popularity, sexual experience, worldliness, the ability to post clever one-liners that elicit plenty of ROFL's and LMAO's from friends.
Actually, it's not just teenagers that inhabit this culture. I do too. My own consumption of media does not always give my kids a good example of how to be part of today's online world without letting the values promoted by that world define you. And I'm not just talking about my tendency to scroll through my e-mail while only half-listening to my kids.
My consumption of media—reading consumer magazines and watching reality TV as well as using Facebook, e-mail, and texting—often skews my self-image and tempts me to focus not on what is meaningful and lasting and healthy, but on what is superficial and fleeting and destructive.
The more I obsess over shelter magazines featuring updated, perfectly coordinated, clutter-free homes or watch TV shows such as TLC's What Not to Wear, the worse I feel about my own cluttered, unrenovated, dust bunny-infested house, and my cardigan- and sneaker-heavy wardrobe.
The more time I spend online obsessing over my blog comments, envying other authors' publishing successes, and wondering why I wasn't invited to the party that friends are posting photos of, the more focused I become on myself and my insecurities, instead of on my family, my work, and my community. Media saturation has a way of skewing our sense of how things really are and what is eternally significant. Other writers get rejected. Most people's houses are rarely camera-ready. My friends spend many weekends hanging out with their children instead of dressing up to attend parties (or, alternatively, doing errands and cleaning bathrooms instead of planning outings or supervising extravagant craft projects with their kids). But such real-life experiences rarely make it into Facebook photo albums or status updates.
As Paul reminded Christ's followers in Phillippi, "Finally, brothers and sisters, whatever is true, whatever is noble, whatever is right, whatever is pure, whatever is lovely, whatever is admirable—if anything is excellent or praiseworthy—think about such things." The fruit of such a life is not a guarantee that you'll never be hurt by a friend, disappointed in romance, rejected in the workplace, or feel lousy when you discover you weren't invited to the party of the year. The fruit of such a life is that, "The God of peace will be with you."
Our rules about computer and cell phone use will likely change as the technology changes, and as we see what kind of people our children—today still so young and innocent—turn into. But I will do my best to foster a family environment that puts the real world ahead of the virtual one by both setting clear rules about media, and focusing on seeking first God's kingdom and God's righteousness. I will strive to better model healthy behavior in my own media use. And I will say many prayers for all that is beyond my control, which is plenty.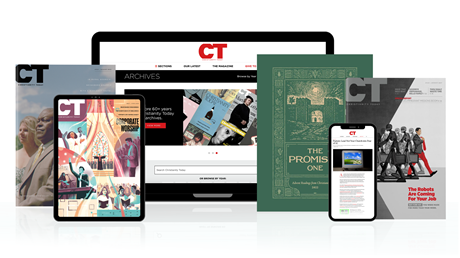 Annual & Monthly subscriptions available.
Print & Digital Issues of CT magazine
Complete access to every article on ChristianityToday.com
Unlimited access to 65+ years of CT's online archives
Member-only special issues
Subscribe
Navigating the Sea of Electronic Media
Navigating the Sea of Electronic Media