"Write about what disturbs you, particularly if it doesn't disturb anyone else."
That's the writing advice given to Skeeter, the only single white female and college graduate among her well-to-do white girlfriends who are all married with children. In the small town of Jackson, Mississippi, in the early 1960s, Skeeter reaches out to the African American maids of her so-called friends to speak her truth.
The truth is, one of Skeeter's best friends, Hilly (a professing Christian and wife of a politician), is a high-minded and demoralizing individual who thinks it is perfectly normal to host a fundraiser for the "Poor Starving Children of Africa" and yet draft an initiative to require that all white families build separate bathrooms for their "help"; in Hilly's words, "They have separate diseases than we do, and I'm just trying to protect our children."
The help of which Hilly speaks are the African American maids and lead characters Aibileen and Minny, who spend their entire lives cooking food for white families, cleaning their homes, and looking after their white babies. Hilly is the one who spews the venom of lies and hatred that causes racism to persist. Skeeter and the rejected "white trash" Celia Foote are the bridge builders who take the risk to enter into relationships with the maids and get to know them as people.
Like many other African American women, I was a little apprehensive about reading a book and then going to yet another movie where black people are depicted as victims who need rescuing from the good white folk. Hollywood has followed that tag line with movies like The Blind Side, Save the Last Dance, Amistad, and Radio to name a few. Of course, African American women are equally unexcited about Hollywood's depiction of yet another maid or "mammy" role.
But this story is different. The Help, Kathryn Stockett's bestseller, which just debuted in theaters yesterday, is a story about truth, courage, and forgiveness. This is a story about womanhood, friendship, and love.
The truth is those times were hard. That's what I understand, not from what I have seen in a movie or read in a book, but from the stories of my own mother, the women in my family, my godmothers, and countless mentors who lived during that time. Racism is ugly. Racism is sinful and still plagues our society. It takes courage to admit and then wrestle with that statement.
You see, many evangelicals desire to reach across the aisle and talk racial reconciliation. I truly want to see racial reconciliation lived more consistently in my lifetime, for I believe that the gospel is the message and ministry of reconciliation (2 Cor. 5:18-21). True reconciliation means restoring our relationship with God and each other. If 11 o'clock Sunday morning continues to be "the most segregated hour in America," we are deceiving ourselves that we are living this reality.
Sure, we have come a long way, but in some circumstances, we are still hindered by folks like Hilly who make assumptions, ask questions but don't listen, and then draw conclusions based on the small bubble in which they live. Instead of following Hilly's arrogant lead of asking superficial questions like, "Aibileen, you like your separate bathroom in the garage, don't you?" we can take Skeeter's lead and go visit Aibileen's house. It is at the kitchen table in a home when both of you are vulnerable and uncomfortable that the truth is shared.
That's what I loved about The Help. It sends a powerful message that reconciliation does not happen primarily through speeches, books, diversity initiatives, or training and it should send a clear message to the church that reconciliation cannot happen with programs, goals, "special" services, and activities. Reconciliation is the result of intentionally building intimate relationships, one day at a time, with one person at a time.
I challenge readers to start here: take a look at your phone contact list and e-mail contacts. How many people are from a race or ethnicity different from your own? What kind of people have you invited to your dinner table over the past year?
We have a long turbulent history of racial injustice in this country, but I believe the words of Dr. Martin Luther King Jr., who said that "what self-centered men have torn down, men other-centered can build up." God calls us to be other-centered. The love of Jesus is other-centered, which is why he engaged the Samaritan woman, allowed Mary of Bethany (a woman) to sit and learn at his feet, and ate with the tax collectors and sinners.
The gospel says that we all need help. The help that God provides gives us courage to tell the truth, love our enemies, offer forgiveness, and be the image bearers that he created us to be. That's what Minny and Celia, Skeeter and Aibileen share with us. That's a story of hope.
Natasha Robinson is a member of Cornerstone Baptist Church in Greensboro, North Carolina, and a full-time student at Gordon-Conwell Theological Seminary. She enjoyed both the book and the movie. Check out her blog, A Sista's Journey where she featured a post entitled I Go to Church With White People. Also find her on Twitter @asistasjourney. She has written for Her.meneutics about Beyonce's Wrong Message of Girl Empowerment and Modesty in the Church.
Camerin Courtney reviewed the film version of The Help for sister site CT Movies. Sarah Pulliam Bailey reviewed the book for Her.meneutics last spring.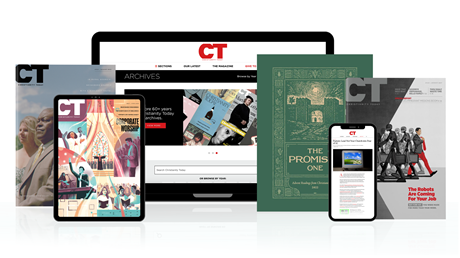 Subscribe to Christianity Today and get access to this article plus 65+ years of archives.
Home delivery of CT magazine
Complete access to articles on ChristianityToday.com
Over 120 years of magazine archives plus full access to all of CT's online archives
Subscribe Now
Watching 'The Help' as an African American Woman
Watching 'The Help' as an African American Woman