I slink into bed, click on my light, and grab the book. Guilt shakes me a bit. After all I've read about these sorts of stories, I figure by the end I'll hate my husband or hunger for more of the escape they offer.
So why do I risk this? Because the night before, I had sat next to its author at a book-signing. Because she and I chatted and laughed for hours. Because I really liked her. And because I want to find out if it's true: Whether she, as a romance novelist, is really just an emotional pornographer.
The belief that popular romance novels are "pornography for women" has been around a long time. In my tenure as editor of Marriage Partnership magazine a decade ago, we ran stories of women addicted to romance novels, whose obsession with romantic ideals had destroyed their marriages. Other articles have claimed romance novels are sort of a gateway drug to actual porn for women. Others still say that even romantic comedies are a sort of emotional porn. And just a few weeks ago, popular Southern Baptist theologian Russell Moore wrote about a new book that equates romance novels with porn.
While Moore doesn't morally equate the two, he sees strong similarities. "Both are based on an illusion," Moore writes. Even with Christian romance novels, Moore says, "A lot of this genre … is simply a Christianization of a form not intended to enhance intimacy but to escape to an artificial illusion of it."
Hence, my guilt.
As it turned out, however, after finishing and enjoying my first, then second Christian romance novel—Yukon Wedding by my book-signing friend Allie Pleiter, and Redeeming Love by Francine Rivers—I still preferred my own husband to the books' hard-chested, rugged, rich, and righteous heroes. (I find it terribly sexy that my husband doesn't see me in need of constant rescue.) And even after two back-to-back romances, I wasn't compelled to rush out and buy more. I may be hooked on reading, but not on romance, per se.
Still, Moore's premise nagged at me. I did enjoy the "escape" and illusion the books offered. It's nice to enter a world where broken people get their pieces put back together.
So I asked Pleiter, a Chicago-based writer who boasts 12 published romance novels (plus 2 non-fiction works), a speech degree from Northwestern University, six translations of Beowolf, and a happy 21-year marriage, what she thought of the charges. I wanted to know what she had to say about those who claim her genre sets up women for unrealistic expectations and has the power to derail marriages.
"Most women are smart enough to know that real life has no violins swelling behind the drop-dead-gorgeous hero professing love in a dramatic sunset," Pleiter says. "They can be entertained by the ideal of the story without turning it into some kind of impossible relational checklist."
I think she's dead-on. Any of us who enjoy reading fiction—of any stripe—do so in part for the entertaining escape. Whether it's romance or mystery, literary novels or action-packed adventures, we love reading because we love getting lost into other people's lives, worlds, interests, and desires. We can enjoy all the good of their world or cringe at the hardship, all the while understanding that it is made up.
Of course, some might try this logic with porn: that pornography viewers (or readers) understand it's not real. But there's a difference still, and it lies in Scripture. Philippians 4:8 says, "Fix your thoughts on what is true, and honorable, and right, and pure, and lovely, and admirable."
Simply put: romance is lovely, among other things—or at least can be. Romance can and does get corrupted in our fallen world, but even God uses romance in his Word as an image to help us understand his love for us and what our love for him might be. God never uses images of lust and degrading sex to do the same.
While the people involved in porn, at any level, are redeemable and loved by God, the medium is not. It's neither true, nor honorable, nor right, pure, lovely, nor admirable. Porn hurts everyone involved, and even those not involved. Romance novels, for example, don't readily contribute to the trafficking of women and children in the sex trade. Porn does.
Christian romance novels may indeed hold some danger for some. If your relationships suffer because of them, of course don't read them. And if—as is often the case with those who view porn—you read romance novels to fulfill your own unmet longings and needs, be warned: you won't.
But unlike porn, which offers empty depravity, Christian romance stories offer something beautiful and hopeful and God-honoring: stories of people overcoming hurts and heartache and finding love.
In fact, this is why Pleiter says she writes Christian romance. "I welcome the chance," she says, "to pull readers out of their daily lives for a few hours and show them a lovely world where people forgive one another and where love conquers all."
Pushing back on Moore's comment, Pleiter says this isn't about creating an illusion but holding up an ideal.
While we may not agree on all the "ideals" romance novels convey, Pleiter raises a good point. It is the ideal of being forgiven and love conquering all that appealed to me. And while my brain knows this isn't always true, my heart wishes it were. The good news is that my soul knows it will. Not in a book. Not in this life. But one day.
So, far from wrecking marriages, the occasional Christian romance should strengthen our hope. Nothing to feel guilty about there.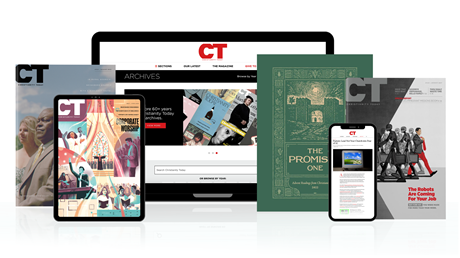 Annual & Monthly subscriptions available.
Print & Digital Issues of CT magazine
Complete access to every article on ChristianityToday.com
Unlimited access to 65+ years of CT's online archives
Member-only special issues
Subscribe
Why Romance Novels Aren't Emotional Porn
Why Romance Novels Aren't Emotional Porn