true
The man who created such beloved Disney characters as Ariel (from The Little Mermaid), Pocahontas, Aladdin, Tarzan, and The Beast wanted, for well over a decade, to bring Rapunzel to the big screen.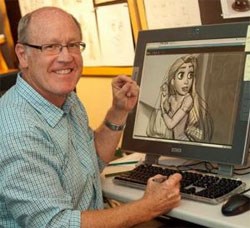 "She was a character with great potential," says Glen Keane, a Disney animator since 1974. "Hers was a story that needed to be told, because she was this character with great potential—and with this source inside of her, this gift that had to be shared."
In the legend of Rapunzel, that's a reference to her healing tears. But for Keane, the "gift that had to be shared" was not only his drawing talent, but his Christian faith—in subtle though exemplary ways in his work with Disney's animated films.
His dream of seeing Rapunzel's story told was finally realized last year with the box office hit Tangled, which releases to DVD and Blu-Ray today. We recently spoke with Keane—who describes himself as "basically an actor with a pencil"—about Tangled, his work with Disney, and his faith.
Please tell us about your specific contributions to Tangled.
It was a fairy tale that just fascinated me, and in 1996 I started to develop it while I was working on Tarzan, which makes it by far the longest thing I've ever done. After a while, I realized that the only way this movie's going to happen is if I direct it, so I started to direct it. It went through a period where it was called Rapunzel Unbraided, a Shrek-like version of the film. It was really witty and clever, but I've always animated characters that have this burning desire inside of them, and [that version] didn't feel like me. There was something missing in the sincerity of the story. We then started from scratch and worked on it until 2008 when I had a [non-life threatening] heart attack and stepped back from directing.
Byron Howard and Nathan Greno stepped in to direct, and allowed me to focus on the animation and bring in everything I love about hand-drawn images into computer animation. That was my role through the last two years of this film.
Did the film turn out the way you hoped?
The animation is better than I ever could have imagined. I didn't understand that computer animation could be just as personal as hand drawn animation, but that's what I found in this film. Every time I see characters on the screen, I can see personal touches of each individual animator.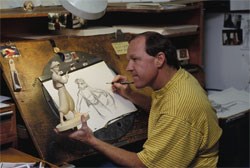 There are also elements in the film that at first I was like, "No, we can't change that." But in the end, I find the changes refreshingly wonderful. For example, Flynn at one time had a dog. When Byron and Nathan came in, they changed it to a horse, and I was upset, thinking How could you lose the dog? But they didn't lose the dog, they just added a dog and horse together. It's like a Reese's cup, chocolate and peanut butter together. It is so funny and fresh, and this super-cop character in the body of this horse dog, is absolutely wonderful.
So the surprise of humor was, I think, the most delightful aspect to me. And everything that I ever wanted in terms of heart was delivered, so I was thrilled with the result.
Are there any spiritual elements in Tangled?
The story started from a spiritual base. At the very beginning, you see a drop falling from heaven. James 1:17 says, "Every good and perfect gift is from above, coming down from the Father of the heavenly lights." That truth is this amazing source of life and beauty and transformation [in Rapunzel]. That's something I believe in my own life. And with the characters I've animated, I've always tried [tried to animate in a way] that reflects my own spiritual life. I animated the Beast's transformation in Beauty and the Beast where it was very much a reflection of Christ's transforming power. Or Ariel's longing to live in another world [in The Little Mermaid]—that's true of a spiritual longing.
In Tangled, Rapunzel has this amazing source inside, and even when she feels like she's lost it, love is the thing that unlocks it. There is a deeper connection. In my mind, it's still that connection to the drop that fell from heaven. [Spoiler alert] Rapunzel's tear at the end was the same teardrop that fell from the sky at the beginning, and it was a gift to the world, and gift to Flynn. That element was why I wanted to see the story made.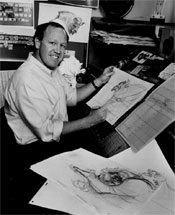 Does your faith affect the way you work?
It affects absolutely every part of my life. It affects the way that I'm a father, a husband, and the way I'm an employee at Disney. I try to give absolutely everything I can possibly give. It's never about what someone's asking me to do. It's always how I can try to give more.
I was given such incredible opportunities when I was taught by what Walt called his Nine Old Men [the original animators who worked on everything from 1937's Snow White to 1977's The Rescuers]. They passed on this legacy to me. I didn't do anything for that, I just happened to be in the right spot. I feel a responsibility to do that with other people—to teach and to give back. I came to Disney at a time when they were looking to teach young artists, to pass on this baton. That hadn't happened in 40, 50 years at Disney, and there I was at the right moment. I'm just so thankful for God's grace and blessings, and it affects everything I do.
Now that you're teaching younger animators, what legacy are you trying to pass on?
What the Nine Old Men passed onto me: The secret to Disney animation is sincerity. That was a total mystery to me. How would I draw with sincerity? Push harder on my pencil? But I watched the way these men animated, and the way they talked about the characters. They would refer to the characters as if they were somebody that they knew personally; they believed in the characters they were animating. My dad [Bil Keane, creator of The Family Circus comic strip] passed that on to me. He always said, "Draw what you know and what you identify with." Look at life around you. Observe what God has made perfectly. Learn to see and observe, and that becomes the source for your animation.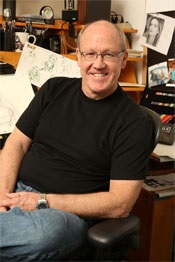 What are you working on now?
Right now, I'm working on babysitting my granddaughter as we speak! I'm spending time with my family. I have some ideas for future films. I believe that fairy tales need to be part of Disney's future, and I want to participate in that. When I think of Pixar and Disney together, they are like a marriage, but still two individual characteristics to each. If I had to boil Pixar films into one phrase, I'd call them "Wouldn't it be cool if" films—like, wouldn't it be cool if toys could talk. And with Disney, it's "Once upon a time." These are films about make believing, but it's a real world you enter into. That's why I believe that fairy tales have to be part of the future.
Marianne Paluso, a freelance writer in Spring Valley, California, blogs at Castles in the Air, writing about film, TV, books, fashion, and other joys of life.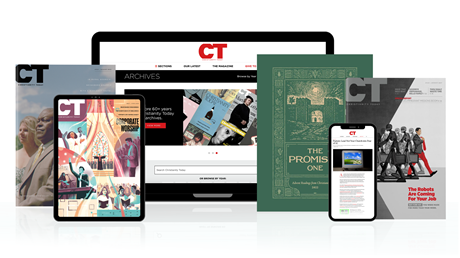 Subscribe to Christianity Today and get access to this article plus 65+ years of archives.
Home delivery of CT magazine
Complete access to articles on ChristianityToday.com
Over 120 years of magazine archives plus full access to all of CT's online archives
Subscribe Now
Once Upon a Time
Once Upon a Time