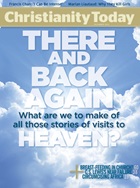 This article is from the December 2012 issue. Subscribers can read all of CT's digital archives.
Discipleship
1 in 5 American churchgoers who disagree that Christians must learn to deny themselves in order to serve Christ.
Church Life
Latino evangelicals who say their clergy talk about:
Abortion: 52%
Homosexuality: 47%
Immigration: 38%
Elections: 29%
Politics
17% Americans who think Barack Obama is a Muslim.
12% Americans who thought this in 2008.
Spirituality
18% Americans who describe themselves as spiritual but not religious.
12% Evangelicals who describe themselves this way.
1
Go Figure