For some, the prospect of studying the Old Testament appears daunting and quite boring. But in recent years, theologians, pastors, and Bible teachers have for laity begun connecting Christ to the Old Testament, seeing him in everything from the Levitical laws to the laments of the Psalms. Nancy Guthrie has undertaken the task of showing how the entire Bible centers on the hope of the Messiah, currently writing five 10-week Bible studies called Seeing Jesus in the Old Testament.
An accomplished author, Guthrie attends and teaches at Christ Presbyterian Church in Nashville, and contributes to The Gospel Coalition. In addition to her writing, Guthrie and her husband, David, also host Respite Retreat for couples who have experienced the death of a child. She graciously spoke with Her.meneutics about her most recent study, The Wisdom of God: Seeing Jesus in the Psalms and Wisdom Books, the second in the Seeing Jesus in the Old Testament series. The study will be available from Crossway Books at the end of this month.
You are a prolific author. How did your newest Bible study series come about?
I grew up in church, worked in Christian publishing for over 20 years, and have been in Bible studies for as long as I can remember. But I began to grasp the big picture story of the Bible only a few years ago, when I became gripped by a scene described in the Gospel of Luke (Luke 24:27). It caused me to reconsider how I have understood the Old Testament for most of my life. I spent a year working through the Old Testament, which developed in me a passion to create materials for Bible study groups to understand how Jesus is pictured in its people and patterns, how he is anticipated in its celebrations and songs, and how he is the answer to all of its unanswered questions and unmet needs.
This is your second book in the series. What led you to choose the Psalms and Wisdom books for the second study?
Genesis and Psalms are favorites for small-group Bible study. The narrative story of Genesis is very different from the drama, poetry, and proverb of Wisdom Literature, so this second study reveals Christ in very different but in compelling and beautiful ways.
We tend to see the Bible's wisdom literature, especially Proverbs, as a moralistic guidebook for living. What and who influenced your understanding of all the wisdom literature as really being about Christ—the wise one?
I have discovered a number of incredible theologians and Bible teachers who have a solid grasp on biblical theology and are gospel-centered, as opposed to a mostly moralistic or doctrinal approach to the Bible. My best help on this particular book seemed to come from preachers with foreign accents, such as Graeme Goldsworthy, John Woodhouse, Liam Goligher, Andrew Jones, Christopher Ash, and Sinclair Ferguson. [Reformed blogger] Kevin DeYoung doesn't exactly have an accent like the rest, but his sermon series on Ecclesiastes was very helpful to me.
Many Christians refer to the Psalms as proof that believers ought to honestly vent our emotions to God. But you believe the Psalms "also show us that God intends to change how we feel." Why do you feel like this explanation is important, especially for women who participate in this study?
Most of us easily accept that God intends to change what we believe, how we think, and what we will do and not do. But we tend to think of feelings as outside the realm of God's redemptive purposes. We think that we just feel what we feel and that feelings can't really be changed or commanded. The amazing thing about the Bible, and especially the Psalms, is that it not only presents us with thoughts to think and beliefs to embrace but also with feelings to feel. It challenges us to forsake our despair to embrace hope in God, and to replace our fear with confidence in God.
Your Seeing Jesus in the Old Testament Bible studies include a section each week connecting the particular passage to what is yet to come when Christ returns to establish the new heavens and earth. Why do you include that in each week's lesson?
For most of my life, I've thought of heaven primarily being a place away from here, where our spirits go to be with God forever after we die, which is the typical evangelical understanding. But the story of the Bible shows that history is headed toward the redemption not just of humanity but of the entire creation, so that we will live forever in God's presence on a redeemed earth. To reorient how we've understood heaven and eternity, we have to see it not just in a handful of passages about the return of Christ and "end times," but rather throughout the whole of Scripture, and in fact every part of Scripture. When we see it from various angles as we work our way through Scripture, it completes the storyline of the Bible and solidifies our grasp on what is revealed about what is yet to come.
How has your own personal and teaching experience prepared you to apply the text to the lives of the people you are teaching?
I love sound theology, and I also love being real about life's struggles and questions. When those two things intersect, real impact is made. So as I search out how a book or passage presents Christ, I'm always looking for how that aspect of the person and work of Christ meets a very real need that we all have. I figure if it is a need or struggle I have, I'm probably not alone. Sound theology, which is right thinking about God, provides a solid basis for the most compelling personal application.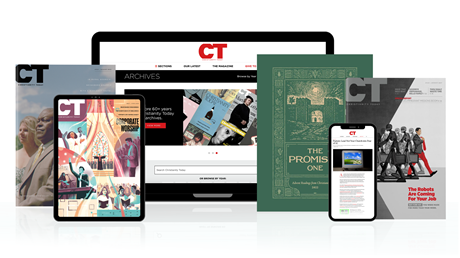 Subscribe to Christianity Today and get access to this article plus 65+ years of archives.
Home delivery of CT magazine
Complete access to articles on ChristianityToday.com
Over 120 years of magazine archives plus full access to all of CT's online archives
Subscribe Now
Seeing Jesus in the Old Testament: Nancy Guthrie on Her Newest Bible Study
Seeing Jesus in the Old Testament: Nancy Guthrie ...