Editor's note: February's cover package, "The Best Ways to Fight Poverty—Really" (part one, part two), received remarkable numbers of pageviews, praises, and protests. It also provoked responses from many organizations devoted to fighting poverty. Today, leaders of those ministries respond, including World Vision US president Richard Stearns, Samaritan's Purse president Franklin Graham, Habitat for Humanity International CEO Jonathan Reckford, HOPE International president and CEO Peter Greer, World Relief president and CEO Stephan Bauman, Food for the Hungry workers Greg Forney and Lucas Koach, and TEAR Australia national young adults coordinator Matt Anslow. Also today, Christianity Today senior managing editor Mark Galli, whose article "A Most Personal Touch" led off the February cover package, replies to the ministry leaders.
One of Christianity Today's articles on the anti-poverty strategies determined that the church did a relatively poor job when compared with government. The second article concluded that poverty-related programs from Christian ministries should "start emphasizing prevention over cure."
The flaw in both of these conclusions is that poverty is a direct result of sin and the fall of man.
The word "poverty" paints a picture of hopeless despair. No one enjoys looking at bone-thin bodies with hollow eyes staring back. But these are often the photographs we see displayed when the subject of poverty becomes a news story. This is a portrait of many under-developed countries. I know; I've been there—for 40 years.
Jesus said, "The poor you will always have with you" (Matt. 26:11). No matter how much food we give, how many shelters we provide, how many physicians we deploy or how much medicine we send, poverty remains. Does that mean that we should just shrug our shoulders and walk away? Of course not. Jesus never turned away from someone in need. Jesus did not come to give a better life, but to give eternal life. Every person Jesus helped, he did it in such a way that they would put their faith and trust in Him alone.
Our work is not "social." The ultimate mission is to rescue lost souls from hell. The emphasis of our efforts should always be on preaching the Gospel to the poor because the greatest poverty is poverty of the soul. Social programs cannot change the human heart.
While Jesus had compassion for the poor, His message was to those who were poor in spirit—this speaks of the poverty of the soul. "He will take pity on the weak and the needy … He will rescue them from oppression" (Psalm 72:13-14)
When Hudson Taylor was asked why he went to China, he answered, "My mission is to rescue the perishing"—to care for their souls. This is our calling. This is the heartbeat of Samaritan's Purse. Governments and organizations can send money, but there is little comfort unless it is administered by God's people who can also bring a greater hope of something better: eternal life through faith in Jesus Christ.
The Bible says, "'The days are coming,' declares the Sovereign Lord, 'when I will send a famine through the land—not a famine of food or a thirst for water, but a famine of hearing the words of the Lord'" (Amos 8:11). National and global humanitarian initiatives will never solve the problem of poverty. God has called His people to reach out to others in His name. "You have been a refuge for the poor, a refuge for the needy in his distress, a shelter from the storm" (Isaiah 25:4). Let's focus on our true mission and heed the words of our Lord: "Therefore go and make disciples of all nations, baptizing them in the name of the Father, and of the Son, and of the Holy Spirit" (Matt. 28:19).
Related Elsewhere:
February's cover package included:
The Best Ways to Fight Poverty—Really | The government is by far the best institution to raise the poor's standard of living. The church does something more important for them. By Mark Galli
Cost-Effective Compassion: The 10 Most Popular Strategies for Helping the Poor | Economists rate impact. By Bruce Wydick
Other replies today include:
Christians Really Do Reduce Poverty | Government change often can't get to the root of the problem of poverty. The church does. By Richard Stearns, president of World Vision US
What Do You Mean by Poverty? | Overcoming poverty is possible and proven. But superficiality has paralyzed the church. By Stephan Bauman, president and CEO of World Relief
We Can't Do Everything | But we can change systems to protect the poor, and that requires cooperation on all fronts. By Jonathan Reckford, CEO of Habitat for Humanity International
The Biggest Poverty-Fighting Tool: Job Creation | Employment for the poor restores their dignity and keeps them off their knees. By Peter Greer, president and CEO of HOPE International
Poverty Has Many Enemies | The solution does not require a choice between individuals and institutions. By Greg Forney and Lucas Koach, Food for the Hungry
The Local Church's Neighbors Are Everywhere | The church isn't just a network of institutions trying to stretch across the globe. By Matt Anslow, national young adults coordinator of TEAR Australia
Also, Mark Galli responds to the responses.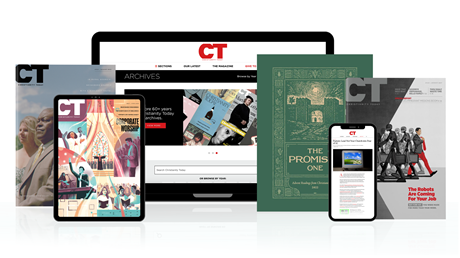 Subscribe to Christianity Today and get access to this article plus 65+ years of archives.
Home delivery of CT magazine
Complete access to articles on ChristianityToday.com
Over 120 years of magazine archives plus full access to all of CT's online archives
Subscribe Now
Focus on Solving the Poverty of the Soul
Focus on Solving the Poverty of the Soul