Editor's note: February's cover package, "The Best Ways to Fight Poverty—Really" (part one, part two), received remarkable numbers of pageviews, praises, and protests. It also provoked responses from many organizations devoted to fighting poverty. Today, leaders of those ministries respond, including World Vision US president Richard Stearns, Samaritan's Purse president Franklin Graham, Habitat for Humanity International CEO Jonathan Reckford, HOPE International president and CEO Peter Greer, World Relief president and CEO Stephan Bauman, Food for the Hungry workers Greg Forney and Lucas Koach, and TEAR Australia national young adults coordinator Matt Anslow. Also today, Christianity Today senior managing editor Mark Galli, whose article "A Most Personal Touch" led off the February cover package, replies to the ministry leaders.
Galli paints a picture of Christian action too humble for its own good; a charitable cleaning up after government has done its job (or even failed to do so). I'm not sure how he derives this from Christ's example. Galli rightly insists on eschatological witness. But a truly eschatological witness, in which we proclaim poverty's eventual end at Christ's coming, seeks also to incarnate Christ's proclamation by striving to end poverty, even if that goal will not be fully realized for now. If, for Galli, the concern is enacting obedience over-against pragmatism, then the words of the prophets, or Jesus' command to love our neighbor, should jolt us from slumber for obedience in serving the poor.
It seems Galli has some confusion over what churches are told by "activists" to do about poverty. I know no one who suggests individual churches should "match the sweep of national and global initiatives." Rather, activists tend to suggest churches pray, support the work amongst the poor of other local churches in impoverished regions, change their own consumption habits, and speak out to government and corporate powers.
By suggesting that activists have argued for individual congregations to involve themselves in poverty efforts, Galli creates a caricature. The way the church involves itself is not as independent cells trying to stretch across the globe, but as a universal body with different parts both serving those locally and standing in solidarity with those elsewhere. To set a dichotomy between personalized engagement in a church's "sweet spot" and effective global action implies a faulty ecclesiology. The church acts as one. Defining the church merely in local terms precludes the kind of global change that God's people can bring about. Indeed, perhaps the church's apparent impotence against global poverty is indicative of its current health and unity, not of its potential.
In suggesting ways churches can act, Galli's example of child sponsorship undermines his point. Child sponsorship, as a development methodology, is ineffective, which is why many organizations have moved away from it, retaining only the marketing aspect. The money actually goes largely into community development. That is what "works." Galli suggests the church can be most effective helping those in our midst; I do not understand how a sponsor child fits into that scope. Child sponsorship is by definition the kind of initiative Galli rejects. What is personal about it? If anything, it keeps the poor at arm's length instead of providing a foundation for engaging poverty's causes. Jesus walked with the poor; the challenge is for us to do the same.
In the end, it is true: I may not be able to personally effect much change for the poor. However, when the church acts together—not merely local institutions but the full body of Christ—real change can come to a world weighed down by the demon of poverty, and the kingdom of God can be made known.
Matt Anslow is the National Young Adults Coordinator for TEAR Australia, an Australian movement of Christians holistically responding to poverty, and is also working toward a Ph.D. in New Testament theology. His opinion in this piece does not necessarily represent TEAR Australia's position. He blogs at life.remixed.net (where an earlier version of this article first appeared) and you can find him on Facebook and Twitter.
Related Elsewhere:
February's cover package included:
The Best Ways to Fight Poverty—Really | The government is by far the best institution to raise the poor's standard of living. The church does something more important for them. By Mark Galli
Cost-Effective Compassion: The 10 Most Popular Strategies for Helping the Poor | Economists rate impact. By Bruce Wydick
Other replies today include:
Christians Really Do Reduce Poverty | Government change often can't get to the root of the problem of poverty. The church does. By Richard Stearns, president of World Vision US
Focus on Solving the Poverty of the Soul | Our aid to the poor should always address their area of greatest need. By Franklin Graham, president of Samaritan's Purse
Article continues below
What Do You Mean by Poverty? | Overcoming poverty is possible and proven. But superficiality has paralyzed the church. By Stephan Bauman, president and CEO of World Relief
We Can't Do Everything | But we can change systems to protect the poor, and that requires cooperation on all fronts. By Jonathan Reckford, CEO of Habitat for Humanity International
The Biggest Poverty-Fighting Tool: Job Creation | Employment for the poor restores their dignity and keeps them off their knees. By Peter Greer, president and CEO of HOPE International
Poverty Has Many Enemies | The solution does not require a choice between individuals and institutions. By Greg Forney and Lucas Koach, Food for the Hungry
Also, Mark Galli responds to the responses.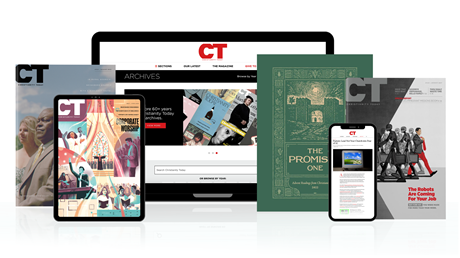 Subscribe to Christianity Today and get access to this article plus 65+ years of archives.
Home delivery of CT magazine
Complete access to articles on ChristianityToday.com
Over 120 years of magazine archives plus full access to all of CT's online archives
Subscribe Now
The Local Church's Neighbors Are Everywhere
The Local Church's Neighbors Are Everywhere