A month ago I sat in an auditorium at the Festival of Faith and Writing waiting to hear author Ann Voskamp speak about story and beauty. I sat among rows and rows of eager fan-ladies, all of us longing to hear the sound of her voice, hoping she would whisper secrets to us about how to live and write and live on a farm and take perfect photos with a grateful heart.
Though I was not expecting Voskamp, the author of One Thousand Gifts, to arrive on stage cracking jokes and rolling her eyes (that's certainly not her style), I also wasn't expecting what came out: a honey-thick alto full of metaphor from the get go, an actual seed in her palm and the declaration (as far as I remember): "I am a seed in the palm of the one who grows all things."
Like many younger Americans, I have a tendency to accept rich metaphor and deep talk if it's surrounded by a little self-depreciation or a few moments of realigning one's words with the reality of the world. For instance, if Voskamp had said: "I know I'm dramatic, you guys, but sometimes I feel like I am a seed in the palm of the one who grows all things!"
Or, "You know me. Always a metaphor! But listen up: I am a seed in the palm of the one who grows all things."
If she had sighed and shrugged her shoulders, I wouldn't have been near so nervous, wiggling in my chair, threatening to giggle like a middle-school boy during the 7th grade sex talk: Too much metaphor too soon!
My generation (both in the church and outside of it) faults on the side of sarcasm. After all, we are the people who created and crowned Jon Stewart as our king of information. We see everything with an eye roll.
Our culture demands we make fun of ourselves before we are allowed to utter the deep or profound. We are expected to sarcastically apologize before stating the beautiful. Irony has become an entire language we speak with ease.
That's the thought I had as I caught myself squirming under Voskamp's words. I looked around, breathed a prayer of settling, and I eased into the earnestness. Once I did, I stopped needing a snarky joke or a self-deprecating remark. I just listened as she challenged me to write with beauty, to write like she spoke: without pretence or pose.
***
Much ado has been made in the past week over Tim Challies's recent, less than flattering review of Voskamp's book.
He starts off by criticizing Voskamp's poetic voice, which, as I have argued here, makes her book one of the best written to come out of the sorely-lacking prose of the Christian book industry. He criticizes her theology, her having been influenced by the works of authors like Henri Nouwen, Brennan Manning, and Dallas Willard. And, then, he critiques her as a mystic and, nearly, a panentheist. He writes that he fears Voskamp's book will "prove dangerous" for many readers.
While many bloggers (myself included) tweeted angrily about Challies's dismissive judgment of the entire Roman Catholic Church, Voskamp responded with a post of her own, defending her book and its biblical foundation. She did not back down and still she wrote with kindness and a grateful spirit. And then she sent Challies an e-mail inviting his family to dinner.
She practiced the spiritual discipline of earnestness. She chose beauty, not simply as a value to strive for in our art, but as a way of living into Christ.
And, as tends to happen when grace is offered, when forgiveness is extended, Challies posted an apology. (And then Beth Moore said she wants to come for dinner.)
***
I am more and more convinced that earnestness is a spiritual discipline, especially for those of us who default to the attitude of sarcasm and criticism. When we practice the discipline of finding, making and cultivating beauty, God allows us to see people and creation as holding higher value than our likeminded circle, our tight grip on political or theological stances.
When Voskamp reached between the angry words toward her brother in Christ, when she offered him friendship and a shared table, beauty won; earnestness brought healing.
I find the Internet to be the hardest place to follow the teachings of the Sermon on the Mount. Blessed is she who has the most blog hits? Blessed is he who stands by his theological stance with the most vigor and resentment?
On the Internet, we can talk a good game about Jesus. We don't have to know each other. We don't have to love each other from afar. Instead we can pick on each other's wounds and brokenness and separate ourselves into more and more theological camps. Who needs denominations? We can just align ourselves with the blogger who reads the Bible the way we do and criticizes the ones we like to criticize.
We can be a generation of sarcasm, biting, and cutting. We can roll our eyes and slam the laptop shut. Then open it up again to see if all our friends on Twitter agree.
Or, we can learn earnestness from the example of Voskamp's genuine kindness. We are also invited to hold the gospel out. We are invited to prepare a table and set a place for the one who criticizes our lives, our beliefs, our art. We are invited to live out the blessing of Jesus:
Blessed are the merciful,
for they will be shown mercy.
Blessed are the pure in heart,
for they will see God.
Blessed are the peacemakers,
for they will be called children of God.
The world does not need angry theology: it needs a true, good story. It needs the good news that God's compassion is deep enough to rescue, to remake, to restore our broken lives. Story is one of the greatest evangelical tools the Church has been given, especially in our irony-laced culture. People long for earnestness in a world that scoffs at everything.
Grace and hospitality and genuine care are not sexy or shocking or easily combined with an eye roll. And that is why Christians should practice the spiritual discipline of an earnest spirit. We should sing first, scoff later. We should withstand the urge to mock ourselves or another. We should hold back the eye roll and say what we mean to say with kindness and without fear.
After all, we are followers of a Messiah who said in his kingdom our job is not to win the argument: it's to make the peace, to see God, to show mercy.
Micha Boyett blogs at Patheos, and lives in Austin with her husband and two boys. She has written for Her.meneutics about Ann Voskamp'sOne Thousand Gifts and on stay-at-home moms.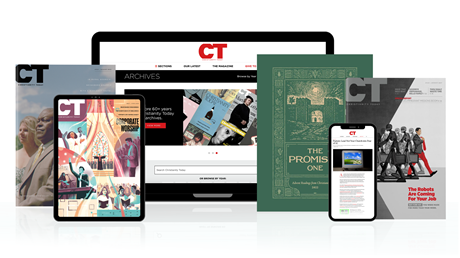 Subscribe to Christianity Today and get access to this article plus 65+ years of archives.
Home delivery of CT magazine
Complete access to articles on ChristianityToday.com
Over 120 years of magazine archives plus full access to all of CT's online archives
Subscribe Now
Ann Voskamp, Tim Challies, Beth Moore: Dinner and a Defense of Earnestness
Ann Voskamp, Tim Challies, Beth Moore: Dinner and ...