Last summer, my best friends and I heaved a collective sigh of relief upon turning 30. How good it is, we admitted, to leave the restless, agitated wanderings of our 20s and begin to settle into adulthood. Thirty, we exhaled, for once comfortable committing to relationships, suddenly willing to send little root tendrils down into our own plots of earth. We were no longer holding in our tummies, content with our healthy, capable bodies, accepting the scars of surgeries and stretchmarks not as flaws but as badges of honor we had earned.
For women, negotiating adulthood has become increasingly difficult over the past half-century. Often a whole decade, your 20s, is taken up with figuring out how to find your place in society. As much as I appreciate the doors that have opened for women since the 1950s, I have to admit that the loss of a prescribed cultural path for women (education, immediately followed by marriage, immediately followed by motherhood), made navigating my post-college life confusing, to say the least. Everyone told me, "You're so gifted!" but no one could tell me how to steward those gifts into maturity.
Perhaps that's why I am sympathetic to HBO's acclaimed new comedy show Girls, which premiered April 15. Wittily written and capably directed by 25-year-old Lena Dunham, it portrays with agonizingly accurate detail the confusion of being an overprivileged 20-something woman today. Set in New York City, the show follows the floundering of four well-educated young women trying to navigate the path to adulthood, and while the specifics of their struggles may be quite different from mine, the anxiety at the heart of it is much the same.
As the pilot episode begins, Hannah (played by Dunham) is having dinner with her parents when they announce they've decided to cut her off financially (or, as Hannah's mom puts it, to stop funding her "groovy lifestyle"). Panicked, Hannah responds petulantly and manipulatively. Her internship doesn't pay; she hasn't finished writing her book yet (four essays are completed, she explains, but it's a memoir, so she "kinda has to live it first"), and besides, she's busy "becoming who I am."
while Hannah's immature response is cringe-inducing, the obstacles she cites aren't imaginary. She protests that all her friends get financial support from their parents, and that's likely true. Last year, only half of college graduates found jobs. Our generation's financial future is far from secure, with 20-somethings having an average debt of $45,000, and Social Security set to run out in 2033.
As the premiere episode unfolds, we watch Hannah seek comfort from a boy through an awkward and unromanticized sexual encounter on his second-hand sofa. He clearly doesn't care about her at all, but her friends do: the responsible Marnie, the flighty Jessa, and Jessa's naive cousin Shoshanna. The girls advise Hannah about how to handle her parents, and after drinking a cup of opium tea, she returns to their hotel to show them her memoir and plead for money, because she thinks she "may be the voice of my generation. Or at least a voice. Of a generation."
Moments like these in the show, displaying the characters' spoiled and self-destructive behaviors, reveal Dunham's willingness to critique as well as to sympathize with her generation, and her ability to arouse conflicting emotions in the viewer is one of the strengths of the show. Raised by overindulgent parents, with a worldview which has been more informed by television than anything else (at one point Shoshanna interprets her life through a Sex and the City lens, the girls fall asleep watching The Mary Tyler Moore Show, and later a character says the girls remind him of Clueless), it's little wonder these girls have trouble forming a cohesive or life-giving framework for their lives.
Girls isn't a show about beautiful people having glamorous sex in impossibly large New York apartments. In fact, its realism - pudgy, un-Photoshopped bodies, dirty sofas - is one of its strengths. As Emily Nussbaum wrote in New York last week, it is a show about "life lived as a rough draft—something well intentioned, possibly promising, but definitely begging for cruel critiques."
If cruel critiques are the first things we, as the church, offer to our younger sisters trying to navigate the entrance to adulthood, though, we are missing our calling. My younger sister moved to New York at 18 and has lived there for nine years. I asked her if "Girls" rang true to her experience. "The way Hannah talked to her parents in the opening scene reminded me of the way it felt with Mom and Dad when I was 17—I'm such a good kid, don't you want me to be happy?" she said. But she was blessed in New York to find one church, and then another, that nurtured her as she entered her twenties, graduated from college (pre-recession), and found a job. This is where the church should be - not trying to revert to some earlier era's "simpler" definition of femininity, nor busily attempting to create a new prescribed path for "biblical womanhood." The church's place is to be present in the daily lives of individual young women seeking to negotiate this transition, walking with them, challenging them, engaging them in the real world they are encountering.
My rough draft of a life has had its share of awkward and embarrassing moments, too, and negotiating adulthood hasn't been a simple task for me. All lives are lived as rough drafts, and my first draft is slashed with plenty of red ink. Like Hannah, I want to be living a better story, the story that will become my memoir. I'm confident that maturity will come, and that God will call his work good. The day will come when I will know fully, and be fully known. I'm thankful for God's promise to "finish" me, no matter how long I fumble toward him on the road from being one of the girls to becoming a woman.
(The pilot episode of "Girls" is available on YouTube, but viewer beware: it contains unromanticized depictions of sex, nudity, and drug use, as well as quite a bit of language you won't hear in church.)
Amy Lepine Peterson teaches writing and American pop culture at Taylor University. You can find her in the cornfields of Indiana with her husband and two children, and on Twitter @amylpeterson.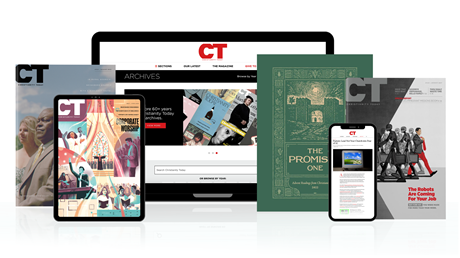 Subscribe to Christianity Today and get access to this article plus 65+ years of archives.
Home delivery of CT magazine
Complete access to articles on ChristianityToday.com
Over 120 years of magazine archives plus full access to all of CT's online archives
Subscribe Now
HBO's Girls and Today's Emerging Adult Women
HBO's Girls and Today's Emerging Adult Women