UN faces renewed calls for blasphemy ban
Some Christian leaders have joined Muslim counterparts in calling on the United Nations to ban certain types of speech. In September, the YouTube film Innocence of Muslims, which targeted the Prophet Muhammad, led to Muslim protests that killed scores of people in 10 countries. The crude video, linked to Coptic activists in the United States, prompted the 57-member Organization of Islamic Cooperation to revive its demand for a UN ban on the defamation of religion (after dropping its decade-long effort last year). Anglican bishops in the Middle East also called for a similar ban. President Barack Obama, addressing the UN, countered that "the strongest weapon against hateful speech is not repression, it is more speech."
Legal fight over contraception mandate grows
Religious institutions received more time to implement the Department of Health and Human Services' controversial contraception mandate after its "safe harbor" provisions were expanded. The last-minute rewrite prompted a federal judge in September to dismiss challenges by Wheaton College and Belmont Abbey, but the D.C. Circuit Court of Appeals agreed to consider the cases. Lawsuits by 30 other Christian colleges and businesses, including Biola University and Grace College, remained pending. Meanwhile, Hobby Lobby and Tyndale House Publishers joined Catholic-owned businesses in filing suit. A federal judge in Colorado granted one business a temporary injunction against the mandate, but a federal court in Missouri dismissed a similar challenge.
Good news for persecuted Christians
IRAN/PAKISTAN Religious freedom advocates were encouraged by developments in the cases of two high-profile persecuted Christians. In Iran, pastor Youcef Nadarkhani, jailed in 2009 and sentenced to death in 2010, was released from prison for time served after being acquitted of apostasy. He was instead convicted on a lesser charge of "evangelizing Muslims." In Pakistan, 14-year-old Rimsha Masih, a developmentally disabled Christian girl accused of burning pages of the Qur'an, was released on bail after police arrested a local imam for falsifying evidence against her. "The government should make this case an example so that nobody will dare misuse the blasphemy law in the future," Allama Tahir Ashrafi, chairman of the All Pakistan Ulema Council, said to Agence France-Presse, expressing unprecedented Muslim support for a Christian charged with blasphemy.
New type of religious refugee approved
EUROPE The European Union will grant refugee status to religious applicants whom it previously denied. Newly eligible are those who seek asylum on the basis of religious persecution even if they are still able to practice their faith in private. The September ruling by the European Court of Justice affirmed a previous ruling in favor of two Pakistani members of the Islamic Ahmadiyya sect who were denied asylum in Germany in 2004.
For-profit Christian college wins free campus
Hobby Lobby will donate a 217-acre Massachusetts campus to Grand Canyon University (GCU). The campus, founded by D. L. Moody, will now be owned by the for-profit Christian school based in Phoenix. GCU edged out the Southern Baptist Convention's North American Mission Board for the Northfield Mount Hermon School campus after establishing a non-profit arm to qualify.
Southern Baptists break rank on Communion
A new survey shows that nearly all Southern Baptist Convention (SBC) pastors observe Communion contrary to their denomination's faith statement. Last revised in 2000, the Baptist Faith and Message (BFM) stipulates both baptism and church membership as prerequisites for the Lord's Supper. But according to LifeWay Research, 96 percent of SBC churches allow nonmembers to participate, and only 35 percent restrict it to those who have been baptized. Roger S. Oldham, SBC vice president for communications, explained the BFM "is not a creed" but a "guide in interpretation" of the Bible. But he acknowledged it "seems clear" the denomination's position on Communion "may have slipped to a minority position among pastors and churches."
A first: Female chaplain assigned to combat unit
Capt. Delana Small's assignment to the all-male 101st Airborne Division, a U.S. Army battalion known as the "Screaming Eagles," makes her the first female chaplain ever placed in a combat unit. The assignment was prompted by a Women in the Service Review for the Department of Defense. The review recommended opening thousands of military jobs to women, including chaplaincy on the front lines.
Anti-conversion law eased in Hindu state
INDIA The high court in Himachal Pradesh, India's most Hindu state, struck down certain restrictions in the nation's 2006 Freedom of Religion Act. The act had required individuals wishing to convert to a different religion to give 30 days' notice to their district magistrate; a judge said that portion was unconstitutional. The ruling applies only to Himachal Pradesh; several other Indian states still enforce similar policies.
Church must relocate despite court support
INDONESIA An embattled church in West Java will be relocated by government order despite a 2011 high court ruling allowing it to occupy its building. Taman Yasmin Indonesian Christian Church legally acquired permission to build in Bogor in 2006, but has been shuttered for years due to opposition from neighboring Muslim extremists.
Regnerus cleared over gay research
The University of Texas at Austin declared sociologist Mark Regnerus not guilty of research misconduct after investigating eight charges concerning the associate professor's controversial study of children whose parents had same-sex relationships. Regnerus had concluded that such children are more likely to experience emotional problems. The university said "none of the allegations … were substantiated." An influential group of social scientists—including Michael Emerson, Christian Smith, and Rodney Stark—defended Regnerus's study, though an audit by one editorial board member of the sociology journal that published it said it should have been disqualified during the peer-review process.
Challenge to housing allowance revived
An atheist-led challenge to the longstanding parsonage tax break enjoyed by ministers will move forward—again. Last year, the Freedom from Religion Foundation (FFRF) dropped its lawsuit after the U.S. Supreme Court ruled (in another case) that individuals who wish to sue the federal government must prove injury as a direct result of the law—instead of suing just because they pay taxes. So the foundation added a housing allowance to its salary structure, leading a Wisconsin federal judge to recently rule the group has new legal standing for its lawsuit. Government lawyers attempted to dismiss the new case until the FFRF "claim[s] an exemption on their tax returns and the IRS denies the claim." But the judge labeled such an effort a "futile exercise."
Churches face eviction as rent skyrockets
CANADA The Toronto District School Board announced that churches renting space in public schools would no longer qualify for reduced rates available for charities. The move is part of a newly approved budget that will attempt to close a C$110 million gap. Blogger and author Tim Challies reported that the church he attends, Grace Fellowship Church of East Toronto, faces a more than 300 percent rent increase, from C$990 to C$4,100 per month; other churches face steeper hikes. Many pastors have claimed discrimination given that other nonprofits still qualify for subsidized rents.
Have something to add about this? See something we missed? Share your feedback here.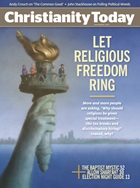 This article is from the November 2012 issue.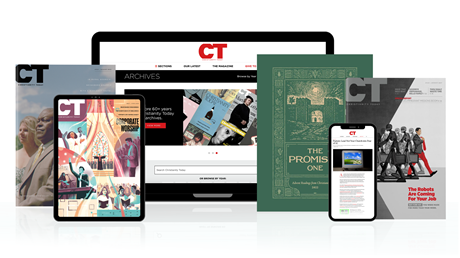 Subscribe to Christianity Today and get access to this article plus 65+ years of archives.
Home delivery of CT magazine
Complete access to articles on ChristianityToday.com
Over 120 years of magazine archives plus full access to all of CT's online archives
Subscribe Now
Gleanings
Gleanings