In the 90 minutes before Justin Bieber appears, the show's creators work the audience as expertly as they will manipulate the hydraulics that lift the singer high into the air later in the evening. As I watch vendors selling cotton candy, I can't help thinking that giving bags of spun sugar to the 10,000 over-stimulated little girls surrounding me is a bit excessive.
A blond Australian teenager, Cody Simpson, comes onstage around 7 and performs "Ay Na Na." With its nonsensical chorus about love at first sight, it brings to mind Shaun Cassidy's "Da Doo Ron Ron." (Full disclosure: I'm 45.) Cody removes his jacket, and the screams rise like sirens. As my 12-year-old later remarks, "He's not very talented, but he's cute."
Next is Carly Rae Jepsen. If you lived through last summer without hearing "Call Me Maybe" at least five times a day, I am willing to bet you don't have a middle-school girl living in your home. Or perhaps you were on a cloistered retreat on the Isle of Skye.
But as "hawt" (description not mine) as Cody is or as unrelentlessly bubbly as is Ms. Jepsen (description mine), this audience has not gathered here for either one of them. It's for him. Him. The one whose face is emblazoned on their t-shirts and tote bags. The one whose initials are written in face paint on their cheeks. The one whose surname appears on a multitude of tweens' and teens' Twitter and Instagram feeds. "Mrs. Bieber," they call themselves. Or "mrsbieber_3921" or "belieber760." Many will tell you: They worship him.
At ten minutes before the show, a digital timer appears on an enormous screen above the stage. At 60-second intervals, the girls' screams grow louder. Nine minutes. Six. Four.
I love spectacle: parades, fireworks, and weddings awake joy and hope in my too-often hardened and distracted heart. So imagine my delight when Bieber makes his entrance, gliding down from above wearing steel-gray wings whose feathers look to be fashioned from cymbals, piano keys, and guitars. A laser show, fireworks, and confetti unfold high above the crowd.
Bieber sings his new songs. He leans down to his fans, allowing a few members of the throng to touch his hands or the hem of his shirt. The word BELIEVE flashes behind him. The Believe album and tour are about having faith in Bieber himself and, secondarily, about believing in his love for his fans. Throughout the night, Bieber thanks the audience multiple times for believing in him: "Where would I be, if you didn't believe?"
This winged angel, this misunderstood artist clad in white and gold, this larger-than-life figure whom they fantasize about—he needs them to believe. And, in return, he sees their beauty and actually loves them. "I just want to love you, and treat you right." When, near the end of the concert, he sings that he'll "always catch" them when they fall, he is standing in a small, fenced platform that has been lifted from the stage and has pushed him up high, closer to the back of the venue and to those sitting up high in the upper decks.
"I will catch you if you fall
If you spread your wings
You can fly away with me
But you can't fly unless you let ya,
Let yourself fall …"
Happily, none of the girls sitting in the upper decks flings herself from the balcony to somehow fly to Bieber, who is suspended above the stage. But the true Beliebers have received a promise of unconditional love, an affirmation that they are special and that "everything is going to be all right." I would have loved to hear him point these girls to someone or something larger, something outside of himself. To the God whom he follows, the one who truly does know and love each screaming girl in the arena.
In the past, Bieber has been unabashedly forthright about his Christian faith. But this night, in the packed Chicago arena, he doesn't pause to point to the audience and say "Jesus loves every one of you," as he did at the Teen Choice Awards last year.
"Personally, I wonder why that is," said Cathleen Falsani, author of the book BELIEBER: Fame, Faith and the Heart of Justin Bieber, which explores the young artist's faith. "Has his teenage stardom gotten the best of him since he's turned 18? Has the ego, that he seemingly has kept well checked (with the help of his faithful and stalwart mother, Pattie Mallette, who raised him in the church, steeped in and surrounded by the love of God) at last reared its less-than-adorable head?"
"My hope and prayer is that he will step up again and decide to spend the currency of his fame to spread the really good news about what he believes in a more explicit fashion," Falsani said. "With or without the huge, metal angel wings."
Alas, the rest of the night focuses on Bieber himself. But perhaps his frequent proclamations of his fans' beauty and his love for them aren't all bad. What person—especially one who is navigating that tricky stage of early adolescence—doesn't need to hear that she is special and loved?
Even if the angelic pop artist speaks infrequently about God's love, is it unthinkable that he is a conduit of teeny-bop grace to millions of girls the world over?
I, for one, "beliebe" he has the power to do just that.
Jennifer Grant is the author of two memoirs about family life: Love You More: The Divine Surprise of Adopting My Daughter and MOMumental: Adventures in the Messy Art of Raising a Family.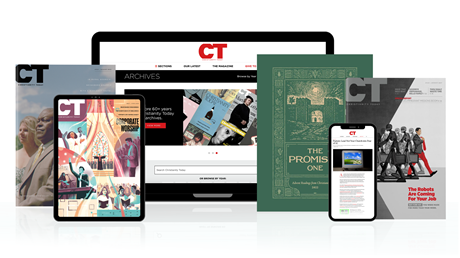 Subscribe to Christianity Today and get access to this article plus 65+ years of archives.
Home delivery of CT magazine
Complete access to articles on ChristianityToday.com
Over 120 years of magazine archives plus full access to all of CT's online archives
Subscribe Now
The Hour I First Beliebed
The Hour I First Beliebed