true
Middle of Nowhere, winner of the Best Director Award at Sundance earlier this year, is a beautifully directed mood piece. It opens with a woman on a bus and closes with that same woman waiting for a bus. But despite being so-often in transit, the journey she takes over the course of the film is entirely within herself.
That woman is Ruby (Emayatzy Corinealdi), a smart, determined wife whose husband in in prison. The movie is deliberately vague in the beginning about why Derek (Omari Hardwick) is behind bars. But Ruby's commitment to the relationship makes it impossible to dismiss him as just a bad guy. In an early scene we see the couple talking across a low table in the poorly lit room at the prison, as Ruby explains her plan to drop out of medical school. She can't go to school and also make the four-hour round trip to the prison every visiting day and also be home when he's allowed to call during the week. Derek resists this plan. You can't put your life on hold for me, he pleads with her. But she is steadfast. They are in this together.
The sentence is for eight years, but early release is likely with good behavior. Ruby makes Derek repeat the bit about early release, a hopeful mantra that will sustain them through the years of waiting. And then she gets to work, as a nurse. She takes the night shift in order to catch those phone calls, pouring herself into the effort to keep up Derek's spirits and to pay the legal fees.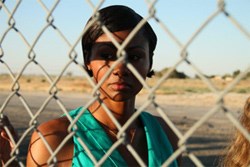 Ruby's mother and sister and nephew all live nearby. And she pours herself into their lives as well. The women have complicated and sometimes strained relationships with each other that are never entirely explained. But the lack of specifics enhances that which is universal about the ways regret, disappointment, and fear can compress love into a bitter pill. Mother Ruth (the always impeccable Lorraine Toussaint) clearly disapproves of Ruby's decision to drop out of school in deference to her marriage. And she also disapproves of Ruby's sister Rosie (Edwina Findley), whether for her fatherless child or something else is unclear.
About the role, Toussaint has said, "Like all mothers, we want our children to be better than us. We don't want them to make the same mistakes. She wants desperately to get [her daughters] back on the road that will bring them more success and well-being than she has known as well as less heartache than she has known. In that process to guide them, she does it in hurtful ways as mothers often do, especially with daughters."
The continual friction and angst among these women is heartbreaking because it's so clearly a function of the disappointments they're all struggling against. In one scene, Ruby asks Ruth for money to cover a legal bill, at the end of which the mother gruffly tells her daughter to "hold her head up." This line could be understood as a reprimand for the request, or as an encouragement to a woman working as hard as she can and still falling short. And the scene is made devastating by the fact it's unclear which reading the mother intends. Perhaps it's both.
As the possibility of early parole approaches, we learn more about Derek. And so does Ruby. One obvious betrayal suggests that there have been other kinds of betrayals—not the least of which might be Derek's failure to give himself over to Ruby's optimism about the future and practical faith in their marriage—and Ruby is sent spinning. She was already living in a reality adjusted from what she'd hoped for or expected. And now everything shifts again.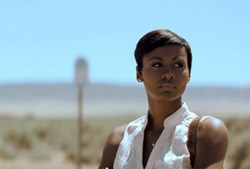 Her husband's betrayal makes Ruby reassess her situation. And part of that is reassessing the affections of Brian (David Oyelowoone), one of her bus drivers. She is imagining a life wherein she doesn't put her life on hold for her husband as she goes to the movies with and rides around with and sleeps with and Brian. And when Derek's crony gets wind of this and comes to confront Ruby, she doesn't apologize. She doesn't know what she wants, but she will figure it out. She will figure it out.
Middle of Nowhere is not about the incarceration rates of black men in this country. Nor even the way these rates affect the warp and woof of life in so many black families and communities. But maybe it's because the movie is not about these things explicitly, that its portrait of these lives affected by incarceration is so compelling. The distances families must travel to see loved ones, the weight attached to missing a phone call, and sheer amount of paperwork that is involved in being a proactive partner to a prisoner are all set pieces to Ruby's story that are as foreign to me as they are intuitively understood by countless families. This disconnect—my lack of awareness of the experiences that mark the lives of so many of my neighbors—made me uncomfortable in a way that I think is probably good.
We leave Ruby at a bus stop. She's made some decisions, but others still loom. And whether she's heading in the right direction or not is somewhat unclear. But there is the sense that she is finding the edges of the nowhere that she was in the middle of. She is finding her way somewhere; the time for waiting is over. And so her journey continues. I was glad to ride along for a while.
Talk About It
Discussion starters
Would you have quit medical school if you were in Ruby's shoes? Why or why not?
Discuss the scene in which Ruby asks Ruth for money to cover legal fees. Why do you think Ruth opposes Ruby's sacrifices?
Do you know anyone who has had a loved one incarcerated for a long period of time? What was their experience like?
The Family Corner
For parents to consider
Middle of Nowhere is rated R for some language. Adult themes permeate the film, and harsh language is used at times. Sex, inside and outside of marriage, is discussed and depicted, though there are no explicit sex scenes.
© 2012 Christianity Today. All rights reserved. Click for reprint information.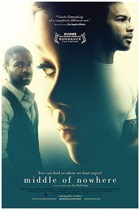 Browse All Movie Reviews By: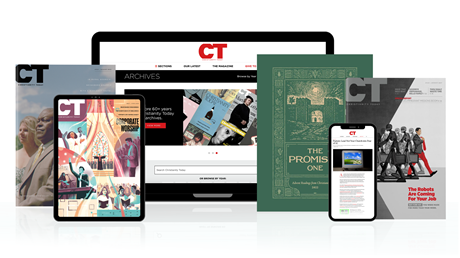 Subscribe to Christianity Today and get access to this article plus 65+ years of archives.
Home delivery of CT magazine
Complete access to articles on ChristianityToday.com
Over 120 years of magazine archives plus full access to all of CT's online archives
Subscribe Now
Middle of Nowhere
Middle of Nowhere