Food mega ministry 'gleaned' money illegally
The family founders of Angel Food Ministries (AFM), a former $140-million distributor of discounted food boxes via churches, have pleaded guilty to money laundering. An FBI investigation that began in 2007 led to a 49-count indictment against Joe and Linda Wingo and their son, Andy, alleging they used AFM funds for personal expenses, collected kickbacks from vendors, and sold excess inventory for profit. Related lawsuits led AFM to shut down in 2011.
Is persecution in China getting better or worse?
CHINA Persecution of Christians in China increased significantly (42 percent) in 2012 as the nation's Communist government carried out a threephase plan to "completely wipe out house churches," according to ChinaAid's annual report. But other evangelical China watchers, such as China Source, attributed most incidents not to government hostility toward Christianity but to "an authoritarian regime obsessed with maintaining stability, … an immature legal system, and an [unchecked] security sector." Open Doors noted China has dropped from the Top 10 to No. 37 on its annual list of the world's worst persecutors.
Apologies over apologies for prayer
Matthew Harrison, president of the Lutheran Church-Missouri Synod (LCMS), admitted to causing a "debacle" after asking a Newtown, Connecticut, pastor to apologize for praying at an interfaith vigil for victims of the Sandy Hook Elementary School massacre. The LCMS prohibits members from taking part in worship services that blend the denomination's beliefs and practices with those of other faiths and Christian denominations. Harrison said he was just trying to maintain unity in the synod but ended up "increasing the pain of a hurting community."
Catholic hospital argued unborn don't have rights
One of the nation's largest providers of faith-based healthcare has apologized for using a legal strategy that many said contradicted its pro-life stance. A Colorado man had filed a wrongful death lawsuit over the death of his wife and unborn twins, saying St. Thomas More Hospital should have performed "an emergency cesarean section to save the fetuses." The hospital defended itself in part by noting that under state law, fetuses are not persons with legal rights. After an uproar, the group apologized, stating, "Although the argument was legally correct, recourse to an unjust law was morally wrong."
A new West vs. South split over sexual ethics
ETHIOPIA One of the largest and fastest-growing Lutheran denominations severed ties with its Western predecessors over the issue of homosexuality. The Ethiopian Evangelical Church Makane Yesus (EECMY) ended its 150-year partnership with the Church of Sweden and its 50-year partnership with the Evangelical Lutheran Church in America. The February decision came after the EECMY tried—and failed—to persuade the Western bodies to reverse decisions to ordain gay clergy and bless same-sex unions.
New policy lets damaged churches get FEMA funds
In February, the U.S. House of Representatives approved legislation that allows churches (and other houses of worship) damaged by Hurricane Sandy to apply for part of the $50.5 billion available for relief aid through the Federal Emergency Management Agency (FEMA). Current policy does not allow churches, synagogues, and mosques to receive federal relief aid, although religiously affiliated groups may apply. The bill is also expected to pass the Senate.
Catholics and Protestants sign off on baptism
Leaders of Catholic and Reformed churches have agreed to recognize each other's sacraments of baptism, a public step toward unity among groups that are divided by doctrine. The "Common Agreement on Mutual Recognition of Baptism" was signed, after seven years of discussion, by representatives from the Roman Catholic Church, the Christian Reformed Church in North America, the Presbyterian Church (USA), the Reformed Church in America, and the United Church of Christ.
Teen sex with church employees labeled rape
In the wake of a child sexual abuse scandal at a Tulsa megachurch, Oklahoma lawmakers moved to classify sex between church employees and teen attenders as rape—even if the relationships are consensual and even if the teenager is 16 (the state's age of consent). Senate Bill 175 would amend the state's definition of rape to clarify that it does not matter whether or not the encounters occur on church property. Two pastors at Victory Christian Center (VCC) will face a jury on charges of failing to report for two weeks the rape of a young girl at the church. Three other church employees elected to take a plea deal. A former VCC janitor pleaded guilty last October to six felony sex crimes against children, including the rape.
Bombing on Broadway
Broadway may love scandal, but it did not love Scandalous: The Life and Trials of Aimee Semple McPherson, a Foursquare Church -backed production that starred Kathie Lee Gifford and closed after just three weeks. The charitable arm of the L.A.-based denomination reportedly invested $2 million into the show that depicted the life of McPherson, the Pentecostal movement's founder. Following the show's failure, top members of the Foursquare Foundation's board resigned. "The real story should be that a denomination is taking bold risks to find new ways of getting the gospel to all the world," said Foursquare spokesman Brad Abare. "And sometimes those efforts don't always go as planned."
Benghazi missionaries may face death penalty
LIBYA More than 50 missionaries arrested in Benghazi, Libya, in February may face the death penalty for charges of printing and distributing Christian literature in the Muslim nation. Four missionaries—one of whom is an American citizen—were found and arrested allegedly while printing thousands of evangelistic books. Weeks later, 48 Egyptian traders were arrested on proselytism charges. A law left over from the reign of Muammar Gaddafi makes proselytizing for religions other than Islam punishable by death.
Refugees leave church after deportation dropped
In February, immigration officials decided not to punish eight Indonesians who lived in a New Jersey church for months in order to avoid deportation. The "immigration fugitives" are now on "order of supervision," which means the six men and two women—who said they fled persecution for their faith in Indonesia, where violations of religious freedom have been steadily increasing—must check in regularly but won't be deported. The refugees lived on Reformed Church of Highland Park property, where doctors and others made house calls.
Churches offer to pay taxes to broke state
JAMAICA In February, a spokesman for a national group representing most of Jamaica's Christians said churches would be willing to pay property taxes—even on church buildings—in order to generate funds for the island's federal government. The property taxes would be part of a process to increase public revenue so the nation can apply for a long-term loan from the International Monetary Fund, which would help repay Jamaica's substantial national debt. However, churches are adamant they are not willing to pay taxes on weekly offerings.
What people gave up for Lent this year
For the past four years, Stephen Smith of OpenBible.info has mined hundreds of thousands of Twitter posts and compiled the top 100 things people say they will abstain from during the 40 days leading up to Easter. Aside from jokes about giving up "being pope," which topped the 2013 list due to the timing of Pope Emeritus Benedict's surprise resignation, the top 10 included swearing (No. 2), soda (No. 3), social networking (No. 4), alcohol (No. 5), and fast food (No. 9). One of the biggest risers: Instagram (No. 10). One of the biggest losers: Chocolate, which fell from No. 2 in 2012 to No. 17—perhaps because Valentine's this year fell the day after Ash Wednesday.
Have something to add about this? See something we missed? Share your feedback here.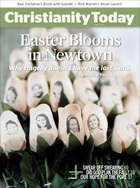 This article is from the April 2013 issue.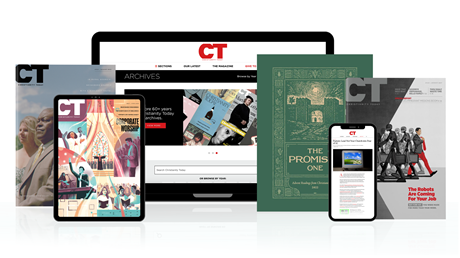 Subscribe to Christianity Today and get access to this article plus 65+ years of archives.
Home delivery of CT magazine
Complete access to articles on ChristianityToday.com
Over 120 years of magazine archives plus full access to all of CT's online archives
Subscribe Now
Gleanings
Gleanings