Hobby Lobby loses, Tyndale wins in court
In November, federal courts ruled both for and against evangelical groups challenging the Affordable Care Act's contraception mandate. A federal judge denied Hobby Lobby's request for an injunction, ruling that the arts-and-crafts giant must cover emergency contraceptives because "secular, for-profit corporations do not have free exercise rights." In contrast, a D.C. circuit court ruled in favor of Tyndale House Publishers, stating "[because] the beliefs of a closely-held corporation and its owners are inseparable, the corporation should be deemed the alter-ego of its owners for religious purposes." Meanwhile, the U.S. Supreme Court revived Liberty University's lawsuit, which an appeals court will hear this spring.
Teenager cleared of blasphemy—a first
PAKISTAN When an Islamabad court officially dropped the case against Rimsha Masih, the teenage girl accused of defiling the Qur'an became the first Christian exonerated from a blasphemy charge in the Muslim nation. Her arrest had prompted international condemnation. In response, President Asif Ali Zardari ordered an investigation and said the law must not be used to settle personal scores.
Family Christian Stores buys itself
In November, the nation's largest chain of Christian retail stores, Family Christian Stores, bought itself from its private equity owners, Publishers Weekly reported. The new owners (the management team plus three Atlanta-based investors) pledged to donate 100 percent of profits to Christian ministries serving widows and orphans in the United States and abroad.
Churches told to quiet down or pay up
RWANDA, UGANDA Government officials in East Africa are cracking down on noise pollution, telling church leaders to reduce worship-related noise levels or face penalties—including being shut down. Rwanda's capital, Kigali, is enforcing penalties after receiving "overwhelming complaints" of "deafening noise from churches," where charismatic worship services often involve loud music. Meanwhile, Uganda's capital, Kampala, recently drafted legislation to reduce noise levels, prompting protest from many churches. Others are pursuing measures, such as soundproofing their worship centers, in order to comply.
Appeals court drops 'minister' test
In November, the Fifth Circuit Court of Appeals declined to determine whom a church can "consider a lay liturgical minister." It was the court's first case to address the ministerial exception doctrine in light of the U.S. Supreme Court's Hosanna-Tabor v. EEOC ruling. The court dropped its former threefold test and held that Philip Cannata, a fired music director who sued his Catholic church in Texas for age and disability discrimination, was a "minister" if the church says he was a minister.
Methodist publisher closes all bookstores
Nashville-based United Methodist Publishing House announced in November that it would shut down all of its Cokesbury bookstores nationwide in order to focus on online and phone sales. All 57 stores, including 19 located in seminaries, will close by April 2013.
Excommunicated bishop must return churches
ZIMBABWE A high court ordered excommunicated bishop Nolbert Kunonga to return worship sites seized from Zimbabwe's Anglican Church. This ended a six-year standoff. The Supreme Court found that Kunonga—who founded his own diocese in Harare, the capital, in 2007—had no legal right to the properties. This decision overturned a previous court ruling in his favor. The bishop, a long-time ally of President Robert Mugabe, is appealing the eviction order.
Westmont tussles over graphic pro-life photos
Westmont College student Seth Gruber ignited debate when he began displaying graphic images of aborted fetuses on campus without permission. Gruber says the school has denied his request to post the signs (an initiative of the Center for Bio-Ethical Reform) for three years now. However, director of communications Nancy Phinney said Westmont offered him permission to display the images but in a less prominent location. The college does not take a position on abortion.
Methodist court preserves clergy tenure
The United Methodist Judicial Council overturned a church proposal that would have removed "employment guarantees" for clergy. Current policies for the world's largest mainline denomination (which includes 31,000 clergy) "give each ordained pastor a place to preach until mandatory retirement at age 72." Supporters argued the new policy would allow churches to remove ineffective pastors.
Pregnant woman's death sparks protest
IRELAND In November, pro-choice activists from Dublin to Delhi demanded that Ireland amend its stringent anti-abortion laws after the death of an Indian woman who was denied an abortion. An estimated 6,000 Dubliners demonstrated to legalize abortion in heavily Catholic Ireland; similar marches occurred at the Irish embassy in India's capital. However, prime minister Enda Kenny said any connection between the death, which was still being investigated by doctors, and Irish abortion law was a "tragic coincidence."
Church staff fail to report child abuse
Five staff members from a Tulsa megachurch, Victory Christian Center (VCC), face charges for taking two weeks to report the rape of a child at the church. In November, John and Charica Daugherty, the son and daughter-in-law of VCC's head pastor, tried to dismiss the "failure-to-report" charges against them. They argued that Oklahoma's anti-child-abuse statutes legally did not require them to have reported the crime at all; the judge disagreed. VCC employee Chris Denman pleaded guilty in October to six felony sex crimes against children.
Island bans preaching on buses
JAMAICA Following complaints from some passengers, Jamaica's government-run public transit system banned evangelism to bus passengers because they are a "captive audience." Some preachers said the policy inhibits their freedom of religion guaranteed by the Jamaican constitution. But police superintendent Radcliffe Lewis told the Jamaica Gleaner, "It doesn't matter who it is, even if you were the pope."
Abuse alleged in Christian children's homes
According to an investigation by the Tampa Bay Times, "nearly a dozen" of Florida's more than 30 religious children's homes subjected children to punishment and isolation verging on "torture." The paper reported that "state authorities have responded to at least 165 allegations of abuse and neglect in the past decade," and noted that some homes have lost their licenses but continued "to avoid state restrictions on corporal punishment."
Census: Christians growing despite laws
NEPAL The number of Christians in Nepal has tripled since the former Hindu kingdom secularized in 2007, according to its first-ever census. However, church leaders believe the census—which pegs Christians at 1.4 percent of the Himalayan nation's 26 million people—undercounts their true numbers. Anti-conversion laws lead many Christians to still report as Hindus, though an agreement signed in May promised to protect the rights of Christians.
Disabled students win voucher victory
Less than a year after Oklahoma started offering scholarships for disabled students to attend private schools, two public school districts sued families that sent their children to religious schools. The districts claimed that using public dollars to pay tuition for religious schools violates the state's constitution. A state court agreed. However, the Oklahoma Supreme Court rejected the lawsuit in November. It ruled that the school districts—not being taxpayers—did not have standing to sue, and that parents "are clearly not the proper parties against whom to assert these constitutional challenges."
Have something to add about this? See something we missed? Share your feedback here.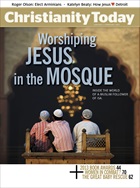 This article is from the Jan/Feb 2013 issue.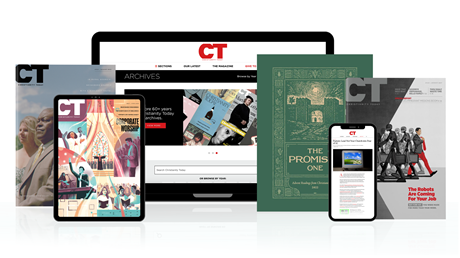 Annual & Monthly subscriptions available.
Print & Digital Issues of CT magazine
Complete access to every article on ChristianityToday.com
Unlimited access to 65+ years of CT's online archives
Member-only special issues
Subscribe
Gleanings
Gleanings