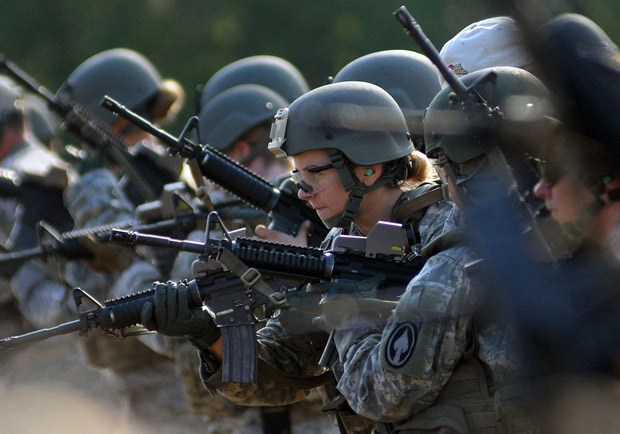 Image: SSG. Russell Lee Klika / U.S. Army
When U.S. Secretary of Defense Leon Panetta announced yesterday that the military would drop its ban on women in combat, the breaking news quickly spread across the web, with bloggers on one side declaring victory for women and the undoing of civilization on the other.
Maybe we are picturing the rise of a generation of G.I. Janes, doing grunt work and carrying big guns, bouncing foxhole to foxhole with huge packs on their backs.
But that's not what war looks like anymore. There are no front lines. War is no longer dominated by tanks, troops, and traditional military strategy. Our soldiers are engaged in a different kind of conflict, and as we discuss women in combat we must be familiar with the true picture of combat for the U.S. military in the 21st century.
After all, less than 1 percent of Americans have served on active duty, and in spite of a decade's worth of war coverage, few of us on the home front understand the true situation in Iraq and Afghanistan.
It's called "asymmetrical warfare." Basically, the forces our soldiers face don't behave like our military does. Our opponents are a ragtag, unpredictable bunch, fighting the world's most advanced military with homemade roadside explosives, random rocket launches, and suicide bombers.
"These conflicts, where battlefield lines are blurred and insurgents can lurk around every corner, have made it almost impossible to keep women clear of combat," said the Associated Press story that broke the news yesterday. "While a woman couldn't be assigned as an infantryman in a battalion going out on patrol, she could fly the helicopter supporting the unit, or move in to provide medical aid if troops were injured."
In other words, combat troops are not the only ones who who face the unpredictable threats of asymmetrical warfare. Pretty much everybody involved is at risk. Men and women together are subject to bullets, bombs, and rocket fire as they ride across the country in Humvees, fly in helicopters, and live on military installations that are periodically attacked.
Yet, it was not until last fall that the Army finally developed specialized body armor for women, with curves to fit better around breasts and hips. The standard armor, designed for men, was uncomfortable and sometimes unsafe for women, leaving gaps between their body and the Kevlar plates.
And it's not the combat troops who are the sole heroes of war anymore. In the wars in Iraq and Afghanistan, the military hasn't set out to outnumber and outshoot the enemy, as it did in World War II. Instead, they must outsmart them. Fighting the insurgency, the U.S. works to find and eliminate threats. The "finding" part requires advanced intelligence, evidence-gathering, and research. For a prime example, consider the killing of Osama Bin Laden, as told in Oscar-nominated film Zero Dark Thirty.
The Navy SEALs may have been the guys to get the job done, but the real story is about the female CIA agent—played in the movie by Jessica Chastain—who gathered the intelligence to find and kill bin Laden. In today's war environment,this is the new, symbolic "front line," and she's the hero.
I fear that when we celebrate opening combat positions to women, we forget that the definition of combat has shifted. Women already are risking their lives and playing crucial roles today's military. I can attest to this firsthand: In the Army, my husband serves alongside some of strongest women I've ever met, women who inspire me with their dedication and sacrifice.
The Army reports that 91 percent of its jobs are open to women, and that number has been on the rise long before Wednesday's announcement. Women are taking on once all-male specialties, like field artillery. In September 2012, a captain with the 101st Airborne Division became the first female chaplain assigned to a combat unit.
As the recent decision to expand women's roles in war unfolds, bigger issues will emerge over rules and resources; tactics and training; abilities and ethics. But the majority of Americans will debate this topic from the comfort of their own homes, far removed from the realities of a fundamentally changed battlefront.
There's a quote that goes, "Only two people have given their lives for you. The Savior died for your sins. The soldier died for your freedom."
A life is a life, and male or female, these soldiers have volunteered to risk theirs to fight for our country. As Christians and as Americans, we must recognize the sacrifice both men and women in the Armed Forces make—and have already made—on our behalf.
Kate Shellnutt is the new editor of Her.meneutics. She is also the wife of a U.S. Army soldier and the daughter of a retired Navy SEAL.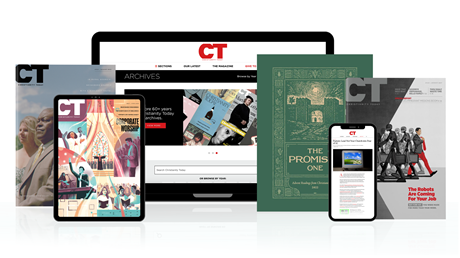 Annual & Monthly subscriptions available.
Print & Digital Issues of CT magazine
Complete access to every article on ChristianityToday.com
Unlimited access to 65+ years of CT's online archives
Member-only special issues
Subscribe
Female Heroes in a New Kind of Combat
Female Heroes in a New Kind of Combat