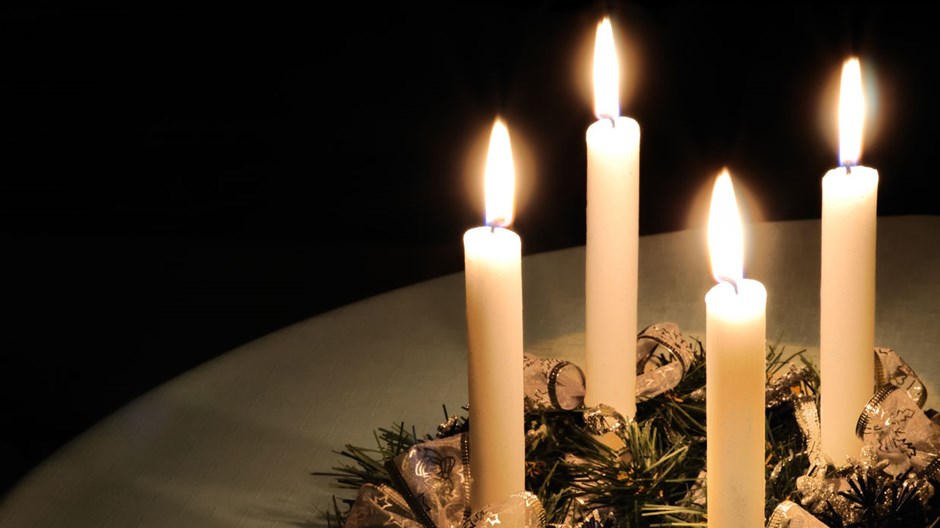 Image: Shutterstock
Countless American Christians, it seems, have decided that the best way to "keep Christ in Christmas" is to recapture the spirit of Advent. As an Anglican, I'm delighted to have watched nearly all my Christian friends—regardless of their denomination—embrace the season over the last few years. People are seeking and finding Christ in deep ways through this observation. Hooray! And more power to them. I have no desire to be an Advent Scrooge. But I worry that many of them will make the same mistake I made: Finding so much value in the Advent season that they forget to celebrate the Christmas season.
Seriously, Advent is huge now. Google Trends indicates that the 2014 search traffic for the terms "Advent" and "Advent wreath" is significantly up from 2013 and has been on the rise for years. The renaissance of Advent seems to have grown beyond Christendom, into the marketplace, where Starbucks and other retailers push the season towards becoming "just as commercialized as Christmas."
It's not because Catholicism and liturgical Protestantism are growing. (They're not.) All stripes of Christians seem to be adopting it. John Piper just released a book of daily Advent readings and his church, Bethlehem Baptist, is observing the season. Ann Voskamp's much-adored Advent devotional, The Greatest Gift, bore a family-adapted sequel this year, Unwrapping the Greatest Gift. Both are among the top sellers in Christian books. Saddleback Church released an Advent app and offered an Advent retreat this year.
Willow Creek had a major Advent sermon series wrapping up last week. Aaron Niequist, who leads Willow's experimental, liturgical gathering, The Practice, said Willow is taking the spirit of Advent and "doing it their own way… There are no Advent candles or prayers or liturgies, but there is a spirit of preparation." The Practice is taking things a little further—with a Jesuit leading an Advent prayer session, seasonal liturgies, and resources provided to the community throughout the week. Niequist generally attributes the newfound interest to greater currents in evangelicalism: swinging back to tradition, and looking outside itself. He said their hope as a community is to not just embrace what's hip at the moment, but look beneath that movement at what most forms people into Christ's likeness.
There's a segment of evangelicalism that's increasingly drawn to liturgy, especially the Anglican tradition, said Larry Eskridge, associate director of the Institute for the Study of American Evangelicals at Wheaton College. But he thinks that's a part of the Advent boom. "There's also undoubtedly a commercial element as well," he said. "As the popularity of the practice grew among an influential segment of the evangelical community, that popularity was cashed in by the Christian publishing, manufacturing, and retailing industries. The visibility of Advent wreaths, candles, banners, books, tracts, etc., undoubtedly had a major impact on a lot of folks' awareness, tolerance, and embrace of the practice."
I see the modern adaptation of Advent as a wonderful entry point to the riches of ancient Christian tradition: the church year, sacraments, and liturgy. Indeed, I'm one of those new Anglicans Eskridge refers to—but I got there via a hip Baptist church that introduced me to the seasons of the church year (and cofounded Advent Conspiracy).
But sometimes I find myself befuddled by a particularity of this movement. As a season of the church year, Advent is intended to prepare us for Christmas—a 12-day celebration, a season in itself. Advent is traditionally the fast before the feast. But I see few recent adopters of Advent keeping the feast. Thirty days of waiting, anticipation, preparation—and then when the person on whom you've waited arrives, Alright, we're done here. Pack up the Christmas tree. What are you doing New Year's Eve?
Voskamp's books, which are subtitled, "Unwrapping the Full Love Story of Christmas" and "A Family Celebration of Christmas," respectively, end on December 25 (as do Piper's). From the churches' websites, it looks like Willow Creek, Saddleback, Bethlehem Baptist, and most of their ecclesial comrades won't celebrate Christmas beyond Christmas Eve.
Don't get me wrong: I think it's fantastic for people to be observing Advent, preparing both for Christmas and for the Second Coming. I just don't want them to miss out on the celebration.
The church year is full of fasts and feasts, preparation and celebration. We fast through Lent and then pull out of the stops (literally—at many churches—on pipe organs) for Easter. We learned this from our predecessors, Israel. Fasting turns to gladness. Hear the Lord: "The fasts of the fourth, fifth, seventh and tenth months will become joyful and glad occasions and happy festivals" (Zech. 8:19).
As Westerners, we have a strange relationship with celebration. Rather than have an occasional feast, we tend to live in a constant state of gluttony. Or we party and then feel guilty about it. This may be why Advent is so attractive; it's countercultural and solemn.
Much of the attraction to Advent, Eskridge says, is that it's "another way to reimagine Christmas and slow down some of the commercialism and rush of the season. It brings a little more Christocentric focus to the celebration."
But preparation is not an end to itself. Would you prepare a Thanksgiving meal, set out the china, invite the family over, and then not eat it? Would you take a few bites, but leave the majority of the plate to spoil?
How wonderful to orient our hearts towards Christ's coming in Advent, how holy to dwell in anticipation. But ultimately, Christmas is the greater gift. At Christmas, we see that God's table is bountiful. Take, eat.
How We Keep the Feast
If, like me, you're new to observing the season of Christmas, here are a few pointers that I'm trying to incorporate into my 12 days.
Celebrate with church and family.
In many circles, Christmas has been relegated a "family holiday," when it's first and foremost about the church. Observing Christmas as a holy season doesn't mean we shouldn't celebrate with our families—surely this is a good and God-honoring thing. But our hearts should be primarily on worship and the community of God in this season. Traditional churches will gather on Christmas Day and then focus on Christmas until January 6, which is, at most, two Sundays, sometimes one. My husband and I try to be with our church as much as we can in these 12 days, including attending a service on Christmas Day.
It's our honored American tradition to celebrate Christ's coming with our extended families—and for good reason. As we share his love around our tables and in our homes, we should also try to open up our nuclear households to the family of God, especially the marginalized and those without picturesque families to return to at Christmas. Thomas McKenzie, author of The Anglican Way, points out that observing Christmas this way "mitigates against loneliness," and could perhaps even curb the high number of suicides around Christmas.
Distinguish between Advent and Christmas—and observe both.
On an individual level, following the church calendar well requires something I'm not very good at: delayed gratification. I tend to get all Christmas!! as soon as Halloween passes, and I secretly start listening to my holiday Pandora stations.
As I write this, it's the second week of Advent and I confess that I currently despise all holiday music. If I had waited well, maybe enjoying a few Advent hymns (O Come, O Come, Emmanuel, Come Thou Long Expected Jesus) and diving into Christmas hymns (Joy to the World) for a short 12 days, wouldn't I be so much more in tune with the movement of the church through these celebrations, with the movement of Christ in our midst? Fasting well in Advent—and having self control—preserves the celebration.
Party on.
I recall, as a kid, feeling a sinking regret and sadness towards the end of Christmas Day, knowing that tomorrow, it would be over. We'd been waiting for so long, and after a quick, 10-hour day of eating and unwrapping presents, Christmas was done. Now, on December 26 I say to myself, "Okay, it's day two of Christmas: Party on."
Consider throwing your Christmas parties between December 26 and January 6. You may not be able to get around cultural Christmas celebrations during Advent. At CT alone, I've attended two different Christmas celebrations and have another this afternoon. One way we can preserve the spirit of Christmas for its allotted time is to keep noting that the cultural stuff is almost always preparation focused, even as it is celebratory. If we think of our gift-giving as part of our celebration of Christ, we should think about saving them to be opened slowly throughout Christmas.
We can try to put as much thought into our Christmas celebrations as Advent. This could look like having a time with your family to make the switch in your home: decorating or finishing the tree. And leaving the halls decked until Christmas is over. If your family had an Advent calendar, create one for the Christmas. If you did readings in the 30 days leading up to Christmas, sit down for readings and devotionals for the 12 days following.
My goal is not to just fly the flag of a High-Church snob or even an Advent Purist. I'm deeply committed to the diversity of the body of Christ and the importance of our different faith traditions. Likewise, I think we have much to learn from each other: practices to adopt, conversations to have, corrections to make. In that spirit, this is an invitation: There's a feast sitting on the table. Won't you come and join us?
Andie Roeder Moody (@andiemoody) is assistant editor of The Behemoth. Her blog is Wayfarings.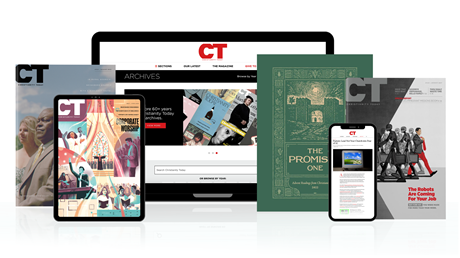 Annual & Monthly subscriptions available.
Print & Digital Issues of CT magazine
Complete access to every article on ChristianityToday.com
Unlimited access to 65+ years of CT's online archives
Member-only special issues
Subscribe
Always Advent and Never Christmas?
Always Advent and Never Christmas?