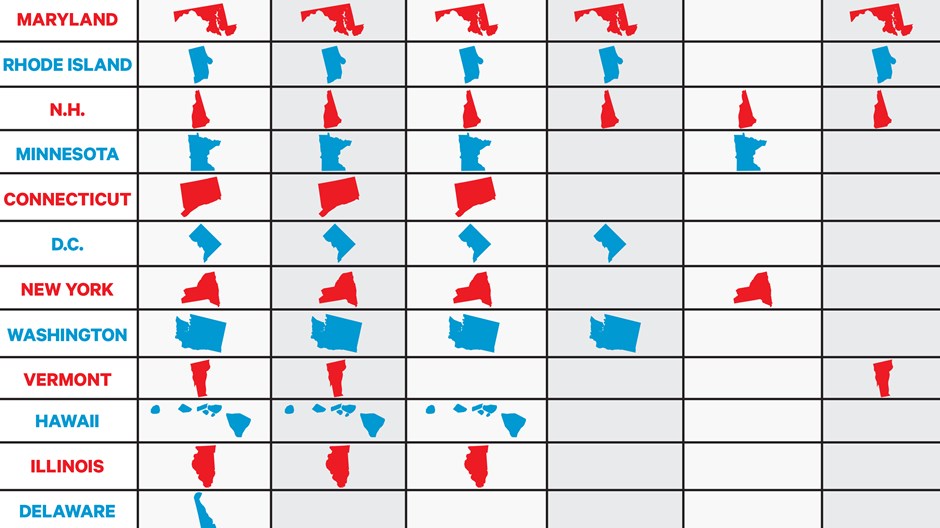 With federal judges in two highly conservative states striking down "defense of marriage" laws as unconstitutional this January, more church-state experts are advising same-sex marriage opponents that the marriage battleground should shift to religious freedom.
While the latest rulings in Oklahoma and Utah are on hold pending appeal (thanks to the U.S. Supreme Court), the most-recent states to legalize same-sex marriage—Hawaii and Illinois by state lawmakers, and New Jersey and New Mexico by state supreme courts—illustrate the differences between when lawmakers legalize same-sex marriage and when courts do.
In short, states where courts have ruled on same-sex marriage are "black hole" states where few or no specific religious protections are given, according to Robin Fretwell Wilson, a University of Illinois law professor who leads a group of legal scholars that advise lawmakers on religious exemptions. By contrast, she said, "There is not a single state that has accepted same-sex marriage [through legislation] where they haven't gotten a religious exemption."
Of note: In November, a lesbian lawmaker in Hawaii made national news when she voted against a draft of her state's bill legalizing same-sex marriage, citing religious freedom concerns. By contrast, after the New Jersey Supreme Court denied Gov. Chris Christie's appeal of a judge's overturning of the state's ban on same-sex marriage, an attempt by state lawmakers to later write a bill with religious protections collapsed under pressure from gay-rights groups. (The Associated Press highlights the next five states to watch.)
With same-sex marriage now legal in 17 states and the District of Columbia, more religious liberty advocates like Wilson are helping same-sex marriage laws include sufficient religious exemptions.
"Too many folks see this as an all-or-nothing matter," says University of St. Thomas law professor Thomas Berg. "If religious liberty is tied to defeating same-sex marriage altogether, religious liberty is going to lose."
In other words: If you can't beat them, amend them.
CT recently asked a group of legal scholars on the forefront of advising lawmakers on religious exemptions to assess which of the 12 existing state SSM laws offer the best protections. Their general ranking is below. The best: Maryland and Rhode Island. The worst: Delaware.
A comprehensive chart that includes states with judicial rulings and more legal nuances can be downloaded here.
Opposing same-sex marriage on its merits is not an effective long-term strategy, according to Stanley Carlson-Thies, president of the Institutional Religious Freedom Alliance. And not just because younger people poll higher in their acceptance of gay marriage.
"There is a decreasing worry about same-sex relations—maybe because a lot of us know somebody in a same-sex relationship," he said. "There has also been a change in what people regard as equal treatment."
Other states will follow the current 17 states, said Wilson. Even religious conservatives in states with constitutional amendments defining marriage as between one man and one woman can't be too confident. In about two-thirds of those 28 states, marriage amendments are not hard to change, she said.
Wilson identifies four layers of needed protections. She starts with the clergy, who need—and already get—the best defense from the U.S. Constitution. While most states where same sex-marriage is legalized specify this protection, she calls it a "fake religious liberty protection" because it's already guaranteed at the federal level.
Religious facilities which may be rented out to non-members make up the next layer, Wilson said. Next are religious social service agencies (such as the Salvation Army or Catholic Charities), religious universities, and religious marriage counseling services which may be open to prosecution or civil suit if they don't accommodate same-sex couples seeking services.
The fourth layer comprises people of faith who work in so-called secular jobs. The marriage counselor at a non-religious practice, the judge asked to perform the marriage, the bakers and florists and photographers—all should have religious rights, she said. While New Mexico and Colorado courts have ruled that anti-discrimination trumps religious rights for private businesses, Delaware has gone so far as to recognize a judge's right to turn down a same-sex couple's request to perform the ceremony.
Even though the state offers few other protections (thus its low ranking on CT's chart above), the sheltering of people in the fourth layer makes Delaware ironically one of the most robust in terms of protections for individuals, Wilson said.
"Delaware is amazing, because they don't do anything for big religion but they do a lot for the small guy," she said. "In our view, the government employee can stand off as long as somebody else is there to do the service."
However, for Berg, who works with Wilson on state religious exemptions, protecting social services is the most crucial. "Social services and schools are outgrowths of the ministry of churches and denominations," he said. "Serving people is a core exercise of religion."
Another critical issue is protection from losing a tax-exempt status or license to operate, said Berg. Apparently state legislatures agree—all but Vermont protect same-sex marriage objectors against government penalty.
While some states offer fairly robust protection—such as Maryland, Rhode Island, and New Hampshire—none of the state laws are ideal, according to law professor Doug Laycock, a leading advocate of religious protections alongside Wilson. "They're often drafted in a hurry. They are incomplete or sometimes deeply ambiguous."
Part of the problem is a lack of political support for exemptions among opponents of same-sex marriage, he said. "Somebody has to credibly say, 'Give us a real religious liberty provision and we'll withdraw our opposition.'"
It's a hard shift for same-sex marriage opponents, but a necessary one, Laycock said. "They're losing this fight, and need to get some more liberty protections while they have a chance. Once a law is passed, it's too late."
Wilson agrees. "It's better to have protections now than holding out and getting nothing."
Caleb Dalton, litigation counsel for Alliance Defending Freedom, agrees that legalization of same-sex marriage via state laws is preferable to court rulings. "A ruling doesn't provide for specific protections the way a legislature can," he said. "That's one of the downsides of judicial fiat on this issue."
However, Dalton is among the legal experts who disagree that trying to block same-sex marriage laws from passing is a lost cause.
"It's not an either-or," said Dalton, whose team focuses on marriage and family issues, including the Tulsa County clerk who is a defendant in the Oklahoma case. "We will continue to advocate for marriage between one man and one woman as the building block of society. But in cases where a state has chosen to redefine its marriage laws, we support the active inclusion of robust religious liberty protections in pending legislation."
Russell Moore, president of the Southern Baptist Convention's Ethics and Religious Liberty Commission, also opposes the strategy of abandoning opposition to same-sex marriage laws and instead focusing on "let's just get what we can get" on religious freedom protections.
"I think it would be a mistake to abandon the fight for the definition of marriage. I think we should do both. One needn't choose one or the other," he said. "The historical parallel would be the prolife movement, which includes both a constant articulation of why we should protect unborn children and women harmed by abortion, while at the same time, working for conscience protection for prolife conviction.
"So while we're fighting for religious liberty, we're articulating why we believe marriage is significant and important. And while we're fighting for marriage, we're articulating why the religious liberty concerns that inevitably come from these discussions are significant," he said. "We do both, and we don't abandon or marginalize either plank."
"Same-sex marriage is not inevitable in the court system," said Dalton. "The only current federal appeals court that stands on this issue—the Eighth Circuit's 2006 decision upholding Nebraska's marriage laws—has ruled that a state can constitutionally define marriage." He notes that the Ninth Circuit came to a different conclusion, but its decision was vacated by the U.S. Supreme Court last year in Perry v. Brown. "Furthermore, last year's Supreme Court decision in Windsor clearly affirms the right of each state to define its own marriage policy in this arena," he said.
Carlson-Thies says exchanging opposition of same-sex marriage laws for religious protection isn't a trade-off, but reading the signs of the times and doing something about it.
"You don't want to tell people [the definition of marriage] doesn't matter, because it does matter. That weighs heavily on people," he said. But if same-sex marriage legalization is unavoidable in certain states, then conservative Christians need to build space where their view of truth can still be testified to and exemplified, he said. "It is the reality of living in a broken world."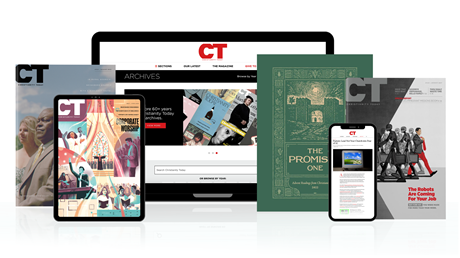 Annual & Monthly subscriptions available.
Print & Digital Issues of CT magazine
Complete access to every article on ChristianityToday.com
Unlimited access to 65+ years of CT's online archives
Member-only special issues
Subscribe
Evangelicals' Favorite Same-Sex Marriage Law?
Evangelicals' Favorite Same-Sex Marriage Law?