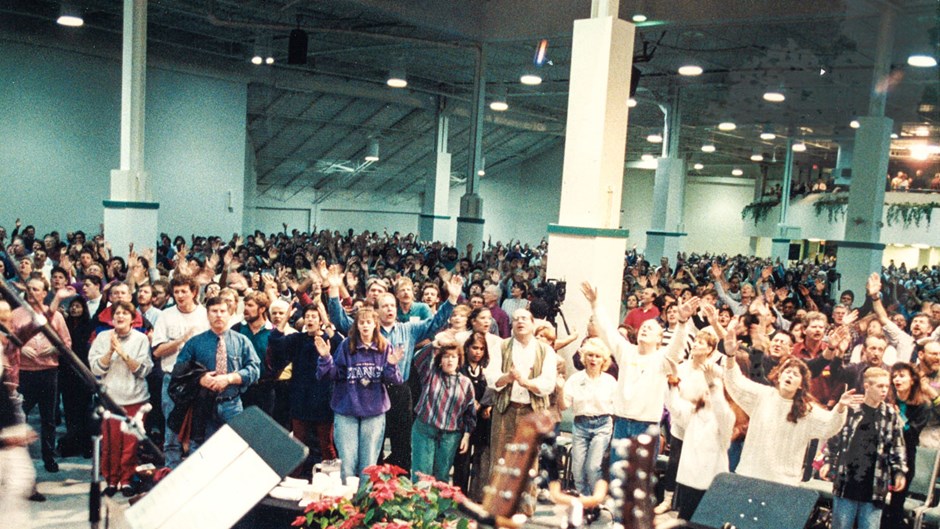 Image: Courtesy of From Here to the Nations
Early in 1994, a small church in a strip mall near Toronto Pearson International Airport had thousands of people waiting at its doors night after night—50,000 unique visitors, as we'd say today, in the first six months of the year, enough to make it "Toronto's top tourist attraction of 1994," according to Toronto Life magazine. The Toronto Blessing was falling.
Laughing, falling over, shaking, roaring like a lion, and being "drunk in the Holy Spirit"—the Toronto Blessing was a charismatic revival featuring manifestations of spiritual power more commonly associated with the Great Awakenings of the 18th and 19th centuries. Thousands registered first-time conversions to Christianity at the services. Every evening people lined up to stand or fall under shouts of "More, Lord!" while hands were laid on them in prayer.
The atmosphere felt just the same as it did 20 years ago as I made my way through a crowd that had turned up two hours early to celebrate the revival's anniversary on January 20, 2014. The services were held at Catch the Fire, formerly known as the Toronto Airport Christian Fellowship, which was the Toronto Airport Vineyard at the revival's inception. The church has grown from its storefront to a 3,200-seat auditorium, 8 satellite campuses, 23 church plants, and a global Catch the Fire church network.
I hadn't been back to the church for a long while, but I was drawn to this celebration. I was grateful for what I had received there 20 years before. As a side task, I had taken CT up on its invitation to write about my reunion experience.
A Mixed Blessing?
In 1994, I was a young reporter assigned to cover the Toronto Blessing. I was significantly discouraged aboutChristian ministry at the time. In spite of my angst, I was curious about the bizarre stories of spiritual manifestations coming from the airport church pastored by John and Carol Arnott. I remember going to the back of the church, phoning my sister, and complaining, "Everyone is getting this 'Father's blessing' here but me." My charismatic sister told me to put down my notepad, stop being a reporter, and just receive. What I experienced was so significant that I divide my own spiritual journey into pre- and post-Toronto Blessing eras.
My sister's advice still applies. It's hard to rationally account for the results of the Toronto Blessing over the past two decades. A few themes, though, are consistent. This revival attracted people who wanted their spiritual condition to change, and it commissioned people to live for God's service and glory. Such spiritually charged events often devolve into massive scandals—like the one that enveloped evangelist Todd Bentley in the wake of Florida's "Lakeland Revival" of 2008. Not so with the Toronto revival, which has had a remarkably scandal-free track record.
Many of the Toronto Blessing's critics have moderated their concerns in the last two decades. Dr. James Beverley, professor of Christian thought and ethics at Toronto-based Tyndale Seminary, published one of the most detailed examinations of the revival, Holy Laughter and the Toronto Blessing, in 1995. At the time he concluded that the revival was at best a "mixed blessing," with an undue emphasis on extreme and bizarre manifestations and a tendency to exaggerate claims of signs, wonders, and prophecies.
Nearly 20 years later, Beverley strikes a more appreciative tone, emphasizing the positive and lasting impacts of the revival. "Whatever the weaknesses are, they are more than compensated for by thousands and thousands of people having had tremendous encounters with God, receiving inner healings, and being renewed."
Beverley is still reluctant to identify the more extreme phenomena of laughing, crying, "birthing," or roaring as straightforward manifestations of the Spirit of Christ. He interprets them as signs of deep pain and a need for emotional and spiritual comfort. "The whole thing is an indication of how much people want to feel close to God and have a sense of his presence. This does not excuse or explain everything.... To know it in detail, you would have to inspect story after story, but there is no doubt that the vast majority of people have been helped, and there have been radical conversion experiences and radical renewal in many lives."
That renewal has had far-reaching and long-lasting effects. One of many famous visitors to the revival was Nicky Gumbel, best known as the leader of Alpha. The Guardian reported in 2000 that "a quarter of a million agnostics have found God through Gumbel." And they reported that "the Toronto Blessing was the kick-start Alpha needed."
"I don't talk about it now," Gumbel told The Guardian. "It divides people. It splits churches. It is very controversial. But I'll tell you—I think the Toronto Blessing was a wonderful, wonderful thing."
Beverley thinks the harshest criticisms of the movement were always overblown. "This has largely been a great movement because it has led people to Jesus. There are dangers, and the revival could have been even better than it has been if its leaders had controlled some of the movement's weaker elements. But overall, I have never worried about the Toronto Blessing as a dangerous cult-like movement. I am happy that the renewal has lasted two decades."
His remarks hint at something of a shift in his own evaluation of the movement. "My concerns have changed a bit. I regret saying that they did not give enough attention to Jesus. I think that was too hard. The leaders and the people—they love Jesus. We all do not give enough attention to Jesus."
Carpet Time
I ended up attending for a week in the Toronto revival's early days. On those nights I was prayed for I spent a few hours of my own in "carpet time," the Catch the Fire term for what happens when people are knocked down, "slain in the Spirit," and leave mysteriously strengthened and renewed in their love for God.
The 20th anniversary contained all those same elements. Not much has changed in the Arnotts' attitude and approach. The love of John, now 73, and Carol, 71, for their staff, congregation, and visitors seems unforced and unfeigned. They still see themselves as "stewarding what God is doing."
During the anniversary meetings, the Arnotts welcomed international Vineyard Church leader Blaine Cook to the reunion stage. In 1996, the American Vineyard Board and Council decided to cut the association's ties with the Canadian congregation. At the time, John Wimber stated that the Toronto revival needed more emphasis on "the main and plain things in Scripture."
At this reunion, the two distinct churches apologized for any hurt the separation may have caused, emphasizing their shared love and respect for God's work in their organizations. Vineyard pastors around the world now engage with the "Revival Alliance," a group that includes the Arnotts, Bill and Benni Johnson, Randy and DeAnne Clark, Georgian and Winnie Banov, Che and Sue Ahn, and Rolland and Heidi Baker—all global charismatic leaders of movements that expanded as a result of the Toronto Blessing.
To some critics, the Revival Alliance extends beyond the boundaries of mainstream Christianity. Beverley notes the connection between several Revival Alliance members and the New Apostolic Reformation, which tends to grant extraordinary amounts of power to particular "apostolic" leaders. Beverley sees Catch the Fire as largely distinct from these more radical movements, but the relationships and mutual endorsement remain.
One figure who links the Revival Alliance with the New Apostolic Reformation is Randy Clark, a former Southern Baptist pastor who preached for 42 of the first 60 consecutive days of the revival in 1994. His preaching opened the 20th-anniversary revival conference, with his familiar text (John 7:37–38) and familiar theme of developing a "thirst for more" of God.
When asked about unorthodox elements or exaggerated claims of spiritual power among members of the Revival Alliance, Clark responded, "Our unity is not based on doctrinal agreement. Our unity is based on the experienced presence of God and how it renewed us and our commitment to a gospel of the kingdom."
"Our legitimate critics would say we are weak on a theology of suffering, and I think it's an appropriate critique," said Clark. "But I am convinced we have a solid biblical basis for what we teach. I believe my critics have an under-utilized eschatology. They're putting off into the millennium what God has made available for the present."
I have nothing but admiration for the leadership and members of Catch the Fire, and their ministry in our metropolis. But I do wonder how they manage the expectations encouraged by the style of prayer practiced at Catch the Fire and by Revival Alliance leaders. Hoping for a "magic touch" in prayer can manipulate people into yearning for a particular style of "anointing." They start to hunger for the visible manifestations of bodies fallen, resting peacefully, or shaking uncontrollably as if by a mysterious voltage. Their hope for physical healing is often disappointed.
And what do you do during the long seasons when you walk with little sense of experiential "anointing"? Those years of normal life when the Word made flesh, the enduring truth of the Resurrection, is all you have to go on?
The anniversary was a good time for me to reflect on these questions. I know I received a profound inner healing at the revival. We have been given beautiful gifts in the Toronto Blessing, and beautiful gifts too in those who critique it. I'm thankful that in God's wide family we have both—servants who steward Word and Spirit.
Lorna Dueck is the host and executive producer of Context with Lorna Dueck. Context's Stephen Lazarus provided additional research for this article.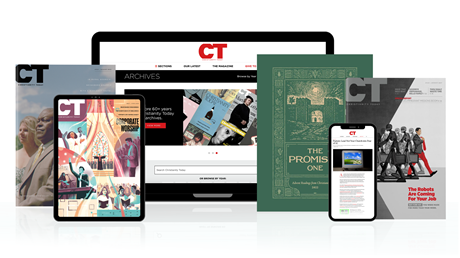 Annual & Monthly subscriptions available.
Print & Digital Issues of CT magazine
Complete access to every article on ChristianityToday.com
Unlimited access to 65+ years of CT's online archives
Member-only special issues
Subscribe
The Enduring Revival
The Enduring Revival