true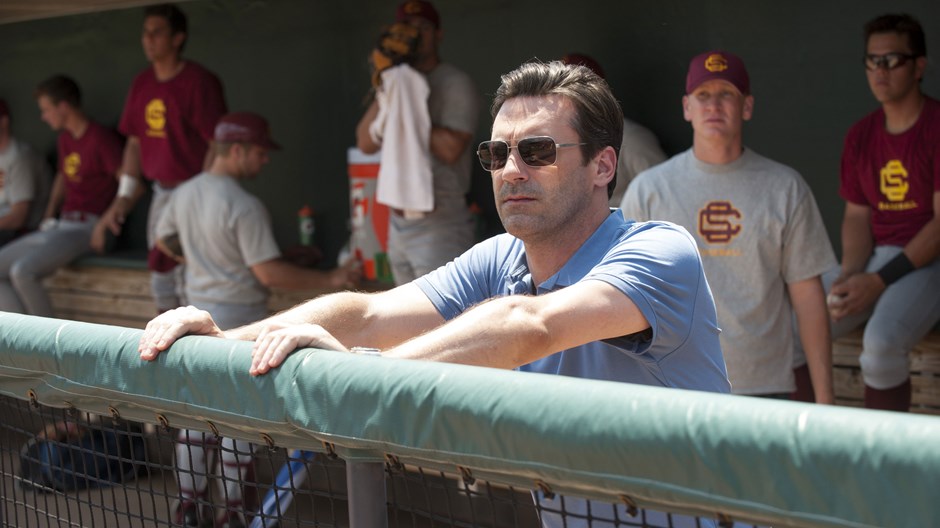 Image: Disney Enterprises, Inc.
What are the perfect conditions for an epiphany? For one of those eureka moments, maybe even a word from God?
Perhaps while hiking alone with your thoughts on a peaceful trail in a national forest. Or while being moved to tears during a Bach cantata, or after reading a particularly riveting story. Or maybe during a time of prayer while scribbling away in your journal.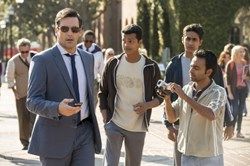 Image: Disney Enterprises, Inc.
Or maybe it comes late one night, beer in one hand and remote control in the other, while channel surfing, and flipping back and forth between a cricket match in India and Susan Boyle singing "I Dreamed a Dream" on Britain's Got Talent.
Or . . .
Wait. What??
That's just what happens in a pivotal scene early in Million Dollar Arm, the latest in Disney's string of feel-good, based-on-a-true-story sports movies. It's a lineup that began in earnest with 2000's terrific Remember the Titans, and has included such gems as The Rookie (2002), Miracle (2004), Invincible (2006), and Secretariat (2010).
Disney was due for another winner in this genre. Well, here it is.
Here's the deal. There are about 850 players in Major League Baseball. Some 26 percent are from outside of the U.S., including 83 from the Dominican Republic, followed by Venezuela's 59, Cuba's 19, and Puerto Rico's 11. Several nations have a few each.
India? Zip. Nada.
Such was the case in 2007 when sports agent J.B. Bernstein came up with a preposterous idea, sparked in part by that fictitious scene above. (It can't be real, because Boyle's unexpected breakout performance came in 2009.)
Bernstein, desperately seeking to sign the Next Big Thing in sports, decided to look for it in India . . . which had produced exactly zero professional baseball players in its history. Those cricket dudes can throw pretty hard, he thought. I bet we could train one to pitch in the majors. And, he figured, with 1.2 billion people, the odds were pretty good.
But how to find this diamond in the rough, the next slumdog millionaire? Why, with a reality show, of course.
Bernstein assembled a traveling road show called "The Million Dollar Arm" (thus the film's title), which would visit many of India's biggest cities. They'd invite local boys and young men out to throw a baseball at a radar gun. Anybody who could hit 85 mph or more got a serious look, no matter how wild their throws. The top two contestants would win big money . . . and an opportunity to come to America to train and, ultimately, try out for a major-league team.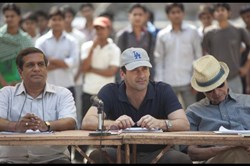 Image: Disney Enterprises, Inc.
Ridiculous? Yes. Even more ridiculous, it worked. (No spoilers here, but since it's a true story, you could easily look it up and see how it turns out.)
Perhaps the biggest surprise of all? Million Dollar Arm is a terrific baseball movie, a solid triple if not a home run. It's as good as Remember the Titans and The Rookie, the best of Disney's sports flicks. Maybe it's not in the Baseball Movie Hall of Fame with Bull Durham, Field of Dreams, The Pride of the Yankees, and Moneyball. But it's certainly in the on-deck circle.
OK, enough with the baseball metaphors . . .
What makes it work? First, it's a true story. If it weren't, you wouldn't believe it. You can't make this stuff up. Not even George Plimpton—who did make up the greatest pitcher-out-of-nowhere story of all time, The Curious Case of Sidd Finch—could've come up with this astonishing tale. (If you've never read Plimpton's brilliant fable, do it.)
Then there's the cast. Jon Hamm (Mad Men) brings Bernstein to life, inhabiting the role with panache, finding a light balance between drama and comedy. Hamm's character is confident and funny, but also, at times, pitiable—you just can't help feeling sorry for Bernstein's bad luck. Bernstein is also a cocky playboy who thinks he's content with fast cars and one-night-stands. But as key people begin to crash into his life—and even into his home—his self-centered worldview begins to break down.
Suraj Sharma (Life of Pi) and Madhur Mittal (Slumdog Millionaire) are marvelous as the Indian teenagers Rinku and Dinesh, respectively, who ultimately win the chance to come to America for a shot at pro baseball. (To Bernstein's surprise, neither played cricket, but just were fine athletes who excelled in track and field, particularly the javelin.)
Lake Bell is magnetic as a would-be love interest who teaches Bernstein a few manners and some social skills. Alan Arkin is brilliant—and hilarious—as an ornery old baseball scout with narcolepsy. Bill Paxton brings warmth to his role as a college coach charged with training the young men. Aasif Mandvi is enjoyable as Bernstein's business partner. And Bollywood veteran Pitobash provides comic relief throughout.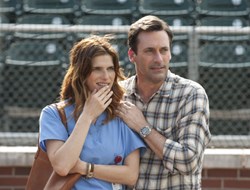 Image: Disney Enterprises, Inc.
Visually, the film is compelling—from the good looks of the leading characters to the contrasts in scenery, switching between the glitz of downtown L.A. and pristine American ballparks, to the poverty of the slums in Mumbai and Bangalore. But we also witness India's rich beauty—its lush rural landscapes, its colorful, bustling cities, and most of all, its lovely people, and their warmth and hospitality.
And the music, a delightful blend of Western and Eastern, is a joy. India's A. R. Rahman, winner of both Academy and Grammy awards, deserves mad props for his score.
Like most sports films, Million Dollar Arm isn't ultimately only about sports.
It's about ingenuity, creativity, imagination. There's that wonderful scene in which Bernstein has his epiphany while channel surfing. There's the notion that good and beautiful things can be found even in the most unexpected places.
It's about relationships, sensitivity, and compassion. When Rinku's mother weeps on the eve before her son's departure for America, she tells Bernstein to "take care of my son." Bernstein, clueless, replies, "Sure, he'll have lots of fun in L.A." She's thinking love and nurture; he's thinking wine and women and living it up, and that they'll be fine on their own. (He puts them up in a local hotel their first night; it's a disaster, and they end up crashing in Bernstein's bachelor pad, to his chagrin . . . but ultimately, to his benefit.)
It's about slowing down and appreciating the little things. Bernstein is a man on a mission, constantly checking his watch. But while abroad, he is reminded by his hosts that he's now on "India time," where things run more slowly, even a bit late. In a call back to the States, Bernstein, gazing out at the slums, says, "Sometimes it smells so bad." He pauses, ponders, then adds, "But sometimes it smells amazing. It's a study in extremes."
He's starting to notice.
And, finally, it's about second chances—for the boys, and for Bernstein, who ultimately learns the things he needs to learn, including a sense of responsibility and selflessness.
It's a joy to watch it all unfold.
Batter up.
Caveat Spectator
Million Dollar Arm is rated PG for mild language and some suggestive content. I don't recall any bad language. As for the suggestive content, Bernstein's character enjoys his sex life as a single man, but the only thing shown is a kiss. There is also some humorous conversation about what happened last night, played mostly for laughs. The film is perfectly appropriate for 10 years and up, possibly younger if the children are mature.
Mark Moring, a former film and music editor at CT, is a writer at Grizzard Communications in Atlanta.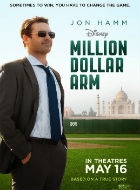 Browse All Movie Reviews By: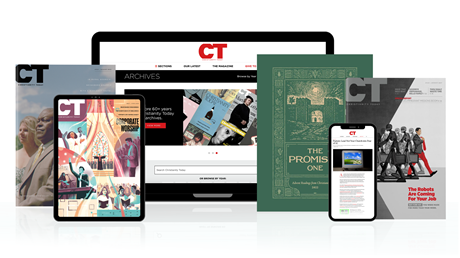 Subscribe to Christianity Today and get access to this article plus 65+ years of archives.
Home delivery of CT magazine
Complete access to articles on ChristianityToday.com
Over 120 years of magazine archives plus full access to all of CT's online archives
Subscribe Now
Million Dollar Arm
Million Dollar Arm