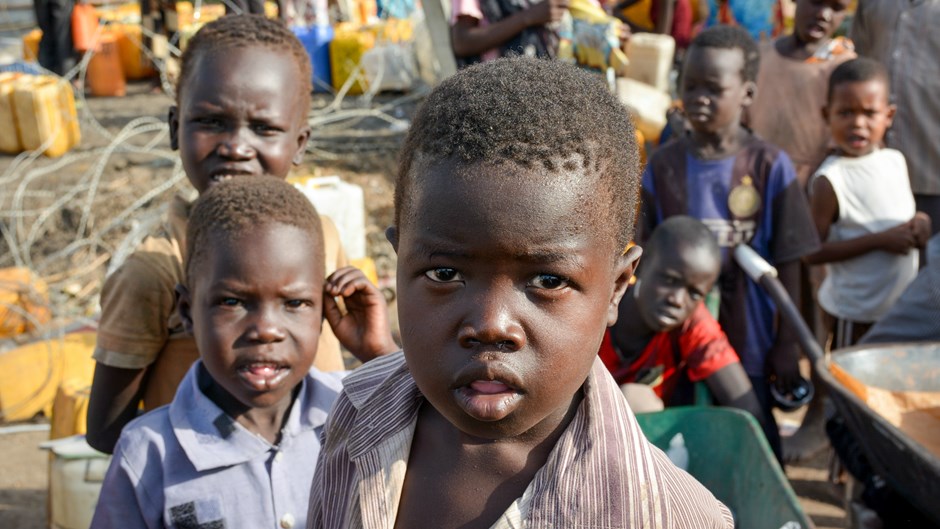 Image: Courtesy, World Vision, Nadene Ghouri
'We ran without stopping the whole time. If you stopped, you died. But after running so long your heart is pounding and your legs are lead. Then we had to cross a river. If you couldn't swim, you drowned. Now we are here and look at us. We have nothing. Can you imagine?"
Simon, a young South Sudanese boy, recently shared his story of escape from ethnic violence that broke out five months ago. Since December 15, 500,000 children have been forced from their homes. Like Simon, many of them have taken refuge in camps that the United Nations Mission in South Sudan (UNMISS) has set up.
Experts say both South Sudan military and rebel soldiers have slain civilians and committed atrocities. They estimate 9,000 Sudanese children have been recruited to become child soldiers. Also, sexual violence against women has surged. Radio broadcasts were used to incite men to rape young girls at gunpoint. In another episode in Bor, armed rebels broke into an Episcopal (Anglican) church, raped and then killed five women pastors who had taken refuge inside the sanctuary.
In total, 10,000 people have died violently since the conflict began. About 1.2 million people have been displaced from their homes. The conflict began as a high-level political dispute, but quickly escalated into a power struggle between Dinka and Nuer, the nation's two largest ethnic groups. They have a history of conflict over grazing land and water rights.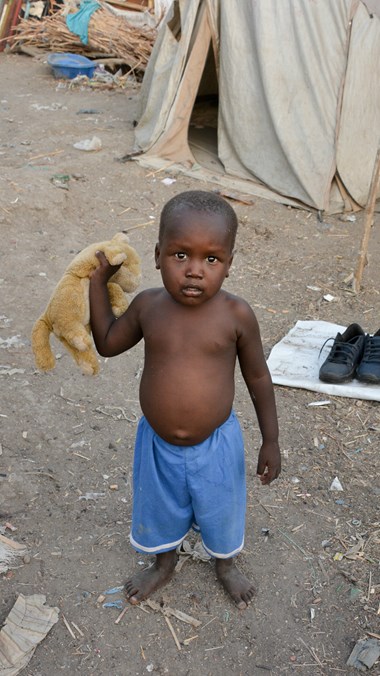 Image: Courtesy, World Vision, Nadene Ghouri
About 10 days ago, South Sudan President Salva Kiir (Dinka) and political rival Riek Machar (Nuer and former vice president) signed a peace agreement as Prebyterian, Anglican, and Roman Catholic leaders looked on. Violence has declined since the ceasefire took effect. But deadly fighting persists in oil-producing areas.
South Sudan's problems, however, are far from over. Relief experts said famine and disease pose great risk. The rainy season has begun, making delivery of food more difficult in this France-sized nation with few paved roads. Families in some cases have survived by eating leaves. Malnourished children will die of starvation before the end of the year unless relief aid arrives now. Health officials say nine people have died from cholera so far in May.
"We are now in a race against time to prevent the deaths of 50,000 children under the age of five who are already suffering high levels of malnutrition," said Perry Mansfield, South Sudan National Director, World Vision.
"The numbers of very hungry is staggering. Almost 5 million people are desperately in need of humanitarian assistance. People have fled their homes and so cannot plant their crops. Almost a quarter of a million children will be severely malnourished by the end of the year. But the costs of air dropping and flying in food is more expensive than trucking it in, but delivery options and time are running out."
This week, Mansfield is joining global relief experts in Oslo, Norway, to focus on raising in total about $1.8 billion to meet the relief needs. So far, 41 donor nations have pledged $600 million. The U.S. has pledged $300 million. Spurred on by American evangelicals, the U.S. government has been a staunch supporter of South Sudan and its quest to secure independence from the Muslim-majority Republic of Sudan. The Bush administration backed the referendum election that resulted in independence in 2011.
The Episcopal Church of South Sudan and Sudan is one of the largest Christian groups in South Sudan. It is providing relief at the grassroots to more than 70,000 South Sudanese. In addition, Episcopal Archbishop Daniel Deng Bul Yak traveled to Ethiopia as President Kiir and Machar negotiated a peace agreement.
World Vision's Mansfield believes the church has a crucial role in sustaining peace. "In order for peace to take hold it also requires local churches of all denominations and traditional tribal leaders to encourage and actively build peace and reconciliation among communities that have experienced a great deal of brutality," he told CT.
"Many people who fled fighting initially sought safety in the churches which tried their best to meet the humanitarian needs. But even churches could not protect those who sought safety when the fighting arrived on their doorsteps. Those people fled or were attacked, mutilated, raped and killed."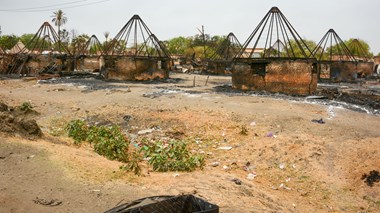 Image: Courtesy, World Vision, Nadene Ghouri
With the amount of food aid coming into South Sudan, there is anxiety about whether food supplies will end up on the black market or be looted by the either side in the conflict. Jeremy Konyndyk, director of the Office of Foreign Disaster Assistance at the U.S. Agency for International Development, told the news media that looting by opposition forces is a problem and the South Sudan government is putting too many obstacles in the way of aid delivery. "It is a really extraordinary and outrageous occurrence and it's been driven by very irresponsible behavior by both parties to this conflict," he said in media reports.
World Vision's Mansfield told CT, "We have direct control over the whole provision chain. The government and government opposition have in the recent peace agreement committed to allowing humanitarian agencies the access they need to distribute food.
About 235,000 people are in UN camps inside Sudan. But many Sudanese have fled the country. The UN estimates that 285,000 refugees are in camps in Ethiopia, Kenya, and neighboring nations.
Sparsely populated, South Sudan has 11 million people and is one of poorest and least developed countries worldwide. It includes the Sudd, one the world's largest swamps, twice the size of Massachusetts and populated by thousands of elephants and more than 1 million antelope. It's been called Africa's Eden.
Economically, South Sudan and Sudan rely on oil revenues to fund government operations. There are 5 billion barrels of proven oil reserves.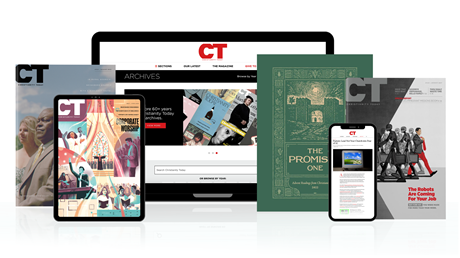 Subscribe to Christianity Today and get access to this article plus 65+ years of archives.
Home delivery of CT magazine
Complete access to articles on ChristianityToday.com
Over 120 years of magazine archives plus full access to all of CT's online archives
Subscribe Now
Ethnic Violence Kills 10,000—and It Gets Even Worse in South Sudan
Ethnic Violence Kills 10,000—and It Gets Even ...