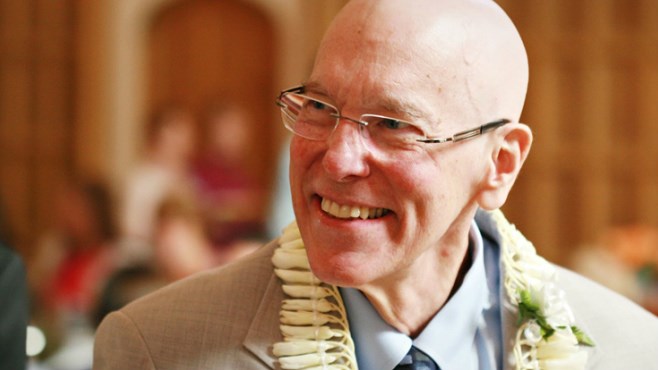 Of the thousands of people affected by the ministry of Steve Hayner—the former president of InterVarsity Christian Fellowship who died Saturday after battling pancreatic cancer—Mark Labberton was one of the closest. Labberton, president of Fuller Theological Seminary, met Hayner while a freshman and brand-new Christian attending Whitman College in Walla Walla, Washington. The two ministry leaders went on to form a deep friendship as each grew in their respective roles and responsibilites.
In an intimate conversation with Hayner this October, when Hayner transitioned out of the presidency of Columbia Theological Seminary, Labberton said, "It would be hard to think of anyone other than my brother who has more fully bracketed my life as a person, a pastor, a leader, a disciple, a friend. There's hardly been a decision since I was 18 where your friendship or example or encouragement or invitation hasn't helped clear the ground for me to take the next step."
Hayner reflected on his cancer diagnosis, following Christ when death is imminent, and eternal life in one of his and Labberton's final conversations, which is edited below for clarity and length.
The Saturday before Easter, I remember calling you to wish you and Sharol a happy Easter, and you were feeling ill. The next three days, between that moment and Tuesday, life…
… changed virtually immediately. I went to the doctor first thing Monday, and by Tuesday we had a tentative, 95 percent diagnosis that I had pancreatic cancer. Normally the only thing they can do with this cancer is what they call a Whipple procedure. It basically means removing most of the organs in your upper abdomen, including the main tumor, then "replumbing" everything.
In my case, the surgeon wanted to do a biopsy to make sure everything else was clear. A pathologist in the operating room confirmed that I had metastatic pancreatic cancer and that there were already lesions in my liver. So it had already metastasized. That meant surgery was off the table. They were going to have to treat it another way.
Did you feel like just running into a brick wall?
It felt like, we're going to do what we have always done, which is to be faithful day to day. To realize that whatever you face in life, there are no guarantees. And that, even though I felt like the least likely person to get a terminal cancer, it still was our situation.
Having conversations about something like cancer—those are awkward conversations. So many people want to live in denial. There's a funny Christian view out there that if you acknowledge you have a terminal disease, that you're somehow not being faithful or letting God down or not trusting God for healing. But however you want to talk about it, it's awkward.
At the end of June, we got our three kids and their spouses and the grandchildren together in our family room. We went over the story of how amazingly faithful God had been throughout almost two months, going through the scans and chemotherapy. Then we told our children point-blank, "I now am terminal. The official diagnosis is this: We're looking at my life on this earth in terms of months or weeks, not in terms of years."
Some wanted to know all the medical details—what it was going to look like toward the end when I was really sick, and what my death was going to be like. Other people in the room didn't want to go there at all; they mostly needed to cry together. We did all of those things that afternoon.
By that time we had also decided that the best way to share with our friends was through CaringBridge.
That's been so important for those of us who have followed your story. On CaringBridge you expressed early on that your whole life had been training for this moment. What does it mean to frame life in such a way that when this moment comes, you're ready?
That's what discipleship is about. What is happening to us as believers is that God is reshaping us into the image of Christ—that God is doing a work in our earthly life to help us participate in eternity, which is with us now. The great test of faith is not how you live life when everything is good. It's how you live life when things are not good. In this case, they were suddenly very bad, at least in an earthly way of thinking about it.
At the same time, from the beginning, there was a sense that, if there was anything that following Jesus was about, it was preparing me for these kinds of events. In this case it was a catastrophic event. So the issue became one of deciding we were going to live as faithfully as we could day to day. That calling was a call primarily to follow Christ, about following Jesus in and through the rough places of faith. That the valley of the shadow of death was just as much a place of working out salvation as the victorious moments.
As a pastor I've observed that people tend to die like they've lived. Most people will face death in the same way they have faced other things in their lives. Anyone who knows you or Sharol would say this process feels as though this is exactly how you would go through this time.
What would you say to people who hear your story, face their own grief and loss, and don't find themselves in a place where it's as natural as it seems to be to you?
I don't know if I would call any of this natural. There is a natural quality to the fact that people get sick and die. But nothing about this is God's normal for humanity. What God longs for us is to thrive, physically as well as every other way. At the same time, we live in a fallen world. And how we deal with life in that fallen world is an important part of discipleship.
I've had plenty of times when I've felt down. Chemotherapy treatments have meant days in bed, days when my call was simply to survive, or to have whatever conversations I was having with God. And I've had depression. Sharol has called me on it. Not saying, "You shouldn't be depressed," but asking, "Are you depressed now?" With me not having a particularly depressive personality, that's an important question to ask. Oh, this is what depression looks like for this time in my life: I want to give up and not go on, and something here is completely out of my control.
I've tried to be as transparent as possible about the rawness of this. But honestly, it has not been the rawness of wanting to shake my fist at God. It's a rawness that this is a hard thing to face, and I'm doing the best I can to face the things God has called me to face today.
Another theme that has stood out in your writing is this deep sense of joy that's deeper than the negative circumstances, the disease and endless treatments and agonies of that.
That's just it. When we talk about calling, every day is full of whatever it's full of. I've been called to be president of a seminary, and over the last years I've done that as faithfully as I knew how to. I'm called as a father and as a grandfather and as a spouse, and my responsibility is to do all of that as faithfully as I can.
Now, parts of this have been stripped away. Suddenly I no longer am able to work. The seminary has been fantastic to me in this process. Students and faculty have gathered around and prayed. Nevertheless, I've had to step out of the role of president because I can't do the job. So my life as an activity-oriented person with lots of energy, with great health, with lots of ideas and vision—all of that has had to change.
It's the making of a new life and a new calling. But the calling is always to a life of joy. It's always a calling to live into the dynamic overflowing life, which is God's love for us and the joy that we know in Christ. I'm only five months into this, and it's been a radical remodeling of my life with a new set of life experiences. But that's the call these days. To let God continue to change me there.
I've always said all the circumstances of my life are planned by the sovereign God to help me become what God wants me to be—fully me. Now it's a different set of circumstances, but it's the same me needing to be formed.
You recently received the news that the growth of the tumors has dramatically slowed, and that the cancer markers are far less than they were. Meanwhile, you've written about anticipating eternity. Can you reflect on your vision of eternal life, and what this slowdown might mean as you prepare for that?
To have a relationship with God in Christ is eternal life. One day we will be more with God than we are now. We call that heaven. But it's no less a part of eternal life than the eternal life I'm living now.
We have gotten good news, which is that the cancer is being managed. I probably have months rather than just weeks. What it means is that, again, I have to rethink my expectations, realizing I have all kinds of expectations about how things are going to go. Now that set of expectations, too, needs to be modified according to the new circumstances.
We are all living into eternal life. Every day in the middle of our circumstances, we have the opportunity and the challenge to figure out what our calling that day is in relationship to the circumstances. In some ways I have to be swifter on my feet now. I have to be more flexible. I need to look at my life in shorter pieces. Most of the time these days. I can't look at it in pieces much more than a day long. The question is not, What are my plans? The question is, How am I going to be faithful whatever the circumstances?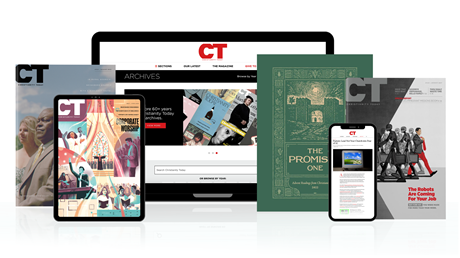 Subscribe to Christianity Today and get access to this article plus 65+ years of archives.
Home delivery of CT magazine
Complete access to articles on ChristianityToday.com
Over 120 years of magazine archives plus full access to all of CT's online archives
Subscribe Now
Following Jesus through Cancer: A Final Conversation with Steve Hayner
Following Jesus through Cancer: A Final ...