true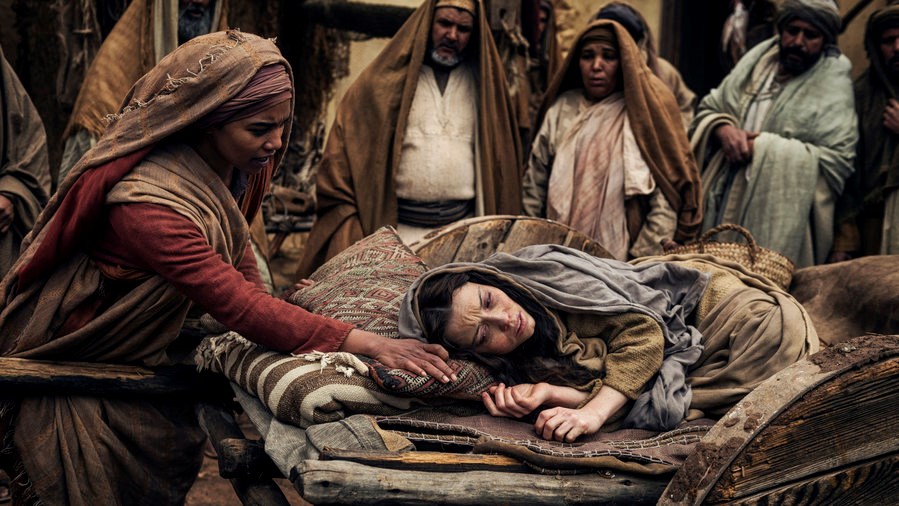 Image: NBC
Episode 11: "Rise Up"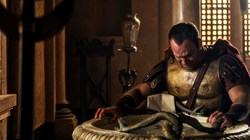 Image: NBC
The penultimate episode of A.D. The Bible Continues is called "Rise Up," which refers to two things: the fact that the Zealots are preparing an uprising, to protect the Temple from desecration by Caligula's statue; and the fact that Tabitha, who was flogged by the Romans for converting to Christianity last week, dies from her wounds and is brought back to life by Peter this week. (He actually tells Tabitha to "Get up," rather than "Rise up," but hey.)
Along the way, the episode also finally depicts the meeting of Philip and the Ethiopian eunuch. This would have happened three weeks ago if the series was telling these stories in order, but that's okay: the Luke-Acts tradition doesn't always narrate its events in chronological order either. (Case in point: Luke 3 doesn't mention the baptism of Jesus until after it mentions the arrest and imprisonment of John the Baptist.)
The first half of this episode is mostly concerned with fictitious political maneuvering.
Caiaphas rallies the Jews and calls for unity in defense of the Temple. James the Just seizes the opportunity to negotiate with Caiaphas for an end to the persecution of the Church.
Meanwhile, the Zealots rally their own supporters and nearly kill Reuben, the head of Caiaphas's Temple guards, for spying on them. Reuben escapes and tells Caiaphas and Leah about the Zealot threat, and about the Ethiopian eunuch's involvement with it.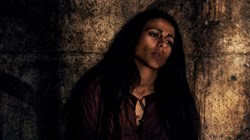 Image: NBC
Caiaphas, on hearing about the Zealots' plans, refuses to tell Pilate, afraid that it will make him look like a Roman collaborator at the very moment that he is trying to lead his people in protest against Rome. So Leah goes behind his back and tells Pilate herself, and the Ethiopian eunuch is stripped of his belongings and sent back home in disgrace by the Romans.
Oh, and somewhere in there, Pilate forces his wife to watch as Cornelius strangles Joanna to death for being a Christian. Pilate does this to teach his wife that empathy is a form of weakness, but Joanna, just before the strangling, forgives Cornelius in Jesus' name, and something about this experience prompts Cornelius to break down and cry. His heart finally broken, Cornelius, it seems, is ready to be converted himself in next week's finale.
It is only after all these other scenes that we finally get a few scenes taken straight from the book of Acts. Bringing the book of Acts to life was supposed to be this series' raison d'être; in theory, biblical scenes like these—of Philip baptizing the Ethiopian eunuch and Peter raising Tabitha from the dead—should be the whole point of this episode. But instead, they feel tacked on.
In fairness, it can't be easy to make a dramatic series out of the stories in Acts, which sometimes hop from one person or location to another without a lot of narrative material to connect them. And you do have to give A.D. credit for including the bit where Philip vanishes right after baptizing the eunuch; if there's one thing this series doesn't shy away from, it's the supernatural. (The vanishing in question is right there in Acts 8:39, if you want to take a look.)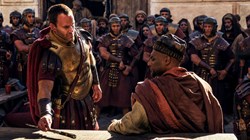 Image: NBC
But it's telling that the writers of A.D. are far more interested in the political machinations of the Roman and Jewish authorities than they are in, say, what Philip was up to before and after his encounter with the eunuch. It's also telling that they have focused on the violence of this period to the point where it no longer simply provides context for the book of Acts, but has distorted their take on Acts itself.
Again, look at the show's treatment of Tabitha and Cornelius. Both of them are introduced in the book of Acts (in 9:36ff and 10:1ff, respectively) as people who believed in God and gave to the poor. Tabitha, in Acts, becomes sick one day and dies, while Cornelius is visited by an angel who tells him, in effect, that God is going to reward him for his prayers and his generosity to the poor.
This episode of A.D. hints at Tabitha's generosity, at least, when she prepares to give a few alms to a beggar at the Temple. But it can't just let her become sick and die: she has to become sick as a result of the wounds she got in the last episode. And who wounded her? Cornelius, who also kills Joanna in this episode, and who, even now, has still shown no sign of devotion to the Jewish God or to the poor or to anyone else but his Roman superiors.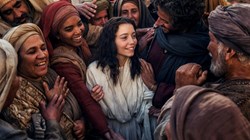 Image: NBC
In the book of Acts, the conversion of Cornelius represented, in part, a recognition that the Jewish believers in Jesus could not exclude the righteous Gentiles who, although they did not have the Law, did by nature the things required by the Law (to steal a few words from Romans 2).
But A.D. doesn't have much interest in righteous Gentiles. Between Cornelius's violence and the Ethiopian eunuch's support for the Zealots (including their attempt to assassinate Reuben), the show seems to be operating on the principle that anyone of significance who converts to Christianity must first have a sordid history of terrible deeds that needs to be repented of.
Image: NBC
There is certainly a place for that kind of conversion story—just look at Saul!—but not every story in the Bible conforms to that formula. And after a while, you begin to wonder why the filmmakers are so insistent on that formula, and why they cannot imagine goodness as easily as they imagine evil.
Peter T. Chattaway writes about films in general, and Bible films in particular, at FilmChat.
Watch This Way
How we watch matters at least as much as what we watch. TV and movies are more than entertainment: they teach us how to live and how to love one another, for better or worse. And they both mirror and shape our culture.
Alissa Wilkinson is Christianity Today's chief film critic and assistant professor of English and humanities at The King's College in New York City. She lives in Brooklyn.
Previous Watch This Way Columns: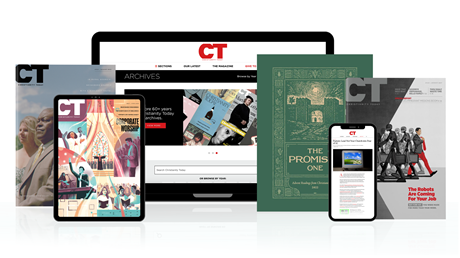 Subscribe to Christianity Today and get access to this article plus 65+ years of archives.
Home delivery of CT magazine
Complete access to articles on ChristianityToday.com
Over 120 years of magazine archives plus full access to all of CT's online archives
Subscribe Now
'A.D. The Bible Continues': Not Every Story is a Conversion Story
'A.D. The Bible Continues': Not Every Story is a Conversion Story