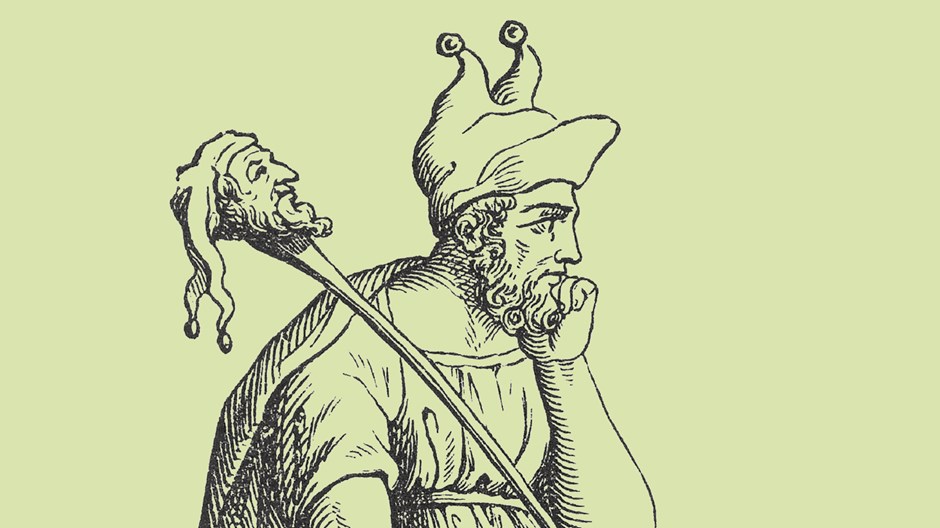 Image: iStock
Terry Lindvall's latest book, God Mocks, traces the development of faith-based humor from biblical times through today. Here, he thinks back through his research to pick the 5 best books of religious satire.
In Praise of Folly, by Desiderius Erasmus
In this classic pre-Reformation broadside, the Dutch scholar and gadfly Erasmus creates an ironic persona, Dame Folly. Her praise of her own traits calls to mind the medieval church's abuses and corruptions. Erasmus's quiet, even droll manner of unmasking the church's vices and stupidities contrasts with that of his contemporary Francois Rabelais, whose bawdy satires make South Park look tame. Where Rabelais offers loud, raucous laughter at religious pretense, Erasmus's quintessential work of fool-literature makes us chuckle at the foolishness we somehow regard as wise.
The Screwtape Letters, by C. S. Lewis
Showcased on the cover of Time, Lewis appeared with his horned devil, Screwtape, perched fiendishly on his left shoulder. The diabolical wisdom in Uncle Screwtape's letters to his junior tempter, Wormwood, reveals a satiric mirror of selfishness. Lewis explained that the source of his insights emanated not from a study of moral theology, but from examining his own wicked heart. By confessing his sins, he exposes and convicts our hearts, too.
The Little World of Don Camillo, by Giovanni Guareschi
Guareschi, a 20th-century Italian humorist, has his hot-headed priest, Don Camillo, butt heads with his nemesis and friend, the Communist mayor Peppone. Camillo also debates with Christ on the cross over how to treat Peppone. By offering us a wonderfully flawed man of God, impatient and sarcastic, Guareschi invites readers to see themselves at their worst, but still under the grace of God. Laughter, we learn, can be a sign of humility and forgiveness.
The Devil's Dictionary, by Ambrose Bierce
Though not as famous as fellow satirist Mark Twain, Bierce poked at the eye of hypocritical Christians. His pithy, stinging quills drew blood with acerbic wit. Like Elijah mocking false prophets, Bierce takes on the pretend piety of his smug neighbors. He makes his readers writhe in anguish rather than merriment. This precursor to Screwtape was an avenging angel to religious posers (whom he dubbed "birds of pray"). His calling was to "lash rascals," which he did with ferocity.
A Tale of a Tub, by Jonathan Swift
Three churchmen—Peter (the apostle), Jack (Calvin), and Martin (Luther)—divide and decorate the coat given by their Father. Here, Swift strikes at the longstanding divisions within the Western church. As he proposes in his classic, Gulliver's Travels, "Men are never so Serious, Thoughtful, and Intent, as when they are at Stool." For Swift, himself a clergyman, the best symbol of the sin of solemn bishops is what they produce as they sit and make new doctrine.
Have something to add about this? See something we missed? Share your feedback here.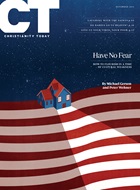 This article is from the November 2015 issue.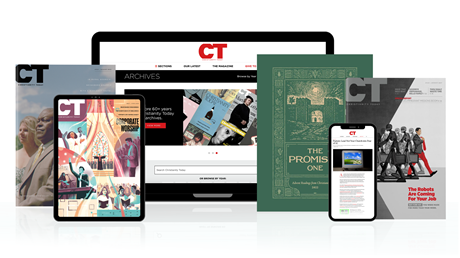 Annual & Monthly subscriptions available.
Print & Digital Issues of CT magazine
Complete access to every article on ChristianityToday.com
Unlimited access to 65+ years of CT's online archives
Member-only special issues
Subscribe
My Top 5 Works of Religious Satire
My Top 5 Works of Religious Satire