true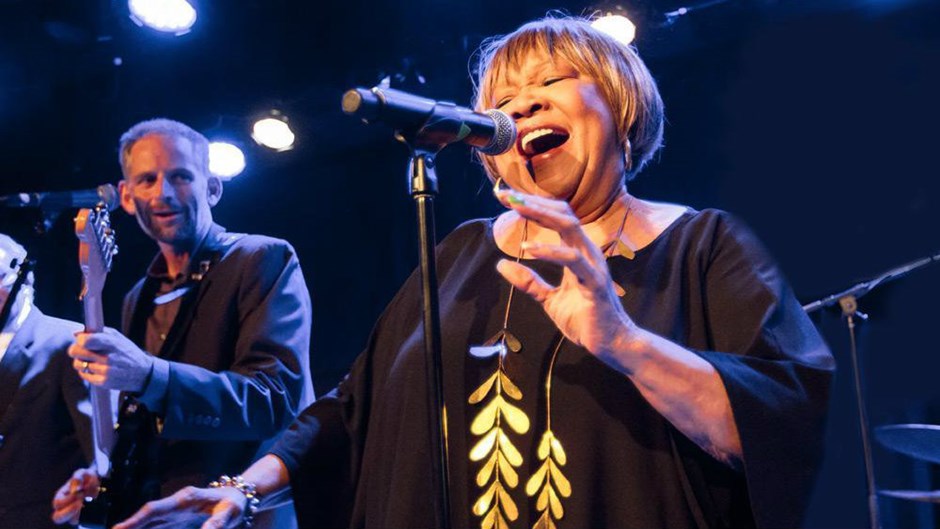 Image: HBO Films
It's unfathomable that Mavis Staples didn't win a Grammy Award till she was 71 years old. She'd been one of America's most distinct voices for six decades before finally taking home the trophy in 2010.
And even then, the recognition came in a somewhat unexpected category: Best Americana Album for You Are Not Alone. Staples was best known for her gospel, soul, and R&B music through the decades, including many with her family group, The Staple Singers.
But when you think about it, Mavis Staples is Americana—certainly a big slice of it, of those things that make up our history, folklore, and cultural heritage. She helped redefine gospel music and bring it to the mainstream. She marched with Martin Luther King Jr. and was a powerful voice in the civil rights movement. She has performed for five sitting presidents—she sang at Kennedy's inauguration and recently, at the White House for the Obamas. She interacts easily with people of all races and music of all genres. She is loved by all and, with a big heart of gold, loves all. She is an American treasure.
It's about time somebody made a documentary about this remarkable woman.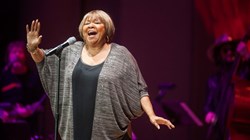 Image: HBO Films
Mavis!, which airs February 29 on HBO, is as deserving of the exclamation point as the woman herself. Director Jessica Edwards treats her subjects—Mavis and the music—with love, and is savvy enough to let both do most of the talking. There are the requisite appearances from experts and fellow musicians (including Bob Dylan, Jeff Tweedy, Bonnie Raitt, Levon Helm, and more), but Edwards knows from whence the magic comes.
Just let Mavis talk. And just let Mavis sing, that big and beautiful, rich and raspy voice, a voice that Raitt describes as "sensual but not salacious." And keep the interruptions to a minimum.
Though a cinematic retrospective about Mavis Staples is certainly long overdue, one could also argue that the timing couldn't be better, with issues of race and religion and rights—and often, a disturbing lack of reason—dominating much of our national conversation. Mavis Staples and her family were among the first to tell America that the lives of black men, women, and children matter, and she has been calling for peace and social justice for decades.
Her songs are just as relevant in 2016 as they were in 1963, when she and her family heard Martin Luther King Jr. preach at his Dexter Avenue Baptist Church in Montgomery, Alabama. Mavis's father, Pops Staples, introduced himself to King after the service. In that brief conversation, King convinced Staples to start writing "freedom songs," which would soon become the soundtrack for the civil rights movement. (Listen to a couple of them here: "Freedom Highway" and "Why Am I Treated So Bad?")
Now 76, Mavis notes how many of her family's early concerts took part in the South during the '60s and recalls how "white kids would try to run us off the road." She doesn't, however, discuss incidents where white police may have made their lives harder—like when the whole family was arrested in Memphis when falsely accused of beating a white gas station clerk.
While many people talk about race relations, Mavis Staples has always just done race relations. She has always seemed to be at ease with people of any color. Bob Dylan was so comfortable with Mavis, whom he met in 1963, that he even asked her to marry him—in a day when interracial marriages were positively scandalous. As Mavis tells the story here, she says she thought he was "cute," but still said no; she wanted to focus on the music and the family.
Still, the mutual admiration was strong; Dylan had been listening to The Staple Singers since he was 12, and Pops regarded "Blowin' in the Wind" as a sort of protest song and insisted on covering it. It's fascinating to hear Mavis tell these and other stories.
The film follows her life mostly chronologically, from her early years on Chicago's South Side. It seems gospel music not only ran in the family, but in that very community, where neighbors included Sam Cooke, Mahalia Jackson, Lou Rawls, and Curtis Mayfield. (Which begs the question: has any one neighborhood ever produced such a group of amazing talent? Well, perhaps there was one in Liverpool . . .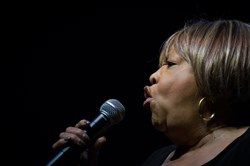 Image: HBO Films
Mavis! is, more than anything, a film about love. It's about a divine love, communicated through their gospel songs. It's about human love, expressed in much of their "crossover" music, especially after signing with Stax Records in 1968. And it's about family love; Mavis's older sister Yvonne, 78, travels everywhere with her kid sister, still singing background vocals at her shows. (Yes, Mavis still performs live concerts, and yes, she can still bring it, as seen in this film.)
She is easily brought to tears as she speaks of her love for Pops, who died in 2000, shortly after the family had gathered to make one last album together. When she talks about her father, it's as if he died just the other day.
It's also endearing to watch the film not as a mere retrospective, but as a work still in progress, because she is still working, recording, performing, granting interviews. It's fun to see her interacting with Wilco frontman Jeff Tweedy, a fellow Chicagoan who produced her last two albums (including You Are Not Alone, the Grammy winner). Tweedy is perhaps her biggest fan, saying he loves her more than anyone "other than my wife." The friendship between Mavis and Tweedy is sweet and tender, and the laughs and smiles come easily between them. Ditto her friendship with Levon Helm; there's a poignant scene in which she visits Helm at his home in Woodstock, New York, shortly before he died of throat cancer in 2012.
Mavis has no intentions of slowing down. That's clear at the film's outset, where she says, even before the title page comes up, that "I'll stop singing when I have nothing left to say. And you know that ain't gonna happen."

Then, just before the final credits roll, she says she'll just keep "doing what I've always done, bringing music and love to the people." And we're all the richer for it.
Mark Moring is a CT Editor at Large and a writer at Grizzard Communications in Atlanta. He has seen Mavis Staples in concert once, and looks forward to seeing her again.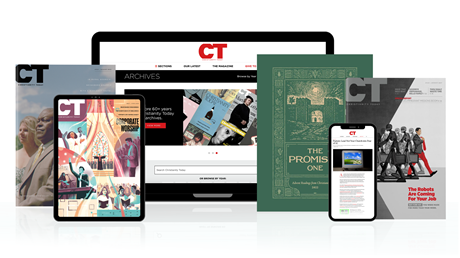 Subscribe to Christianity Today and get access to this article plus 65+ years of archives.
Home delivery of CT magazine
Complete access to articles on ChristianityToday.com
Over 120 years of magazine archives plus full access to all of CT's online archives
Subscribe Now
Mavis Staples: Voice of Joy and Justice
Mavis Staples: Voice of Joy and Justice