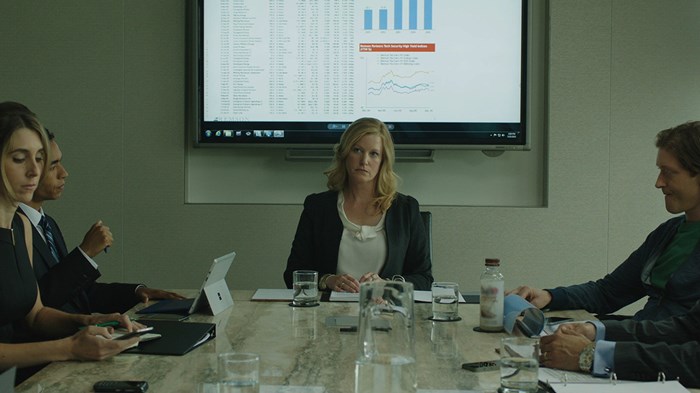 Image: Sony Pictures Classics
Last January, I was in a room full of movie lovers who were discussing the movies they'd seen the previous day at the Sundance Film Festival, and one of them had seen Equity. He recounted how he'd liked the movie, but had been thrown off by the mostly-female cast, finding himself wondering why most of the main characters were women: the high-powered investment banker, her ambitious VP, the lawyer investigating them, the hacker.
I wondered, why did they have to be women? he said. And then I thought: oh, this is how women feel watching these movies.
Indeed. In Equity, investment banker Naomi Bishop (Anna Gunn) specializes in taking companies public, but her last IPO tanked after the owner complained that she "rubbed them the wrong way." Now she's vying to land another: a security-conscious social networking company whom she helped find their initial venture capital investors. She and her VP Erin Manning (Sarah Megan Thomas) land the deal and start lining up investors.
Meanwhile, at a networking event, Naomi bumps into her old friend Samantha (Alysia Reiner), a lawyer who investigates securities fraud. But maybe the happenstance meeting wasn't accidental; Naomi's ongoing liaison with her colleague Michael Connor (James Purefoy) is cause for suspicion.
Equity is an intelligent film for smart people, or at least those who aren't afraid of some finance wonk talk and terms like "end-to-end encryption." Instead of succumbing to the trope-y sleek glamour of many of its Wall Street predecessors, the movie gets that finance is a grueling matter conducted largely by tired, determined people under fluorescent lights who mostly just like the adrenaline and satisfaction of the work. And the ...
1