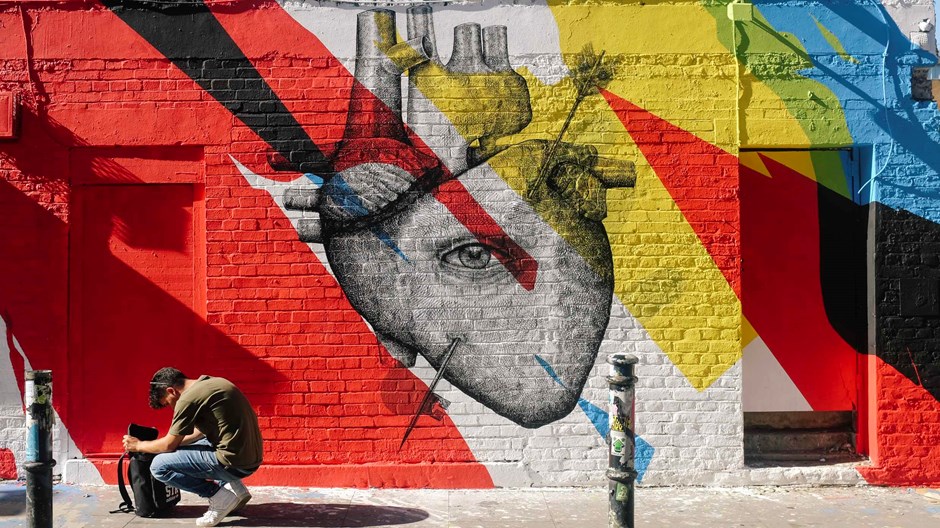 Image: Volkan Olmez / Unsplash
It used to be a Kroger. Now it's a church, and I'm sitting on what was once the frozen pizza aisle.
On the stage, a small band kicks off the service with a hymn that sounds more like The Avett Brothers than Hillsong United. I don't want to say their style is plain; that sounds too critical. "Simple" may be better.
"Simple" is an adjective that Church Project—a six-year plant located inside a converted grocery store just north of Houston—uses to describe itself. "Biblical. Simple. Relevant."—the tagline is emblazoned on a black and white sign outside of its building. Their goal as a congregation is sharp: "We want to change the way people see Christ, Christians, and the Church."
As the service continues, this vision emerges like a series of cardboard figurines in a pop-up book. There are no colored lights or flashy multimedia designs, no heavily structured transitions or fog machines. When one part of the service is done, the person holding the mic passes it off to the next leader in line. Their lead pastor, Jason Shepperd, preaches an expository sermon from 1 Thessalonians. He doesn't exhort from atop the gray-carpeted risers; instead, he sets up on the floor, peering directly into the front row. His words are clear, and he doesn't mince the text. There are some garnishes, but mostly meat. (Come to think of it, his podium is about where the deli counter stood.)
As I mill around after service, I'm surprised to run into half a dozen people I grew up with at another church. "I just got tired of all the 'production,'" one friend tells me as we talk about how she eventually made her way to Church Project. "I wanted something authentic."
Uprooted and Wandering through God's Wild Wood
Last year, my wife and I found ourselves doing something we'd never done before: searching for a home church. After college, I'd worked as a youth pastor in the Dallas–Fort Worth metroplex, and three years later we were hired at a congregation outside of Houston. Now, after a marriage spent in ministry, we were stepping down from pastoral employment and venturing out to choose a new local church—not one to pastor, but one to attend. (If you've ever been a minister, you know there's a difference.)
Hoping a search like this wouldn't happen again for some time, we decided to set aside a few months and explore what God was doing in the many local churches in our area. We desperately wanted to plant roots, but we also wanted to discover the wonders of God's forest.
Over the next several months, we'd visit just under 20 churches, a few of them multiple times. Though mostly confined to the Bible Belt, these faith communities flashed like wild strokes on a Pollock painting. They represented large and small pockets of disciples and denominations from many nooks and crannies within the kingdom. I may not have agreed with every word I heard in them, but I soon realized that we mostly spoke the same language.
We desperately wanted to plant roots, but we also wanted to discover the wonders of God's forest.
Church Project was the first church we visited, and it marked a way for the entire experiment. In reaction to high-production, low-substance congregations, Church Project's goal is to connect back to the primal focus of ancient Christendom. Their way of "doing church" pushed me to reconsider how I did church.
At the heart of this question rested my definition of creativity—namely, the benefits and drawbacks of creativity in the local church. What exactly does it mean to be a "creative" church? When does it help the message of the gospel? And when, as my friend expressed, does it get in the way of authentic faith?
The God of Story, Word, and Image
Walking into WoodsEdge Community Church in The Woodlands, Texas feels like coming home—or at least visiting the home of a close friend. Nondescript wooden panels, each dotted with flickering electric candles, line the back of the stage. The surrounding walls and ceiling are a notch above white, offering the room an air of translucence and expanding space.
Just before the lead pastor, Jeff Wells, takes the stage, the image of an elderly man appears on the projector screen. He tells the camera that just last year, doctors informed him of a cancer growing in his body. The resulting months were filled with tears, treatment, and pain—but, in a strike of the miraculous, they were also filled with a Body, a church family. Now, after being pronounced cancer-free, he thanks those who helped lead him through the darkness.
Later, I meet Brian Mann, Pastor of Storytelling and Creative at WoodsEdge, whose team put together the video, along with many others like it. WoodsEdge tells these kinds of stories every week. During another worship service, I watched Brian's crew take the audience behind the scenes of a church ministry that provides support for ex-cons. I'd visit other local churches that used similar levels of multimedia creativity, but where a number of those felt hollow, this felt different.
"I believe that creativity can point the church to truth and beauty," Brian told me when I asked him about his work. "The two go hand-in-hand when it comes to creativity and the arts. Truth sets us free, and beauty reminds us of the goodness of our Creator."
As I've studied the gospels, I've come to think that Jesus was one of the most creative individuals in all of history. His parables are still retold, argued over, and dissected nearly 2,000 years later. Filmmakers, artists, writers, and professors—we're all still coming to terms with the brilliance of these tiny narratives about lost sheep, prodigal sons, and seeds. While Jesus' parables function as a way to veil divine principles, compelling their listeners to take a side, they also serve to communicate deep truths using pieces of the world that Jesus' hearers could understand.
"Creativity can point the church to truth and beauty."
Jesus was also funny. I laugh every time I read his crackling illustration about hypocrisy: "Why do you see the speck that is in your brother's eye, but do not notice the log that is in your own eye?" In my mind, I visualize a grumpy, cartoonish loaf milling about as a large plank juts from his eye socket—a long and splintery piece of wood, striking in the direction of those he proudly wags his finger at.
The Bible, too, is a wildly creative piece of literature. Rather than physically commandeering the hands of its authors, God guides them along like the wind carries a sailboat, allowing their unique personalities and styles to shine through onto the page. Poetry, lament, history, and pulsating first-person accounts—our scripture is a beautiful mesh of a divine artistic.
In his book C. S. Lewis and the Catholic Church, Joseph Pearce recounts a conversation between J. R. R. Tolkien and the then-atheist C. S. Lewis about the power of story. At one point, Lewis expresses his hesitation about the idea that myths can express deep, even theological, truths. Tolkien scolds him: "We have come from God, and inevitably the myths woven by us, though they contain error, will also reflect a splintered fragment of the true light, the eternal truth that is with God." Pearce sums up this statement by writing: "Since we are made in the image of God, and since God is the Creator, part of the imageness of God in us is the gift of creativity."
The Pizza Artist and the "Miracle Theater"
"I went from pizza maker to pastor," Brent Sloan says as he kneads a slab of spongy dough into the shape of a pie. We're standing in the middle of his in-laws' pizza shop—the same shop he thought he'd eventually own. Now, rather than flipping crust for a living, Brent's the lead pastor at Bryan First Brethren Church in Bryan, Ohio. "As you can tell," Brent says, pointing around the room at the kitchen appliances, "there were other plans for me."
To out-of-town visitors like us, the worship space at Bryan First Brethren looks like what you'd expect to find in rural Ohio, its white steeple racing toward the sky with almost as much strength as its brown bricks lead to the earth. Over the last year, our congregation hopping had allowed us to tour church spaces of creative sizes and configurations. Now, stepping on the parking lot at FBC—with a barn to my left and the sanctuary to my right—Brent's church felt like another piece of glass in an increasingly vibrant mosaic.
I glance at the bulletin I'm handed at the door and see the artwork for Brent's new teaching series, "The Bible Doesn't Say That." Inside the sanctuary, his team has attached a series of posters to the walls around the stage. Each one features, in black text, a common phrase misattributed to the Bible. "God helps those who help themselves" is his subject today.
After the service—and after Brent makes us lunch at the shop where he no longer works—we hop into a small rental car and begin the eight-hour drive from Ohio to Washington, DC Our next stop is National Community Church, one of the more unique and creative congregations in the country.
"Church ought to be the most creative place on the planet."
Planted by Mark Batterson in 1996, NCC made waves when they began meeting at a movie theater in town after the school that had housed them was condemned. The idea of holding worship services in a fully-functioning theater feels like a no-brainer now, but 20 years ago, almost no one was doing it. As the church expanded over the years, NCC even acquired a turn-of-the-century theater of their own where they host four weekend services.
As I walk inside what they now call "The Miracle Theatre," I'm caught by the Vaudeville aesthetic and maroon carpet. On a piece of signage, I notice an upcoming showing for X-Men: Apocalypse.
Service at noon, I think. Mutants at seven.
"One of our core convictions is that the church belongs in the middle of the marketplace," Mark writes in his new book. "It's why we meet in movie theaters." In 2006, this same vision is what compelled NCC to turn a crack house into a coffeehouse where all the profit goes to mission work. As Mark makes a habit of saying, "Church ought to be the most creative place on the planet."
Trading Seeds for Star Wars
About seven months after I stepped down as a youth and assistant pastor, I found myself sitting in a Sunday service at our new church home. My wife and I eventually landed at WoodsEdge Community Church—not because it was "better" than the others, but because we felt like it was where we needed to be.
As Pastor Jeff preached from the book of Exodus, I noticed a young teenage boy two rows up fidgeting from side to side. I tilted my head to the left, and made out a glossy piece of cardboard in his hands. It was one of those flimsy covers that slide over DVD cases—the kind that don't really do anything except add another step to playing a movie. On the front, an image of Darth Vader was smudged with oily fingerprints. I watched as the boy, who was intellectually disabled, scanned the cardboard for a few moments, flipped it over, and then read the words on the back. Flip. Flip. Flip. He repeated his examination, turning the cover over and over again.
This went on for about ten minutes, until Pastor Jeff began talking about, of all things, Star Wars. The illustration wasn't protracted—he didn't venture into any overly-complicated philosophical theories, or sound off a line like "The Force was strong with Moses." Instead, he spoke about the saga as one of those parables or myths Tolkien talked about—a "splintered fragment of the true light."
My eyes turned back to the boy. He quickly glanced forward to the stage, then down to Vader, then forward again. As a grin rippled across his cheeks. He grabbed his father's arm and shook it. For the next few moments, far past the illustration and well into the text and application, he gazed stageward, absorbed in every word.
In that moment, I realized that even after six years in ministry, after visiting churches across the country, I had looked past one of the most important aspects of creativity: love.
Church creativity, in its purest sense, isn't solely to impress or enthrall. Instead, it's extended as a charity to others. Experts say that as one grows older, creativity becomes more laborious; the lobes of our brain journey from Play-Doh to cement. Yet it's this quest to help others know and obey God better—to bridge the gap between the ancient, agrarian world and our 21st-century society—that compels us to push forward through parables, similes, music, art, and architectural aesthetics. It's what compels us to trade seeds for Star Wars.
This facet of creativity is what makes it a quality to be neither feared nor ignored. Rather, within the sanctity of the Word and the boundaries of our community, it's another way to display a vital line of the gospel. As Paul might have put it, we can sing with the voices of Hillsong, communicate with the fervor of our favorite celebrity pastor, and execute a service run sheet like the megachurch down the road, but if we don't have love, we gain nothing.
Maybe, then—just maybe—creativity in the church is nothing less than that: our always-new way to affirm an old and timeless love.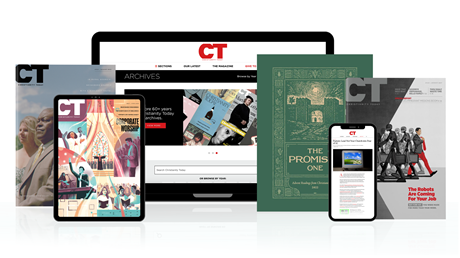 Annual & Monthly subscriptions available.
Print & Digital Issues of CT magazine
Complete access to every article on ChristianityToday.com
Unlimited access to 65+ years of CT's online archives
Member-only special issues
Subscribe
My Search for a Truly 'Creative' Church
My Search for a Truly 'Creative' Church