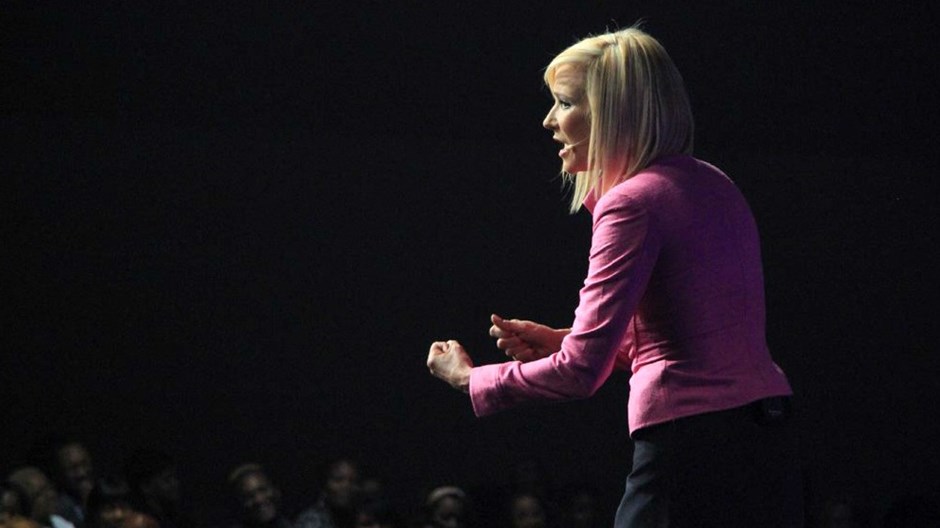 Image: Paula White / Facebook
Donald Trump discovered Paula White the same way legions of fans and followers did: on television.
Fifteen years of prayer, visits, and friendship later, the Florida preacher now serves as the top spiritual adviser for America's president-elect and, essentially, his guide to the country's religious conservatives.
Her behind-the-scenes counsel became news as Trump prepared for the presidency. It was White who arranged a meeting at the Trump Tower for fellow televangelists (including Kenneth and Gloria Copeland, David Jeremiah, and Jan Crouch) to anoint him in prayer back in 2015. She defended the sincerity of his faith to fellow Christians, and continues to network Trump with members of his evangelical advisory board to discuss appointments and policy going into office.
"I'm the bridge-builder," said White, pastor of New Destiny Christian Center near Orlando, in an interview with Christianity Today. "It really, truly is the board and the wisdom of so many great men and women of God."
But White's involvement carries major baggage, especially for evangelical leaders who have for years lamented the endlessly positive health and wealth theology associated with her ministry (even doing so in rap). Critical voices within the church worry that White's political prominence will push the prosperity gospel mainstream—or prove that it's already there.
"The massive congregations and television and Internet audiences that people like Joel Osteen, Creflo Dollar, Paula White, T. D. Jakes, and others enjoy show us that this theology is already mainstream," said Leah Payne, who directs the Center for Pentecostal-Charismatic Theology Practice at George Fox University. "I don't know that Paula White's position will normalize these teachings any more or less than they already are."
While such preachers regularly make their way onto Oprah and CNN, they aren't typical broad-appeal picks for a political event such as the inauguration, Payne said. White, who will pray alongside five other clergy, even told CT there's "a possibility" of her assuming an official role in his administration.
As Kate Bowler, the Duke University researcher and author of Blessed: A History of the American Prosperity Gospel, told ThinkProgress: "This is the culmination of several decades of building political capital within the prosperity gospel movement. This is a new political moment for the prosperity gospel ."
White recognizes the significance of her role at Friday's inauguration: a reading and invocation lasting about two to three minutes.
"I've really been seeking God and asking the Lord for wisdom through his Word and to guide me and lead me because this is a huge responsibility," said White, who has looked to her staff, family, and fellow board members like Southern Baptist pastor Jack Graham for assistance. "As I'm doing this, it's not just myself. I've sought my spiritual covering from those who mentor me."
A leading critic, Michael Horton, theology professor at Westminster Seminary, warned in The Washington Post that White's role in Trump's inauguration and administration should "deeply trouble" American evangelicals.
"You'd be hard-pressed to see someone like Jerry Falwell and Billy Graham cozying up to Paula White. The lines are being blurred with their sons," Horton told CT. Jerry Falwell Jr. was one of Trump's earliest evangelical endorsements, and Franklin Graham will also be speaking at his inauguration.
"I think that people like White and Osteen are able to tone down the heretical aspects of the Word of Faith teaching," he said. "But make no mistake: the toxic doctrines are there."
A movement within Pentecostalism, Word of Faith emphasizes positivity and prosperity; it's often summarized by outsiders as "name it and claim it." Horton considers elements of this approach to religion to be "part of the American DNA."
"We're all pretty good people who, with the right data, inspiration, and technology, can be and do whatever we want," he said, describing the modern American worldview. "So when Kenneth Hagin, Kenneth Copeland, and other Word of Faith teachers created a whole theology for the 'prosperity gospel,' there was already a big audience."
White resists the negative characterizations of the prosperity gospel movement. "There's a perception … that the prosperity gospel means that you ask for money and promise people they're going to get something in return, which I absolutely do not do," she told CT. "Do I believe that God is some sugar daddy or Santa Claus? Absolutely no."
This month, she invited followers to "sow a month's pay, a week's pay … a day's pay" as an annual first fruits offering to start 2017, saying: "It is a seed for the harvest I am believing for in the coming year. And God always provides!"
White, who leads a majority African American congregation, found herself once again explaining her beliefs following sharply worded concerns during the election cycle from conservative Trump detractors, including Southern Baptist Ethics and Religious Liberty Commission president Russell Moore and conservative radio host Erick Erickson.
"I know you label me a heretic, a prosperity preacher. Have you ever asked me? Have you listened to 100 sermons? Have you really read?" said White, who came to faith at 18 after years of abuse following her father's suicide.
"Yes, there are things my 50-year-old self would never do or say that my 20-year-old self did," she told CT. "That doesn't mean my 20-year-old self was that doctrinally off, [but] I've never denied the Trinity."
While most inauguration picks elicit some level of controversy, the theological back-and-forth over White reveals a divide even within the tradition she is portrayed to represent.
"White is a lightning rod in Pentecostal and evangelical circles," said Payne, whose research focuses on women within Pentecostalism. "But that seems in step with many of Trump's choices for advisers—religious or otherwise."
Prior to making headlines with Trump, White was associated with mentor Jakes—at one time known for advocating Jesus-only or "Oneness" Pentecostalism—and with a group of flush televangelists investigated for financial mismanagement by a US Senate committee.
In some ways, White has gotten used to the criticism. After spending a majority of her career in high-profile ministry, the 50-year-old has defended her teachings, relationships, finances, and faith for decades.
She and ex-husband Randy White grew Tampa's Without Walls International Church into a prominent megachurch in the years leading up to their 2007 divorce. Their separation coincided with news reports alleging they took advantage of congregants' generosity to pad their lush lifestyle, including a $2.1 million waterfront mansion and a $3.5 million Trump Tower condo in New York. The church halved in attendance and faced foreclosure, though White returned to leadership.
"I know there are people who believe in the prosperity gospel. As someone who covered religion for 30-plus years, I can tell you there aren't a lot of good stories in the end," said Michelle Bearden, the former Tampa Tribune reporter who investigated the Whites' ministry. "Because they had charisma and charm and these great backstories, people were mesmerized and sucked into it."
White has reiterated that the inquiry into her ministry launched by Iowa Republican senator Chuck Grassley from 2007 to 2011 never found any wrongdoing.
Bearden pointed out that officials were unable to obtain adequate financial documentation to complete their investigation. "They never got full financial disclosure from the Whites," she said. "I think they ran out of steam."
Grassley ended up handing over the accountability effort to the Evangelical Council for Financial Accountability (ECFA), whose commission recommended no new laws, favoring better enforcement of existing laws.
The ECFA sets forth responsible stewardship standards; among them, the agency requires that organizations establish "reasonable expectations" for donors; avoid manipulating potential donors with misleading statements; and make a reasonable effort to ensure their giving doesn't place them in financial hardship.
In a statement issued in early January, White assured fellow Christians that she rejects "any theology that doesn't affirm or acknowledge the entirety of scriptural teaching about God's presence and blessing in suffering as much as in times of prosperity."
She knows quite a bit about the former, describing 2007 as the year "all hell broke lose" for her personally and professionally.
"The greatest blessing of my life is that God loved me enough to reduce me to Christ," said White in her interview with CT. In the years after, she moved on to New Destiny and got remarried, to Journey songwriter Jonathan Cain.
White brought up how God uses people "in the marketplace, in the White House, wherever." She said she has seen how Trump approaches the oath of office he will take Friday as something "very holy and very sacred."
"My interest is God and people," she said, laughing at where her unexpected friendship with the billionaire businessman had led her. "If he uses that in the realm of politics, then I believe that is the fulfillment of the church."
Leading up to the inauguration, Nicola Menzie—founder of Faithfully Magazine, which reports on Christians of color—described how the "seed" model used by White and others tends to harm African American congregants in particular.
"Her consistent abuse of Scripture to solicit specific donation amounts from supporters is beyond troubling," said Menzie, noting how White's emails have pulled from numbers in the Bible to suggest donation amounts ($229 to represent 1 Chronicles 22:9, for example).
"Do I believe that God is involved in my finances? Absolutely," White told CT, "because I honor God with a tithe. I worship God with an offering.
"I don't get it all. That doesn't mean that God is going to give me this much. He is whatever supply I need."
White's recent statement also addressed concerns over her theological beliefs about God, saying:
I believe and have always believed in the exclusivity and divinity of Jesus Christ, his saving grace and substitutionary atonement made available to all by his death on the cross. I believe and have always believed that he was buried and on the third day rose again. I believe and have always believed in the Holy Trinity. I believe and have always believed in the virgin birth, and the second coming.
"Words like Jesus, sin, grace, atonement, salvation, and Trinity are just slogans," said Horton to CT in response. "You have to see how [White] and other Word of Faith teachers interpret them within their distorted framework."
White sees herself growing in faith, and stands by her statement. "We all go from glory to glory. I look at my life and think of all the people the Lord has brought into my life over the years," she said. "Every time, God's saying, 'I want to take you deeper. I want to show your more.' Revelation is always progressive."
According to Menzie, part of the Christian life is reckoning with the disconnect, big or small, between what we say we believe, what we strive for, and what we do, "I would not focus alone on what White or any Christian minister says, especially if they say all the right things," she said. "What we do while standing on that Christian confession should also be examined."
White said she worries that continued claims of heresy and false teaching that bubble up against her online only reflect poorly on the body of Christ.
"We are all to be one church, one bride," she said. "If you really believe that I am a heretic, if you really believe that, there's a biblical responsibility to come to me … and that's never happened."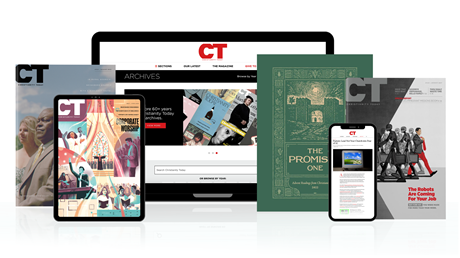 Annual & Monthly subscriptions available.
Print & Digital Issues of CT magazine
Complete access to every article on ChristianityToday.com
Unlimited access to 65+ years of CT's online archives
Member-only special issues
Subscribe
The Story Behind Trump's Controversial Prayer Partner
The Story Behind Trump's Controversial Prayer Partner