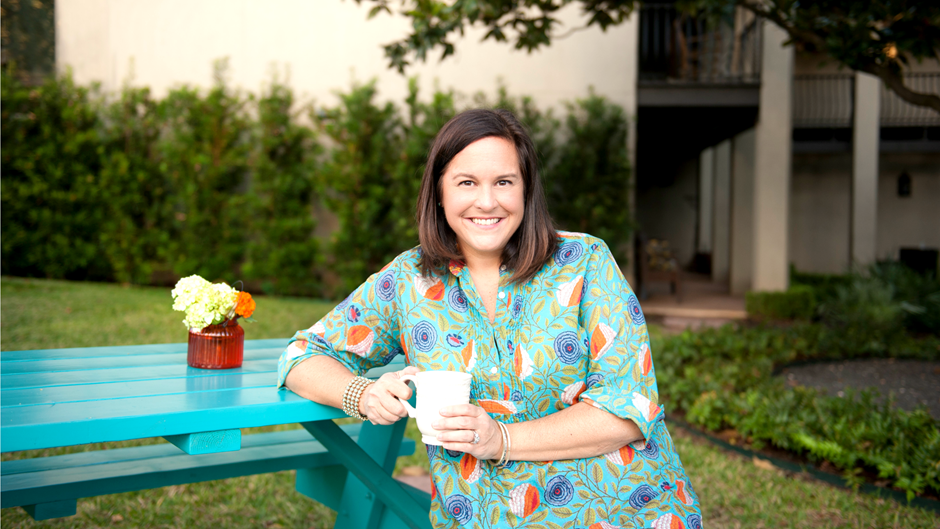 Image: Courtesy of Kristin Schell
Four years ago, Kristin Schell ordered two picnic tables for a party. She was a reliable hostess in her Austin community, a thrower of book clubs, barbecues, and neighborhood Bible studies. Schell had read Romans 12:13—"Take every opportunity to open your life and home to others" (The Voice)—and took Paul's words seriously. But all the planning and prepping was driving the mother of four crazy, and entertaining never seemed to yield the depth of community she craved. Surely, "every opportunity" didn't mean always. So what did the verse mean?
When the Lowe's delivery men arrived with the tables, they dropped one in Schell's front yard. Before she had a chance to redirect them, Schell had an unorthodox thought: What if she left the table there, right next to the street, and made a point to show up? With a splash of paint—specifically, Sherwin-Williams Nifty Turquoise—Schell christened her creation. As she sat outside every morning praying, she began to meet people she had lived next to for years. "I started learning the difference between entertaining and hospitality," Schell says. "Entertainment… you can't do all the time, you can't do that at every opportunity. Hospitality is a way of life. It's not what we're doing; it's who we are."
Since Schell started her experiment in front yard living in 2013, thousands of Turquoise Tables have sprouted up across the country, serving as an invitation to slow down and connect simply. This month, as she celebrates the release of her book, The Turquoise Table: Finding Community and Connection in Your Own Front Yard, we asked Schell about why hospitality matters and how we can foster intimacy in our own communities.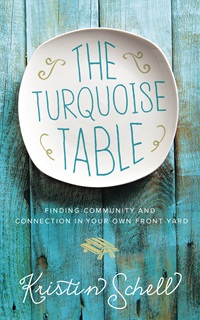 In your book, you share that your "love affair with the table" began as an exchange student in France. What was so arresting about that experience?
First of all, I went to France at the ripe old age of 16. That sounds wonderful, but for me, it was not. I didn't like to be away from home, so it was a huge step of trust for me. But within about 48 hours of arriving in France, I remember being with our host family and having dinner and feeling completely captivated. It was so foreign, obviously, but here I was in a strange land, as a stranger, not speaking the language, and still, something resonated, and I loved being at that table. There was laughter; there was delicious food being passed. It felt like a holiday, but it was just a regular weekday night. And it was already so different from the fast-paced lifestyle I had grown up with. Something just resonated with my heart, that I wanted more of this: I wanted more time around the table.
One of the things you did early on was move your table to your front yard. Why do you think that space, in particular, is special?
First of all, being in the front yard is so welcoming. It's almost like a baby step to coming into someone's home. If you and I were going to have coffee in my house today, I would have cleaned up, I would have worried about the dishes, I would've busied myself—more like Martha in the home—and I would have been distracted from the real purpose. Being outside, it doesn't matter if the dishes are in the sink and if there are things on the porch. Basically, it takes away a lot of our excuses so we can do what God wants us to do, which is to be in community with one another.
Do you ever say "no"? Do you have boundaries in place or days of the week set aside for withdrawing?
Absolutely, I have to have boundaries. Sometimes I have a firm hold on that, and sometimes I mess up. [My husband] Tony is an introvert, and he is my test and balance. He'll be like, "Okay, Kristin, you need to come on back, now." And through daily devotions and my walk with God, he reminds me. God is pro-marriage, pro-family, and yes, pro-neighbor. But he also, clearly, gives a structure to how the priorities in our lives should be. And I can tell when I'm out of whack. If I'm neglecting my marriage or motherhood, it shows.
So is it inappropriate for us as believers to chase the perfect tablescape or concoct an elaborate meal for our girlfriends? How do you avoid perfectionism while also fulfilling your God-given desire for beauty?
I believe women are attracted to beautiful things. It's in our DNA to express ourselves and love others through God's beauty. But when that becomes a hindrance or the focus, that's when it's time to dig into the heart and say, "Okay, what am I really trying to do here and what am I getting hung up on?" I've made dinners just for my family where I've made a really fun, new recipe, or tried really, really hard. And that's all good. But when I'm so exhausted that, basically, I'm too tired to show up to serve this beautiful thing—it's almost like I'm serving my family leftovers of me.
What advice would you give to someone who wants to try her hand at front-yard living but feels overwhelmed? Where should she start?
Just remember the whole concept of this is to keep it simple. Get a table. If you have a table already, great, paint it turquoise. And then pray! Pray about your neighborhood. I love to encourage people to really notice what's going on. What needs are in your neighborhood? What are the dynamics? What works in Austin, Texas may not work in Minnesota or California. Walk the neighborhood. Get to know the rhythms of your own community. And then ask a friend. Ask someone to join you because we are better together, and wherever two or more are gathered, God will show up faithfully.
Jesus' ministry was very much focused on recognizing the marginalized, from prostitutes to lepers to despised tax collectors. How do you ensure your gatherings are inclusive?
I actually think being outside helps that. There are no insiders when you're outside.
For example, last night, there were six or seven of us sitting out at the Turquoise Table. A couple of our neighbors just started walking by and they joined us because they could. They didn't see us through a window and think, "There's Mandy and Mindy and so and so. Oh, I wasn't included." [Being outside] lends itself to saying, "Come join us."
It goes back to just noticing. Take a look. Who is missing from this table? I think that's what Jesus did and what he encourages us to do. Okay, you've invited these people to the banquet—some of them are too busy to come. Well, then invite the others who aren't here, who would love a place at this table. And that makes it so much richer.
In one chapter you wrestle with how insignificant a small gathering can feel in the face of the world's problems. How is hospitality kingdom work?
First of all, we're wired to want to be fixers. Whether we believe we're called to fix a nation or fix issue A or issue B, there is a desire to take on things at a very big level. And so when we see all of these big, hard issues going on, it can seem so insignificant to want to have people over for coffee on a Saturday morning. How does that matter in the grand scheme of things?
It does matter, because if we spend all our life talking in theory at the 30,000 foot level, trying to think of what we believe to be true without living it with the people who are next to us, well then what are we doing? What do small Saturday morning coffees or Tuesday night happy hours mean? You find yourself in a neighbor's home at two in the morning during a crisis—that's what community's about. That matters.
We live in a time of civil discord. Do you talk about hot topics—abortion, sexual ethics, politics—at your table? Why or why not?
There are two levels to that question. Number one, I believe the table, with a small group of people that you know, is where these issues should be worked out. Not on social media, and not on a pedestal. But it's not as if on Thursdays, we're going to take on this topic or that topic. The table becomes a way of working out the hard things of life together. When someone's child dies, how do we handle that? How do we handle mental illness? How do we handle or talk about racial issues and the divides and tensions in that area? Rather than talking about them on a broad level, we're taking care of them at our table and then going forth. To me, that's beautiful. Table-by-table, block-by-block, or neighborhood-by-neighborhood is the way that we will be able to effect change.
Reprogramming our hearts to obey Jesus' call is never easy work. What has been one of the most stretching moments of this ministry?
I still feel like I'm just a girl with a table. I have to fight the giants and the self-doubt of, "Do you, God, want me to encourage people to gather at a turquoise picnic table in their front yards?" All the little voices in my head will say, "This is stupid, this is dumb; you're not solving world peace or finding a cure for cancer," blah blah blah. But it's not either/or; it's both/and. I was not called to create cancer drugs. I was called to open up my life and home to others in a very simple way. I have to remember that and trust that God is in charge of this journey.
Jessy Shelton is a freelance writer based in Annapolis, Maryland. You can read more of her work at www.jessyshelton.com.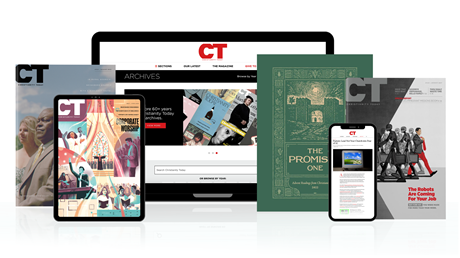 Annual & Monthly subscriptions available.
Print & Digital Issues of CT magazine
Complete access to every article on ChristianityToday.com
Unlimited access to 65+ years of CT's online archives
Member-only special issues
Subscribe
The Turquoise Table Movement Wants You
The Turquoise Table Movement Wants You