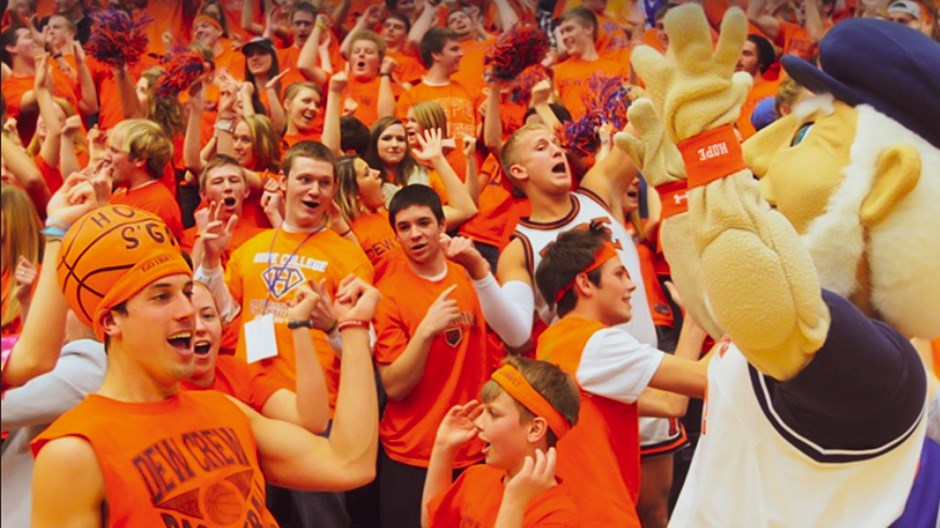 Image: Courtesy of Hope College
A few years ago, an ESPN poll ranked the biggest rivalries in college basketball. Of course, Duke University and the University of North Carolina topped the list. Then came the University of Tennessee and the University of Connecticut women's teams, then the University of Kentucky and the University of Louisville.
At No. 4: Calvin College and Hope College.
The two Division III Christian schools never make it into the big-time March Madness brackets like the Division I schools listed above. In fact, they rarely get covered on TV and don't have much name recognition outside of the Midwest or certain church circles. (Calvin happens to be in the national spotlight at the moment, as alumna and donor Betsy DeVos is President Donald Trump's Secretary of Education.)
But even without national prominence, the Knights and the Flying Dutchman are in many ways the quintessential adversaries—demonstrating exactly what makes sports rivalries so exciting. As Christian colleges, they also force us to consider the theological implications of competition in the body of Christ.
In summary:
Hope versus Calvin fills every criterion for what makes any rivalry great—close regional proximity (like Michigan vs. Michigan State), ongoing league and national success (like Duke vs. North Carolina), similar size and academic mission (like Army vs. Navy). But the Hope versus Calvin rivalry adds one more element that other high-profile rivalries don't, an element that should bind but has over the years divided. It's ironic really, for it is religion that adds to the zealous nature of the rivalry for all who play and watch.
The two schools stem from a schism among Dutch Reformed settlers in West Michigan. A group split from the North American branch of the Dutch Reformed Church, the Reformed Church in America (RCA), to start a new denomination in 1857. The newly formed Christian Reformed Church of North America (CRCNA) was still very Dutch and very Calvinist, but disagreed with the RCA over language and hymns during worship as well as public or Christian schooling (Calvin's DeVos has recently reinvigorated this debate). Leaders of the RCA founded Hope College in Holland, Michigan, in 1866. A decade later, the CRCNA founded Calvin College in Grand Rapids—a mere 35 miles away.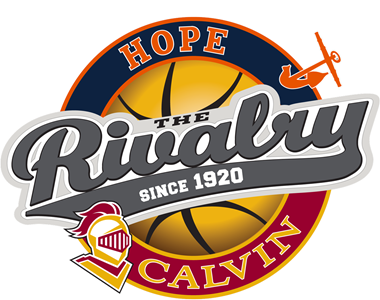 One of the reasons that rivalries tug on our hearts—and make us debate, shout, paint our faces, bumper-sticker our cars—is because of the ongoing narrative of struggle. Hope and Calvin have steadily maintained their back-and-forth one–upmanship throughout nearly a century of athletic competition.
In men's basketball, their teams have squared off 196 times since 1920, with Hope winning 101 and Calvin winning 95. Since Calvin joined the Michigan Intercollegiate Athletic Association in 1953, both schools have won the league 31 times, and at least one of the two has won the league or shared the title in 60 of the 64 seasons since then. Calvin has won two NCAA Division III national championships; Hope has finished as national runner-up twice. Its last matchup, in February, drew fans at 80-plus viewing parties across the country.
Yet while Calvin-Hope is a rivalry par excellence—its fan bases follow the action of both teams fiendishly and its participants stake their competitive credentials each season on the outcome of the rivalry games—the schools are also neighbors. Historically, many of the players and fans grew up together, went to school together, played basketball with and against each other in their youth, and even went to church together. Hope and Calvin are neighbors, sharing the same geographic region. The schools are also "neighbors" in that they share a presence in the larger body of Christ's followers.
In fact, rivalry began as a neighborly endeavor. Long before modern sports, rivalry—from the Latin words for river and others—referred to those who shared a common stream, a resource worth squabbling over when the term came about in the late 16th century.
As a coach and professor at Hope, I had to ask myself: Can we love our neighbors as ourselves while also fueling the rivalry? Is it good for the body of Christ to compete on the court and try to outdo each other?
Like most rivalries, certain behavior at Calvin-Hope games (and trash talk outside it) has done little to glorify God's kingdom or show love to our collegiate neighbors. The Calvin student section shouts, "There's No Hope!" Hope students have responded with "Calvin Sucks" T-shirts and posters declaring "Calvin (K)nights Are Boring."
Further, the behavior of players and coaches shows similar antipathy. A 2002 game included a punch being thrown in the midst of a player fracas. A 2015 game ended with students rushing the court and trampling over losing players. The rivalry even took a four-year hiatus after the 1925 game as school officials believed that "hard feelings" had developed to such an extent that "discontinuance" of the rivalry was the best course of action.
Each of these characteristics also reminds us of what draws us back to the arena for each rivalry game—the opportunity for redemption. Good competition, as sports philosopher Scott Kretchmar argues, includes each side giving their best shot and, regardless of the outcome, agreeing to play again. One of the attractions to rivalries is the history—that which implies that both sides have agreed over and over again to continue playing and developing the storyline.
The opportunity for redemption, for renewal, for another chance is also one of the more overlooked biblical parallels to sport. Through the sacrament of baptism, we are made new in Christ. The stream of the living water continually washes away our sins and gives us new opportunities to live again in rightness with God.
Redemption gives us hope that we can do better tomorrow, hope that things can change, and hope that we will grow. Jesus' death on the Cross means that hope springs eternal, offering us access to God's love and favor at all times.
Rivalries have parallel elements. They offer us hope. Rivalries become such because of the seeming unpredictability of the games—anything can happen. That provides hope. And after each game, while the winning side savors its victory knowing that its claim to the title may be only short lived, the losing side leaves the arena with the blessed assurance that there will be a next time, another chance for redemption.
This is what makes the Calvin and Hope rivalry so special. Anything can happen on the court, and we care deeply about what does. And after the game we shake hands, offer to play again next time, and look forward to seeing each other at church the next day.
Chad Carlson is junior varsity basketball coach and kinesiology professor at Hope. He researches—along with Calvin rivals—the distinctives of Christian sports rivalry. His book, Making March Madness: The Early Years of the NCAA, NIT, and College Basketball Championships, comes out in the fall.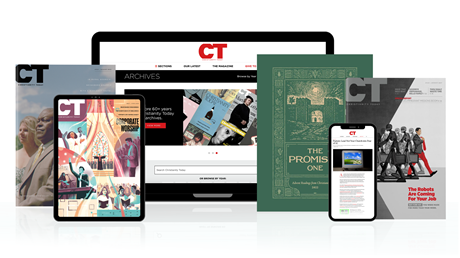 Annual & Monthly subscriptions available.
Print & Digital Issues of CT magazine
Complete access to every article on ChristianityToday.com
Unlimited access to 65+ years of CT's online archives
Member-only special issues
Subscribe
How Christians Do March Madness
How Christians Do March Madness