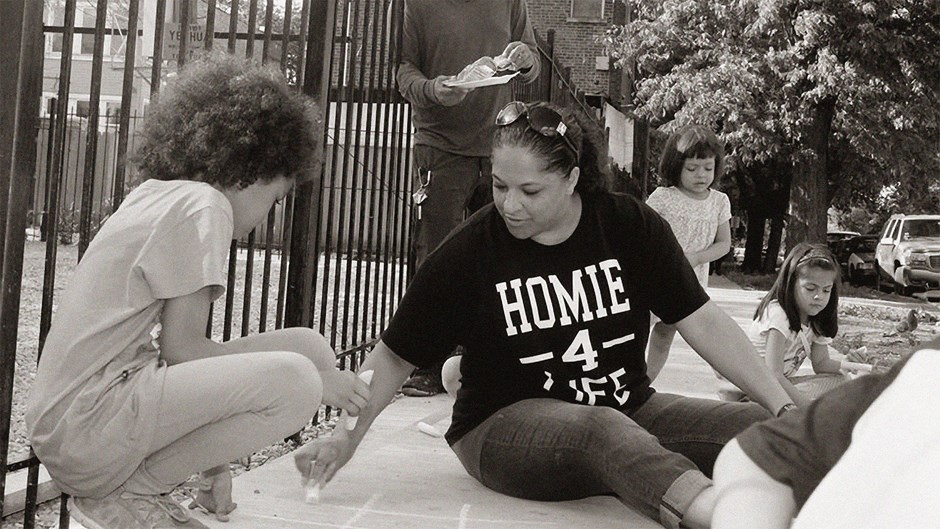 Image: Courtesy of Amy Williams
In the final two years of his presidency, Barack Obama declared October National Youth Justice Awareness Month—and with good reason. The United States has the highest rate of youth confinement of any developed country, with more than 173 of every 100,000 minors in confinement. On average, about 2,900 cases per day pass through American juvenile courts. Given the number of vulnerable young people, the National Institute for Juvenile Justice Ministries is currently working on an initiative to ensure that every juvenile facility has a church or ministry connected with it. (Read more about it.)
"While young people are on the inside, we want them to be able to build these relationships so that when they get out they have places to go," said Amy Williams, a juvenile justice advocate based in Chicago. "We also want to be the one-stop shop for anybody that does this kind of work."
Williams never set out to do youth ministry. "I've just always had a heart for kids that society thinks have no value," she said.
More than a decade ago, Williams intentionally moved into Chicago's West Side to mentor and support young people who were caught in gangs, incarcerated, or otherwise connected to the criminal justice system through supervision, probation parole, lockup, or post-lockup transition. "I intentionally moved into a gang neighborhood and hit the streets building relationships with young people," she said. "The work can range from community service to having guys move in with me once they return from lockup."
Williams recently spoke with CT about how family tragedy led her to this ministry, why she connects so well with the young men she mentors, and how Christian youth workers can affect change in marginalized communities.
You primarily mentor young men. How did that start?
I grew up around boys. It's what I know. I was bullied a lot by girls growing up, and my brother and his friends embraced me and brought me into their circles. So a lot of it is rooted in my close relationship with my brother.
During my high school and college years, he began getting in trouble. He later joined the Crips in Los Angeles and did time in the criminal justice system. I felt like I did everything I could to save him, and I couldn't. As a result, I've tried to make it my life's work to help every kid that I possibly can.
Female mentors are often lacking in many gang intervention and juvenile justice circles. When I'm doing outreach ministry, there are streets in gang neighborhoods where I can walk on as a woman, because I'm not a threat. If a man's walking, they might be like, "What do you want? What's up with you? What are you doing here?" But I feel like these guys see women as offering compassion and a safe place where they can explore their emotions and feelings.
What's your philosophy of ministry?
My ministry is a beautiful thing in that it's not really formal. It's my lifestyle. It's my life choice. It's just who I am. I moved into a gang neighborhood in Humboldt Park, Chicago, not as a part of a church ministry but in response to God saying, "This is what I need you to do." When I wake up in the morning I say, "Well, Holy Spirit, what do we do today? Where do we go? Whatever it is that you want me to do, you will have to provide every single resource to get it done."
If you think about how we feel overwhelmed by the violence, imagine how these families feel; they have no resources, no connections, and no God in their lives. It's a lethal absence of hope, as Father Greg Boyle puts it. And violence is just a symptom. Our communities often think that more policing and incarcerating is going to fix the problem. But if the root issues aren't addressed, the violence will persist.
What advice do you give to Christian youth workers?
I tell youth workers that one of the best things you can do is to be what I call a "resource advocate." That means knowing what is available in the community and then connecting young people and their families with these resources. We often think that we have to be the end-all, be-all, but the truth is, there are already so many people out there doing the work.
Even if there aren't a ton of resources in the community—which it is the case here in Chicago—there's always a way for a child of God to find that resource. He hasn't forsaken these young people. The community may have, but God never will. These are his babies, too. So we're not called to go in and save these kids; we're just called to walk this journey with them.
Of the young people you work with, what's the average age of exposure to gangs?
A lot of my young people aren't first-generation gang members. Their grandfather was a gang member who then raised their dad to be a gang member, who then raised them to be a gang member. This is what they've seen. This is what they've known. This is what's been in their families. I worked with a young lady whose father more or less ran the Latin Kings for years. She didn't want to be a part of it, but her mom, her dad, and all of her brothers were involved in that life.
I've seen a one-year-old throwing up gang signs and wearing the Latin King colors. Everybody thinks it's cute and laughs at him, so he's going to keep doing it. And if that's all that he's being raised around, what is his path, unless there's some kind of intervention?
Tell us about a specific relationship that you've had with one of your mentees.
His name is Jonathan Sanchez. I've never heard of anyone with such a horrific childhood. His growing up years included everything from foster care to child abuse to sexual molestation. His father was a gang leader and his mom was an addict. At the age of 10, he became affiliated with a gang and at the age of 11, he caught his first case—a gun case. He spent more than half of his life in prison. When he was imprisoned, nobody came to visit. He and I got connected after Jonathan's sister-in-law reached out to me through my website. She said, "He's getting out of a lockup. We're trying to get him to a halfway house. Can you please help?"
The first time I met him, I was taking him to get his tattoos removed. He was like, "I do not have the right to die anymore. What can I do to change my life?" And so our mentoring relationship began and we became family. Jonathan wanted his story to be heard, and he wanted to help young people. He had been a top leader in his gang and just decided he couldn't do it anymore and needed to do what was best for his son.
So we began that journey, and it was beautiful until October 23 of last year, when he was killed. He was helping a friend when a drive-by rival gang came through. The bullet wasn't meant for him, but he took the bullet and didn't survive. I talked to him an hour before he was killed, and the last thing we said to each other was, "I love you." He was supposed to be speaking with me at an event that weekend.
How has his death affected you this past year?
I have made it my mission to tell Jonathan's story. Once he completed parole, I was going to take him to the Urban Youth Workers Conference (UYWC) in Los Angeles as a reward. After his death, UYWC created a scholarship in his name to bring a youth and a youth worker who also wanted to change lives and have an impact.
As sad as it is, it's still one of the most beautiful stories.
Given that you often encounter these kinds of sad and tragic events in your line of work, what do you do to take care of yourself?
I have buried nine guys in the last three and a half years. After I buried two guys within 30 days and three guys last year, I honestly was at a place where I was like, What's the point?
I have to be very, very intentional about having the courage to step back in the midst of ministry. It can be very hard to say, "I need time." The world goes on and if I take a break, my kids are still going to be incarcerated. They're still going to do whatever. But I can be of no good to them if I'm in a place of burnout.
And so I have a small group of people that I've given permission to tell me when I'm doing too much, to pull me aside, ask me the hard questions, love on me, validate me, encourage me … all of those things. And other than God, they are my foundation. They are God on earth, and he uses them to keep me in balance.
Grief is … man. I always say "grief is a bitch." That's the only word I can think of. It's really hard.
What's your family background?
I was born and raised in Maine to biracial parents during a time when that just wasn't what you did. My mom's mom pretty much disowned her for marrying a black man. Meanwhile, my paternal grandma took her into her home on the South Side of Chicago and showed her what it means to raise kids of color.
When I was older, my mom remarried and we moved to North Carolina. We moved to a predominantly black environment where people weren't used to someone who was light-skinned, with green eyes and long hair. It was hard dealing with people who made assumptions based on my appearance without necessarily knowing my story.
These common misconceptions ultimately fueled your work.
For me, I'm able to look past everything that these kids put out there and see their story. I've been so drawn to that all my life. It's important that people build relationships with young people so that they can begin to understand their backgrounds, their family stories, and why they've made the choices they've made. This allows the church to minister from a place of relationship, rather than from a savior mentality or a place of pity or judgment.
How did you find Jesus?
I didn't grow up in the church. I didn't grow up as a Christian. I never had anybody minister or witness to me. I met a lady in college who invited me to visit her church a couple of times. I finally went, and I literally just thought I would go on Sundays, hear the Word, and then go home. I didn't realize it was a lifestyle thing—that it would be something bigger than two hours on a Sunday. But man, God set me up and he got me.
God's funny like that, isn't he?
He is so. He's hilarious. He got jokes. Here I am still.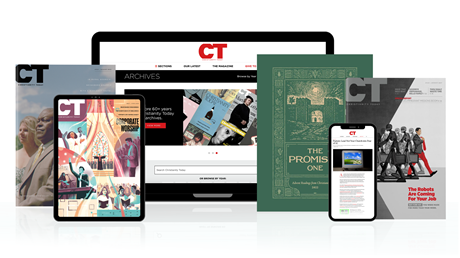 Subscribe to Christianity Today and get access to this article plus 65+ years of archives.
Home delivery of CT magazine
Complete access to articles on ChristianityToday.com
Over 120 years of magazine archives plus full access to all of CT's online archives
Subscribe Now
Q&A: Ministering to Gang Members Is God's Work
Q&A: Ministering to Gang Members Is God's Work