Our bodies are extraordinary creations, reflecting God's intricate handiwork. We consist of diverse parts with different, yet collaborative, functions. For instance, a nose does not look or function like a bicep, and neither of these parts resembles a spleen. How are all of a body's members integrated? You might say that they're engaged in constant conversation.
The emerging sciences of proteomics and genomics explore how the proteins and genes in our bodies interact conversationally to give form and health to our body. Our nervous system, it turns out, is a conversational medium, an internet of sorts, that transmits messages not only from our brain to our various members, but also from these various members back to the brain in the form of sensations like pain, pleasure, and fatigue.
Building upon Jesus' desire (John 17) that all his followers be united, as he is united with God the Father, it is not surprising that the apostle Paul uses the image of the human body to describe the life of the church. This familiar Pauline image reflects not only how we are to share life together in Christ but also how the divine persons of the Trinity share life together as one. Our bodies, both personal and social, are, of course, created in God's image, designed to be a unity of diverse members that are bound together as one through the attentive presence and conversation of their members.
Recovering the practice of conversation is one of the most pressing challenges for Christians in the 21st century. Despite the conversational nature of our bodies and our calling to live conversationally with our brothers and sisters in Christ's body, a long and complicated history of modern socioeconomic and technological forces has crippled our capacity for talking with others—especially with those whose backgrounds and convictions differ from our own. Fortunately, this struggle has slowly been rising in the church's consciousness, and today we are seeing a wave of books on themes related to conversation. Among the titles in this emerging wave are Redeeming How We Talk: Discover How Communication Fuels Our Growth, Shapes Our Relationships, and Changes Our Livesby A. J. Swoboda and Ken Wytsma, and The Lost Discipline of Conversation: Surprising Lessons in Spiritual Formation Drawn from the English Puritansby Joanne Jung.
The Power of Words
Redeeming How We Talk is structured in two parts: The first is a historical account of why conversation is so difficult in the 21st century, and the latter part is a theological exploration of the significance of words. Swoboda and Wytsma begin their history all the way back at the beginning of creation, with the divine Word that spoke creation into being. "Speech," they observe, "is always powerful—whether it builds up, distorts, or tears down. Everything in the world is a result of words. It began with a series of words."
The original care and creative power of words stands in sharp contrast to the ways that words have come to be used in our late-modern era. Specifically, the authors focus on propaganda and the technological threats to careful language introduced in the last half-century. The book's first part concludes with a chapter on the nature of difficult conversations, which the authors take as essential to following in the way of Jesus, "one of the forgotten arts of Christian living." They challenge us to immerse ourselves in these conversations, rather than fearfully steering clear. Although the history of our present struggle with civil conversation is, I believe, longer and more complicated than what Swoboda and Wytsma depict, their account is a helpful introduction, and framing it within the scriptural arc of God's creative and redemptive work highlights why our use of words and our conversational practices matter.
In the second half of the book, the authors turn from history to theology, describing what it might look like for us to speak sacred words with care and wisdom. Fittingly, they begin with an exploration of the ways in which Jesus spoke. Jesus not only spoke truth, they observe, but did so in a way that resonated with those who heard him and sparked their curiosity. He also spent lots of time in conversation with his religious and political enemies. Above all, Jesus embodied a life lived in prayer, in conversation with God. The authors write:
To learn how to talk to others the way that Jesus did, we must learn to talk to God the way Jesus did. Jesus prayed. Jesus spent time with the Father. Jesus knew who He was before God. … There is a posture of the heart that allows for real conversational connection. If we cannot practice it by ourselves, and in the presence of God, then we won't be able to practice it in the stress and conflict of our social relationships.
The remaining chapters of the book offer guidance on practicing Christlike conversations: how to speak and listen to one another in godly ways, how to seek the unity of the church rather than division, and how to speak winsomely. But while the authors excel in explaining why the practice of conversation has gone into decline, their discussion of how to revive it seems a bit thin at times. They could have done more to describe specific structures and practices that might help us learn to speak (and listen) in the wise, loving, careful way of Jesus.
Puritan Practices
Joanne Jung's The Lost Discipline of Conversation serves as a superb complement to Redeeming How We Talk, as it focuses on the practical question of how we learn to talk together in an age largely devoid of healthy conversation. Specifically, Jung turns our attention toward our Puritan ancestors and their conversational practice known as conference. She writes:
[The] Puritans understood that God was intimately aware of their conversations and regarded their words with deep interest. So they took conversations, especially spiritual ones, seriously. … What would it be like if we knew God cared that much about our conversations and if we took conference seriously?
Jung devotes her introduction and first chapter to exploring the difficulties we have in sustaining conversation with others. She draws connections between our inability to converse and the deep social fragmentation and isolation that we feel in the 21st century. She identifies "the pervasive individualism that has permeated our culture" as one of the most powerful forces inhibiting both our ability to converse and our communion with God and humankind. "Human beings are created with the longing for belonging found in community," she writes.
We were made to experience life with God and with others. Living is best done in community, so to be spiritually influenced is to be spiritually influencing. We long further to live consistently, engaging with others who are like-hearted, together cultivating our vertical relationship with God and our horizontal relationship with others.
The remaining chapters in the book's first part describe the historical practice of conference among the Puritans. Jung succinctly defines the twofold purpose of conference: "combining biblical interpretation and care for souls together in conversations," which bore the fruit of furthering "one's understanding of Scripture and its application toward growth of godliness in community." In these early chapters, she draws upon the writings of many Puritan leaders and makes connections to other Puritan, spiritual practices, including Bible reading and preaching. Amidst our present consumer culture—too often guided by the "what's in it for me?" mentality—I was particularly struck by Jung's depiction of the Puritans' preparation for conference. At their best, the Puritans were more concerned not with what they would take from conference, but how they would be prepared to give themselves fully to the practice, allowing "more discerning and insightful questions to be asked, and responses to be given."
The next part of Jung's book is devoted to imagining, in very specific practical terms, how Christians might undertake the practice of conference today. Each chapter in this part of the book examines particular contexts in which conference might be practiced—in a small group, in a family, in a marriage, between the pastor and laity of a local church, pastor-to-pastor, and in giving spiritual counsel across distances. Some of her recommendations won't pertain to all Christians, but many will undoubtedly stir readers' imaginations with ideas of the sorts of questions that might be fruitfully explored in conference.
In the book's final part, "Conferencing Through God's Word," Jung again provides specific practical guidance on how groups can use the practice of conference to read and interpret Scripture together. She selects seven New Testament passages, most of which are drawn from the Gospels, and provides some resources for discussing these passages.
The Lost Discipline of Conversation is not only an immensely practical guide to how Christians might begin to have faithful conversations in the 21st century. It also is a rich example of learning from the faithful witnesses who have gone before us to encourage and energize us in the face of the particular challenges of our day. Jung deftly draws upon the historical works of the Puritans but does so with the clear aim of building up God's people today. She may, however, occasionally lean a little too heavily upon the work of the Puritans, particularly in her (mostly) uncritical use of the Puritan concept of the soul. Some scholars have maintained that Puritan theology—and particularly their concept of the individual soul—profoundly shaped the sort of rugged American individualism that Jung decries at the book's outset. How we imagine and talk about the very core of our existence—are we discrete human souls or interdependent members of God's creation inextricably woven together like the parts of our human body?—will deeply influence the ways we live and have conversations together.
Although this minor qualm highlights the challenges of interpreting history (we inherit not only the gifts of our ancestors, but also their baggage), let it not deter you from carefully reading Jung's book, and hopefully beginning to put its immensely helpful ideas into practice with your sisters and brothers in Christ.
Both of these books merit our attention, and taken together they offer a vibrant account of both why and how we need to take the practice of conversation more seriously as Christians in the 21st century. The authors of both books agree that conversation is a means of God's transforming grace, and the more we put their recommendations into practice, the more we'll enjoy deeper intimacy with God, with our fellow Christians, and with our neighbors.
C. Christopher Smith is the founding editor ofThe Englewood Review of Books, co-author of Slow Church: Cultivating Community in the Patient Way of Jesus, and author of the forthcoming How the Body of Christ Talks: Recovering the Practice of Conversation in the Church(Brazos Press), which releases in April 2019.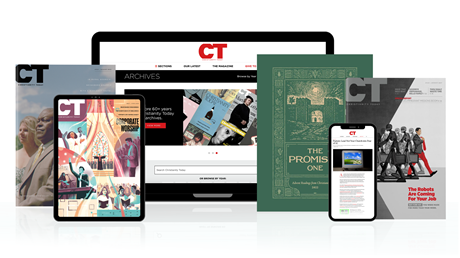 Annual & Monthly subscriptions available.
Print & Digital Issues of CT magazine
Complete access to every article on ChristianityToday.com
Unlimited access to 65+ years of CT's online archives
Member-only special issues
Subscribe
Let's Talk About the Decline of Conversation in the Church
Let's Talk About the Decline of Conversation in the Church