true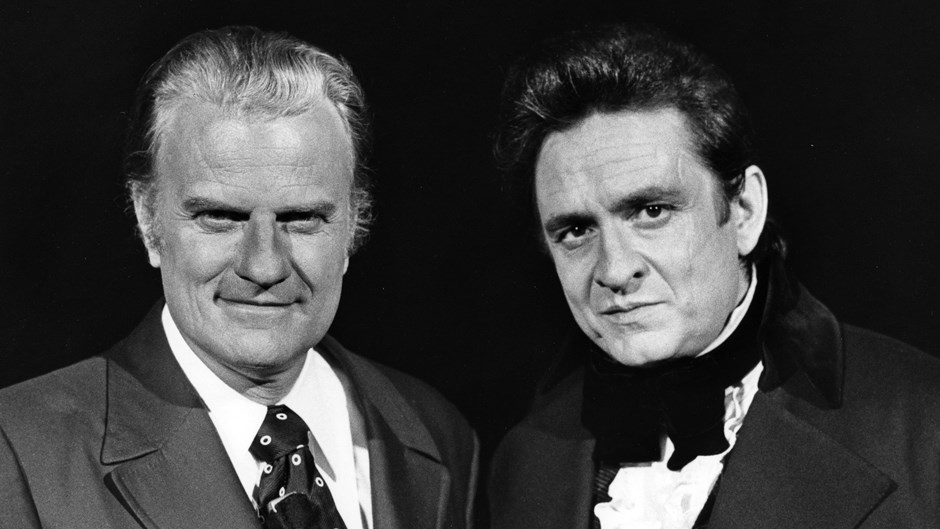 Image: SLADE Paul / Getty Images
Billy Graham and Johnny Cash were the best of friends, mutual confessors, and fishing buddies. Their wives, Ruth Bell and June Carter, were prayer partners. The two men could sit for hours in the same room without saying a word—Billy working on a book and Johnny on his songs. Once in a while, Johnny would interrupt and try out a song on Billy or ask a question about the Bible. At mealtimes, the families would gather to pray, sing, and eat. Usually the subject moved quickly to family and friends, problems and challenges. Johnny always had a list of friends he wanted Billy to call, while Billy would ask Johnny for advice and prayer for his loved ones.
Billy and Johnny's connection originated with Billy's desire to connect with his son Franklin and the boy's teenage peers. Franklin says that even as a little boy, "I loved Johnny Cash's music." He recalls that in 1969, Billy called the governor of Ten­nessee to ask for help in setting up an appointment with Johnny. Billy was observing his son slip into smoking, drinking, drugs, and girls. Franklin left one school after another, sometimes after being expelled. In his autobiography, Just as I Am, Billy explained that Franklin believed he was successfully hiding these things from his dad—"or so he thought," Billy wrote.
Both father and son later agreed that Billy had approached Johnny with the goal of connecting with Franklin. "My favorite song was 'Ring of Fire,'" says Franklin. "Father wanted to con­nect to me by connecting to Johnny Cash." The elder Graham framed the matter in more global terms while visiting the sing­er's home near Nashville.
Johnny told Country Music magazine that he was curious about why Billy had come to see him. Johnny had only recently gotten off drugs, started attending church, and married June. "We had a big meal and we sat around and talked a long time. I kept waiting for him to say what he came to see me about." Billy said he just wanted to talk about music, a conversational topic Billy's friends might have found surprising coming from the evangelist.
Then Billy obliquely mentioned his real concern: "He said the kids were not going to church, that they were losing interest in religion, and he said he thought that the music had a lot to do with it, because there was nothing in the church house that they heard that they liked," Johnny recalled. Billy admitted that the music in church sounded old. His own crusades mainly used older hymns. "The latest thing the kids can hear in the church is 'Bringing in the Sheaves' and 'How Great Thou Art,'" the evan­gelist told the singer.
By this time Billy seemed to have shrewdly read Johnny as a man who liked a challenge and maintained his own spiritual direction by having his friends gather around to move him in the right direction through rough spots. Johnny recalled how Billy pricked his interest: "He kind of challenged me to chal­lenge others, to try to use what talent we have to write something inspiring." According to Steve Turner, a Christian journalist who began collaboration with Johnny on an autobiography just before the singer's death in 2003, Johnny was taken by this pastor who was as charismatic as Johnny, yet was humble and quietly confident in God.
Johnny had found a friend, confidant, and inspiration—a down-home boy like himself, but one who plowed his rows straight. "Well, first thing that happened," Johnny described, "the night after [Billy] left, I wrote 'What Is Truth?' Just him coming to the house inspired me to write that, if you want to call it inspira­tion." Johnny then talked to June about producing a film in Israel about Jesus. The singer also appeared at a crusade in Knoxville, Tennessee, in 1970, the first of his 30 crusade appearances.
Teaming Up for the Gospel
The evangelist was intrigued by Johnny's honesty about his trou­bles and his faith, and how that honesty connected with the non-churchgoing crowd. Billy invited Johnny to his May 24, 1970, crusade in Knoxville, Tennessee, causing some concern among Billy's staff. "There was an uproar in Dad's organization," Franklin recalls. "It was like he had invited Elvis Presley!"
Billy told people that Johnny was the type of person he wanted to reach. Franklin describes his dad's thinking as a way to minister to Johnny while also reaching new people. "Daddy saw the type of people Johnny would bring. And Johnny and June themselves came knowing they would hear the gospel." Graham's music director, Cliff Barrows, said that he knew Johnny was adding a new dimension to the crusades: "All the guys that drove pickups and were in the 'rough and ready' crowd would come. We could always count on a larger percentage of uncon­verted folks to come who needed the Lord."
At the Knoxville crusade, Billy and Johnny teamed up to meet the Jesus Revolution of the early 1970s. Billy preached on the Jesus who could revolutionize someone's life, while Johnny testified to Jesus' power to bring him off drugs, which he said "ain't worth it." Johnny was entering a new phase of spiritual depth. Before, Jesus was his lifesaver—now he started to see Jesus as someone who could mature him. He characterized this change as a move from careerism to ministry. "I've lived all my life for the devil up until now," the singer told church audiences, "and from here on I'm going to live it for the Lord." Although Johnny partnered with a number of ministries and was pastored by Jimmy Lee of Nash­ville, his personal relationship with Billy continued to grow.
In a bit of Nashville legend, Billy did a cameo role reciting a Bible verse in one of Johnny's songs, "The Preacher Said, 'Jesus Said.'" Johnny was inspired by Billy and his wife to film the life of Christ in Israel. The Gospel Road was bought by the Billy Gra­ham Evangelistic Association in 1972 and was used with great evangelistic success.
In 1972, Billy Graham and Bill Bright of Campus Crusade for Christ put on their evangelistic Jesus Revolution extravaganza, Explo '72, in Dallas, Texas. With 150,000 in attendance, Billy addressed what he called "a religious Woodstock" with Johnny and Johnny's friend Kris Kristofferson as key performers. Johnny sang "I've Seen Men Like Trees Walking," "A Thing Called Love," and "Supper Time." Billy and Johnny also continued to grow closer, though Johnny was still sporadically living out a painful legacy of depravity and despair. The golden-haired evangelist and the man in black seemed such an unlikely pair of friends.
Constant Companion
Billy and Johnny had a superficial connection based on their roots in the hardscrabble rural South. They grew up around Baptist churches and barns. Barbecue, cornbread, and pork and beans would set their mouths watering.
On a deeper level, though, their backgrounds couldn't have been more different. "Johnny came from the wild side, while Billy had never been through that phase. Billy walked the straight and narrow," observes Turner.
Even after his return to faith in 1967, Johnny's life was pretty bumpy with what he called his "goof-ups." And when he slipped back into amphetamine usage, he could get out of control. Johnny also felt let down by some of the ministries that he had latched on to for help. Turner says Johnny felt that "some failed him, some exploited him."
So it was Billy's faithfulness and integrity that Johnny gravi­tated toward. Billy was constant through the years, both in his personal relationship with Johnny and in his theology. Billy didn't seem to go off on theological tangents at the drop of a dime. "Billy was a beacon to Cash who didn't change," says Turner. "Billy remained a stable character."
When Johnny fell off the wagon, he likely didn't confide that to Billy, though June may well have shared it with Ruth. The two wives constantly prayed with each other over their husbands and children. Johnny told Turner that in 1977 he was embarrassed that Billy would talk about the biography of the apostle Paul that Johnny was writing, because he was too stoned to even write. In the 1980s, there was a tabloid uproar over claims that Johnny was having an affair and too stoned to appear at two Graham crusades. Johnny denied the drug usage and said no one could separate him and June. However, Johnny checked into a drug rehabilitation program.
Whether Billy knew all the details of Johnny's "goof-ups," his response to Johnny was as a loving friend, loyal through thick and thin. "Daddy stayed his friend, that's all," Franklin says. Johnny's faith didn't change, but his closeness to God did. "Johnny never had problems with his faith, but he had problems with his life," Franklin observes. Billy continued to invite Johnny to his crusades and, after Johnny got clean from drugs, encouraged him to finally finish his book on Paul, Man in White, in 1986.
When Johnny and Billy were together, it was like two broth­ers picking cotton together—one pretty steady and the other occasionally cutting up. Franklin says it was this Southern sen­sibility that drew their relationship together once a foundation in Christ was set. "Johnny never lost his love of country, and neither had my father. The food they liked, the tastes they had," says Franklin. Johnny liked to bring the Grahams to his fishing cabin at Port Richey on the Pithlachascotee River and to his old-style Jamaican house on Montego Bay. In the spring of 1976, after Johnny had reportedly brewed coffee so strong you could barely drink it, Billy and Johnny headed out to fish. They picked up shrimp, mullet, and squid for bait at Des Little's Fish Camp and spent the day casting lines, Scriptures, and songs.
These trips were a little primitive for the women. Ruth was always a little relieved to get back to the hotel in Jamaica after time at Johnny's ramshackle place with creepy crawlies and loose boards. But wherever they were, the Grahams and Cashes were like family.
In their later years, the couples talked to each other every week, sometimes every day. Billy was something of a hypochon­driac and would get on the phone to update Johnny on all the ail­ments that he had or might have. Johnny would meet ailment for ailment until they would laugh together and pray for each other. When Ruth fell deathly sick one time, June spent six hours pray­ing over her bedside. Johnny's phone calls to Billy were often peppered with questions about the Bible, some so difficult that the evangelist just counseled Johnny to ask God when he got to heaven.
Billy wrote Johnny a note after their first Christmas together in 1974 that summarizes the many aspects of their rela­tionship: "When we left, Ruth and I had tears in our eyes. … We have come to love you all as few people we have ever known. The fun we had, the delicious food we ate, the stimulating conversa­tion, lying in the moonlight at night, the prayer meetings, the music we heard, etc. There has been running over and over in my mind 'Matthew 24 is knocking at the door.' I have a feeling this could be a big hit." Their friendship in Christ certainly was.
Tony Carnes is a former senior writer for Christianity Today and is now publisher and editor of A Journey through NYC religions.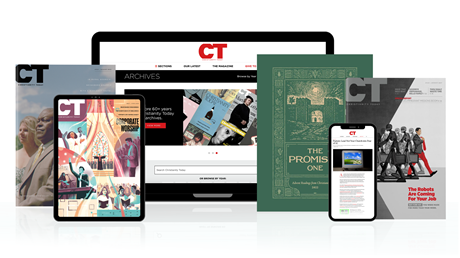 Annual & Monthly subscriptions available.
Print & Digital Issues of CT magazine
Complete access to every article on ChristianityToday.com
Unlimited access to 65+ years of CT's online archives
Member-only special issues
Subscribe
Billy Graham and Johnny Cash: An Unlikely Friendship
Billy Graham and Johnny Cash: An Unlikely Friendship