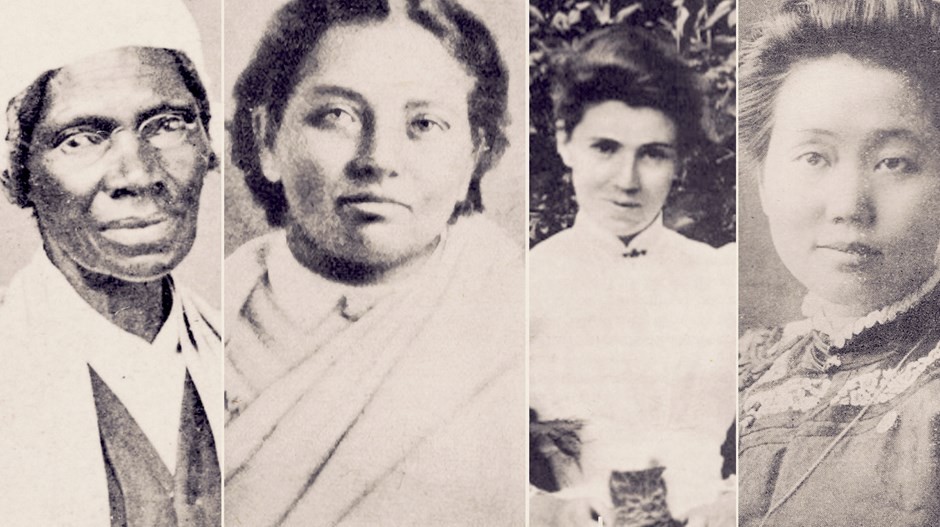 Image: Wikicommons
As a missiologist, I read the #MeToo movement through the lens of world history. When I scroll through news stories about sexual violence and abuse against women, and as I listen to my students and friends speak about their experiences of harassment and abuse, I hear echoes of the past. In the 19th and 20th centuries, the people who suffered the most were women, children, and the poor, and in the 21st century, the people who suffer the most are still women, children, and the poor.
The contemporary global church, then, is facing a significant decision: How are we going to respond to the continuing abuses against women in the church and in society at large?
As we consider our involvement, Christian activists who came before us can teach us some valuable lessons. The fiery female evangelists and missionaries of the 19th century, in particular, have always captured my attention. Women like Sojourner Truth, Pandita Ramabai, Amy Carmichael, and Shi Meiyu inspire me to follow Jesus with courage, passion, and zeal. During a time period when women were praised for their delicate manners, petite frames, and soft-spoken dispositions, these women's fearless dedication to social justice and equity was anything but polite. They understood that following Jesus included participating in God's active love for the voiceless and marginalized.
Although these four women lived during the same time period, they came from diverse socio-cultural backgrounds, worked in different countries, and had distinct ministries and professional callings.
Despite these differences, each reformer shared four key characteristics in common:
First, they were women of prayer.
Prayer is a consistent motif in the stories of these remarkable women. It informed their fervor for social justice, and as such, they each considered their ministries to be a natural extension of their love of God.
Sojourner Truth (1797–1883), for example, is often remembered for her personal courage, support of women's rights, and rebuke of the practice of slavery in the United States. Less emphasis, however, has been placed on her dynamic and heartfelt life of prayer. Truth, born Isabella Baumfree, was one of at least ten children born to Betsey and James Baumfree, both slaves in New York State. During her life, Truth faced innumerable personal hardships. Born into slavery, Truth was sold to four different slave owners, forced to marry a fellow slave, beaten severely, physically neglected, and forced to fight the US legal system in order to free her son, who had been illegally sold across state lines. In the midst of these hardships, she prayed.
Truth first learned about God from her mother, Betsey, who often gathered her children together and talked to them about "the only Being that could effectually aid or protect them"—God. She recalled her mother explaining to them, "My children, there is a God who hears and sees you. … He lives in the sky … and when you are beaten, or cruelly treated, or fall into any trouble, you must ask help of him, and he will always hear and help you."
As Truth began speaking publically on behalf of the abolitionist movement, women, and the poor, she continued her regular practice of calling on God in prayer. Having never learned to read, she asked people to read and re-read the Bible to her. Empowered by the Word of God and her own prayer life, she fearlessly campaigned for the equal dignity and rights of all human beings.
Second, they were women of action.
Along with prayer, these four women responded to the pain around them with decisive action.
Ramabai Dongre Medhavi (1858–1922), more widely known as Pandita Ramabai, fought for female education and the rights of child brides and young widows in her homeland, India. These issues were close to Ramabai's heart for personal reasons. Her own mother was a child bride who married her father at age nine, and Ramabai herself gained the unenviable status of a Hindu widow when her husband died after only 18 months of marriage. Having witnessed firsthand the struggles of Indian women, she dedicated her life to advocating for the voiceless in her community.
When Ramabai and her daughter became followers of Jesus in 1883, she intensified her social justice efforts. In reflecting on her visit to a rescue house for women in London, she wrote that "Christ was truly the Divine Savior he claimed to be, and no one but He could transform and uplift the downtrodden women of India."
Although Ramabai often used the written word to encourage reform, she also was a woman of action. In 1889, she founded Sharada Sadan (House of Wisdom), a non-religious school for young Hindu widows. Two years after the severe famine of 1896, she opened the Mukti (Salvation) orphanage and Christian school specifically for female survivors of the famine. Additional houses for the elderly, young boys, and the blind were later added, and in all, over 2,000 people were given food, housing, and access to education and medical assistance at the Kedgaon campus. Ramabai's ministry embodied the love of God in word and deed.
Third, they were women of perseverance.
All four of these women embodied fearlessness in the face of life's challenges. Their paths were not easy.
After a dramatic encounter with God in her early teens in Belfast, Ireland, Amy Carmichael (1867–1951) dedicated her life to the gospel and in 1894, joined the Church of England Zenana Missionary Society in India. When she first moved to Dohnavur in Southern India in 1901, she couldn't have foreseen what was to come: a ministry called Dohnavur Fellowship, where hundreds of girls would call her 'Amma' (mother).
On March 6, 1901, when seven-year-old Preena (which means "Pearleye") showed up on her doorstep, Carmichael had only heard rumors about the young girls held as ritual prostitutes in the local Hindu temples. Although buying and selling children was illegal in India, the underground trafficking of young girls had become a prevalent practice. "My name is Pearleyes," Preena said to Carmichael when they first met, "and I want to stay here always."
Preena became one of the first temple girls to be welcomed into the Dohnavur Fellowship. Despite resistance from local temple workers and even fellow missionaries—who initially refused to believe the horrific stories of abuse—by 1913, the Dohnavur Fellowship was caring for over 130 children, many of them girls and infants who were rescued from sex trafficking. In reflecting on her steadfast commitment to serving God in India, Carmichael said: "If one is truly called of God, all the difficulties and discouragements only intensify the Call."
Finally, they were women of courage.
In addition to embodying lives of prayer, action, and perseverance, these four women also challenged unjust social systems. Shi Meiyu (1873–1954) first learned about courage from her parents, who made the extraordinary decision not to bind their young daughter's feet, a widespread practice in China at the time. Believing that Meiyu would never marry due to her unbound feet, her Christian parents sent their teenage daughter to pursue a medical degree in the United States.
When Meiyu (also known by her English name, Mary Stone) returned to her hometown of Jiujiang in 1896, she was both a qualified physician and a newly appointed Christian missionary. Fighting to dispel the colonial myth that Chinese women were helpless and in need of foreign support, she politely declined a position in the American-run missionary hospital and instead, at the age of 24, cofounded a Chinese-led dispensary to serve local women and children. Beyond providing comprehensive health care for her patients, she endeavored to elevate the social standing and sense of self-worth of female staff and patients.
As her medical practice grew, Meiyu founded a nursing school to meet the increasing demands of the hospital, which in 1915 was treating more than 25,000 patients a year. By the 1930s, over 200 nursing students were enrolled in the school. Trained as nurse-evangelists, each student took courses in religious studies and was encouraged to pray with patients. In 1918, Meiyu's evangelistic spirit led her to cofound the Chinese Missionary Society, which was established to train and send Chinese missionaries to remote regions in China.
Today, as we navigate the harsh realities of abuse against women and children, we can learn significant lessons from these four women and their countercultural lives. They made conscious decisions to address the injustices in their communities. They chose to pray. They chose to act. They chose to persevere. They chose to have courage. As we determine our response to the current sexual abuse crisis, may we embrace the words of the prophet Micah—who reminds us "to act justly and to love mercy and to walk humbly with [our] God" (6:8). Let us also find the courage to be change-makers, advocating for God's justice and mercy in tangible and concrete ways.
Sarita D. Gallagher is associate professor of religion at George Fox University. She is author of Abrahamic Blessing: A Missiological Narrative of Revival in Papua New Guinea (Pickwick, 2015) and co-author of the upcoming book Breaking Through the Boundaries: God's Mission from the Outside In (Orbis, forthcoming 2019).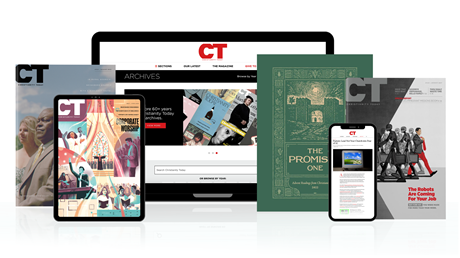 Annual & Monthly subscriptions available.
Print & Digital Issues of CT magazine
Complete access to every article on ChristianityToday.com
Unlimited access to 65+ years of CT's online archives
Member-only special issues
Subscribe
How Female Missionaries and Evangelists Paved the Way for #MeToo
How Female Missionaries and Evangelists Paved the Way for #MeToo