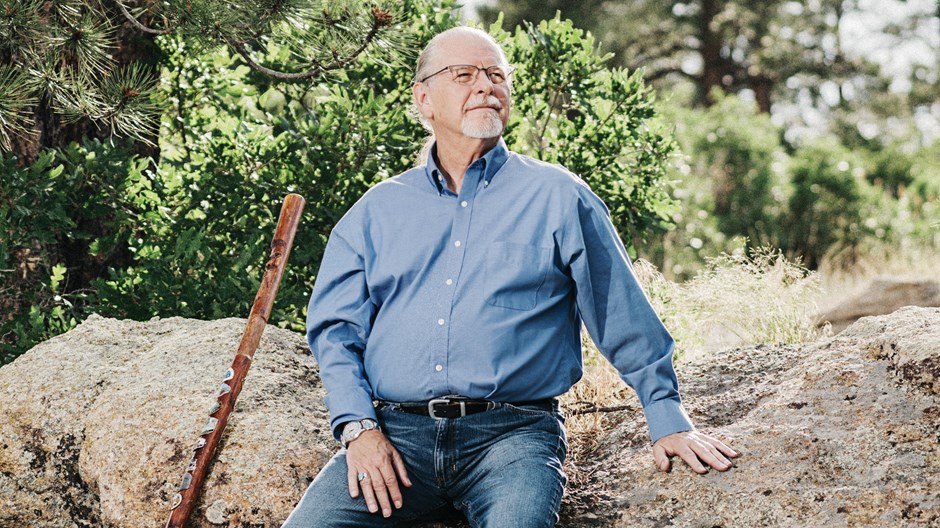 Image: Benjamin Rasmussen
Richard Foster wrote Celebration of Discipline 40 years ago as a young pastor. The book—which has sold over 2 million copies and has been translated into 25 languages—launched a ministry of speaking, writing, and teaching on spiritual formation and the classic spiritual disciplines of the Christian life. Foster founded and led Renovaré, a spiritual formation ministry, up until 2008 when he retired from his role as president to make space for new leadership. Foster, now 76, will retire from his public speaking ministry after wrapping up a tour this year.
CT editor Kelli Trujillo sat down with Foster at his Colorado home to discuss how the Christian spirituality landscape has changed—and how he's changed—over his decades of ministry.
You've spent more than four decades of ministry focusing on spiritual formation. At its core, what does spiritual formation involve?
It's important to be clear what we're talking about when we say "spiritual formation." Consider Paul's words in Galatians 4:19: "I am in travail until Christ be formed in you." The word travail is a birthing image. He's saying, essentially, "I am in the pain of childbirth until Christ is formed in you." That's a biblical, foundational way of thinking about spiritual formation.
I think of a couple of old hymns that speak to this. The first is "Rock of Ages"—"Let the water and the blood, from thy wounded side which flowed, be of sin the double cure." That's the key—the "double cure." It then says "Save from wrath," which is forgiveness, justification. But it goes on: "Save from wrath and make me pure." When we speak of spiritual formation, it's all of that together, not separate. It's justification and sanctification going together.
The other song I think of is Charles Wesley's "O for a Thousand Tongues to Sing." It says, "He breaks the power of canceled sin, he sets the prisoner free; his blood can make the foulest clean; his blood avails for me." Now consider: He breaks the power of canceled sin. The idea is that it's possible for sin to be canceled and yet still have power. In the life that is with God, Christ breaks that power so that we are growing in grace, as Peter puts it in 2 Peter 3:18. Some people have a tough time with a verse like that because they only think of grace as unmerited favor.
In your foreword to the 40th anniversary edition of Celebration of Discipline, you write, "Grace is most certainly unmerited favor—but it is so much more than this!" Tell me more about your perspective on grace and its working out in our lives.
All that happens is by grace; grace is God's interactive relationship with his children. There are times when God just pours grace into a person's life, but the normal way that grace functions is through this interactive relationship. There's a back and forth—there is a role that we play in our relational life with God. That role is, as Paul puts it, that we are to offer ourselves as a living sacrifice.
Now, how do you do that? I'd say primarily—not exclusively, but primarily—through the classical disciplines of the spiritual life. That's how we offer the mind, the heart, the spirit, the body before God. Then, at that point, the disciplines have come to the end of their tether. There is no righteousness in them at all—none. They just allow us to place ourselves before God. The grace of God steps into that and begins to do work we can hardly imagine.
The point of this is that I cannot change my own heart. I cannot change anybody else's heart. That isn't my business—that's God's business.
Celebration of Discipline was born out of a need you saw. You've written, "Forty years ago, there was an abysmal ignorance of how we grow in grace, entering into ever fuller and deeper Christ-likeness." In contrast, today "spiritual formation" has become a somewhat popular term. There's growing interest in spiritual formation, including many resources, training opportunities, seminary programs, and so on. What's your reaction to the popularization of spiritual formation today?
It's a mixture. I am glad for wonderful steps forward—for writers, for churches that have taken these things seriously. But there's great danger in all of this. Success like that can sometimes be the worst thing. It's so easy to turn this into a system for blessedness.
We need to continue to work with people in such a way so that they don't think of this as another fad—Oh, I've learned that, so I'm ready to go on to the next thing. One of the greatest dangers is the idea of mastering a subject. How do you master something in which the very point is to be mastered? I always tell people, work with this for five to ten years yourself before you try to teach this to others. Let's be mastered by God.
Where some use the term "spiritual formation," others may use "discipleship." Do you view them differently or is it just a matter of semantics?
Is spiritual formation the same thing as discipleship? Yes and no. The word disciple is a good, biblical word, and it just means a student. An apprentice of Jesus is a disciple. But so many people have turned the idea of discipleship into a little program. Like "You learn my system, then you've got it." Well … you don't got it.
I certainly don't want to give up on "discipleship." I like the idea, as long as we keep it as being an apprentice of Jesus and not turn it into a system.
The same thing can happen with formation—If you do this, if you write in a journal, if you have a spiritual director, and so on. But Jesus never wrote in a journal as far as I know. These are good things, perhaps. But we must beware that they, too, can easily be turned into just a system, into another little program. Those are some of the things we need to watch for.
What critiques or misunderstandings have you most commonly dealt with regarding your teachings on the disciplines or spiritual formation—and how have those changed over the years?
People were worried because I used meditation—meditatio—as one of the classical disciplines. The concern was the growth of New Age and Eastern forms of meditation, and that is something to be concerned about because it focuses on emptying, merging with the cosmic consciousness, and all of those kinds of things. But I was working with meditation from a Christian understanding; the Bible is full of it and the writers through all the ages have talked about this. Consider Jean-Nicolas Grou: "Oh my divine Master, teach me this mute language which says so many things." In meditation, we are learning to hear God's voice, to obey his Word.
Some today are concerned about "works righteousness." That is something to watch for because "works" has to do with merit. There is nothing that we do that can merit the grace of God—we really have to come down strong on that. The disciplines have no righteousness. They don't give me a brownie point with God.
The opposite of grace is works—but not effort. And many, many Bible passages teach us to work out our own salvation with fear and trembling and strive to enter in at the narrow gate, as Jesus said. We go through a process of growth. I'm not talking about perfectionism, but I am talking about progress. All of the great classical writers on devotion work with this idea. Think of Pilgrim's Progress and what Christian went through and how he grew in grace through the process on the journey to the celestial city.
Where can you find common ground with Christians who bring that concern about works righteousness to the table?
I'm glad for that concern because one of the great dangers in all of this is to turn it into legalism—into a little system for blessedness or for righteousness. It's the righteousness of the scribes and the Pharisees, which consisted in externalisms, often involving manipulative control of other people.
What we are thinking of is the baptism into a life with God—with God. This is a great overarching theme in Scripture, God saying to Abraham, to Moses, I am with you. I am with you. I am with you. Then there is the haunting question: Are you willing to be with me?
So many think of salvation as "I get the fire insurance policy and then I sort of wait for heaven when I die." But the salvation that's in Jesus brings us into a life, and that life involves relationship, and the relationship brings the purity in time and in God's way. For example, my narcissism—my self-centered, egocentric personality—doesn't last too long in the presence of God, because God says, You know, we need to talk about this. Scripture says, "Have this mind in you, this mind which was also in Christ Jesus." With God, in time, we are changed—there is formation; there is conformation to the image of Christ; there is transformation.
Isn't that nice, that God can actually work with us patiently, lovingly? That is grace. And we're as astonished as anybody else that when we used to respond with anger or bitterness or being controlling—with that natural response—things begin to change. With the spiritual disciplines, we are talking about building deeply ingrained habits so that we can respond spontaneously when we're on the spot. This is not about outward behavioral modification. God is working on the interior of the heart. The old writers spoke a lot about habit leading to holy habit. It's theologia habitus, theology producing habit so that we just begin to do it naturally, like a reflex.
In your new preface to Celebration of Discipline, you call distraction "the primary spiritual problem in contemporary culture." Specifically, you focus on "technological gluttony." What do you see as the main spiritual impacts of this technological gluttony?
If the idea of the Christian life is to become a friend of Jesus, to learn to walk with God, and to hear God's voice and obey his Word, then distraction—constant stimuli that takes us away from that kind of life, ability, focus—is a great danger to the person who wants to follow Jesus. We talk today a lot about multitasking, and there is a place for that, but I want to give a word in for unitasking. Let me just give an example: Last year, for about nine months, I focused my energies (outside of reading the Bible) on just one book. Not 30 books—one book. It was Julian of Norwich's Showings—which is sometimes also called Revelations of Divine Love. I spent many months just trying to understand what Julian was teaching. It was just amazing to walk with her.
See, the devotional classics? You can't speed-read these. You have to spend time; you have to soak into them. We're talking about life with God, and these are people who understood that life in deeper ways. The first sentence of Celebration of Discipline is this: "Superficiality is the curse of our age." We have to really deal with that if we expect to grow in grace.
You wrote Celebration of Discipline when you were a young pastor in your mid-30s. If you could go back to provide counsel to your younger self from your vantage point now, what might you say?
Back then, I wasn't just a type A personality, I was a triple A! I was going to convert the world, at least by tomorrow. A lot of what went on was what the old writers called creaturely activity or the Bible calls flesh. Just humanly initiated—me trying to make things happen, trying to change people's hearts.
And maybe your own too?
Yes, absolutely. We can be so intense, thinking I'm going to make this happen. Instead, we have to learn the value of small things—"despise not the day of small things"—and to see how these small corners in life are where we really learn to walk with God.
I would have counseled my younger self, as Frederick Faber wrote, "Only to sit and think of God. Oh, what a joy it is! To think the thought, to breathe the name, Earth has no higher bliss." I'd have counseled myself that God shows up in very unexpected ways. That God uses the very simple.
I remember when I was pastoring a church in Oregon and one of my tasks was to pray for the sick. I would often go to hospitals and I remember one time driving in Portland on my way to the hospital. At that time I was trying to learn how to pray. I remember thinking to myself, If I just didn't have to do all of this, I could learn how to pray. And it was like, Wham! This is where you will learn how to pray. There was a little fellow, Davy, who was in the hospital with a serious brain condition. I remember spending all day and all night with his parents to see whether or not Davy would live or die. And I learned how to pray from being with Davy. So I would counsel my young self that this is the work.
How is God inviting you to grow or deepen your relationship with him today, in your current stage of life?
I want to learn how to live one day with Jesus. Can I go through an entire day without guile? When I finish today, what's it been like? Has guile arisen—or whatever else it is I'm dealing with? It's those kinds of questions that help us when we place them upon ourselves. It's learning, as they say in theology, to think God's thoughts after him.
What are you looking forward to in this next season?
I feel like I've done what I needed to do in terms of public ministry work. Now I will continue to do writing and so forth. And, well, I can take longer hikes. One time we were out hiking with the grandkids and they were jumping around like rabbits, and I said, "I'm not going to try to keep up with that." They said, "It's okay, Grandpa, you're just an SOM." I asked, "SOM? What is an SOM?" "Slow Old Man," they told me. That's fine—I'm happy to be an SOM. The slower you go, the more you see.
Learn something new from this interview? Did we miss something? Let us know here.
Have something to add about this? See something we missed? Share your feedback here.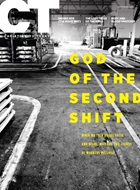 This article is from the October 2018 issue.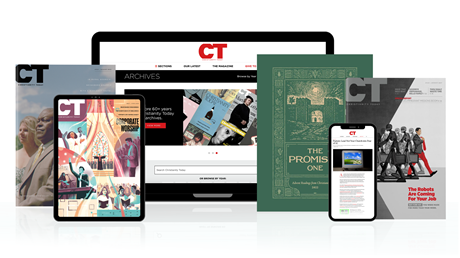 Annual & Monthly subscriptions available.
Print & Digital Issues of CT magazine
Complete access to every article on ChristianityToday.com
Unlimited access to 65+ years of CT's online archives
Member-only special issues
Subscribe
Richard Foster: Effort Is Not the Opposite of Grace
Richard Foster: Effort Is Not the Opposite of Grace