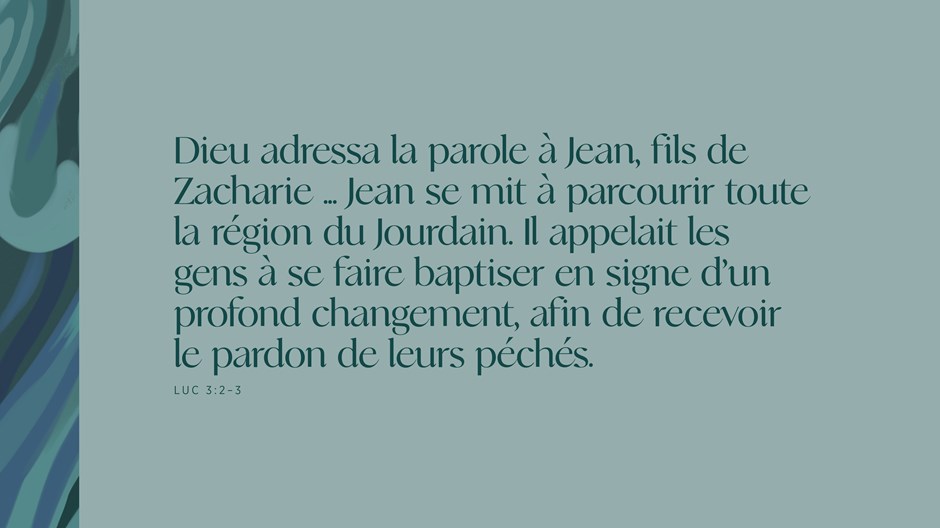 Lecture dans Luc 3.1-6
Le monde antique de la Bible nous apparaît souvent comme lointain. Dans des phrases comme « la quinzième année du règne de l'empereur Tibère » (Luc 3.1), nous croirions entendre notre professeur d'histoire au lycée. Mais l'Évangile de Luc nous introduit dans un monde qui nous est reconnaissable. Un monde où la soif de pouvoir, de célébrité et de richesse régnait partout. Dans ce monde, la force politique faisait le droit. En l'an 19 après J.-C., par exemple, l'empereur Tibère exila à son gré la communauté juive de Rome. Dans ce monde, les loyautés religieuses étaient corrompues par les compromis politiques. Les archéologues pensent avoir retrouvé la maison de Caïphe. Ses multiples étages, ses installations d'eau et ses sols en mosaïque témoignent de la bonne entente de ce grand-prêtre avec ceux qui étaient au pouvoir. Tout comme le nôtre, ce monde attendait d'être sauvé.
Jean-Baptiste pourrait avoir été membre de l'une des petites communautés de sainteté qui avait fui Jérusalem à cause de la corruption. Depuis le désert, Jean prêchait son « baptême de repentance pour le pardon des péchés » (v. 3) et annonçait le salut avec force (v. 6). En tant que précurseur de Jésus, Jean ouvrait un chemin pour que les gens voient ce que Rome, malgré ses promesses, ne pourrait jamais offrir.
Dans l'imaginaire juif, la repentance était un moyen de retrouver la bénédiction de Dieu. Bien que le fait de se repentir rappelle aux gens leurs péchés, il s'agit néanmoins d'une excellente nouvelle. On le voit clairement dans le livre du Deutéronome. En reprenant les termes de l'alliance que Dieu avait conclue avec Israël, Moïse rappelle au peuple de Dieu que le péché mènera toujours à la ruine. C'est à leurs risques et périls, dit-il, qu'ils « invoquent une bénédiction sur eux-mêmes, pensant : "Je serai en sécurité, même si je persiste à suivre mon propre chemin" » (29.19). Quel que soit le plaisir que certains imaginent trouver dans le péché, il finira toujours par être la cause d'une catastrophe, comme Israël l'a appris à ses dépens.
La repentance nous appelle à nous détourner de nos péchés et à nous tourner vers Dieu. Autrement dit, la repentance est un appel à se détourner de l'autodestruction et à se tourner vers l'auto-préservation. La repentance est une mesure salvatrice.
Mais comme nous le rappelle le message de Jean, ce tournant n'est possible que parce que Dieu a envoyé une « parole » à Jean, fils de Zacharie, dans le désert (Luc 3.2). La bonne nouvelle est que Dieu lui-même a préparé le chemin pour que son peuple revienne à lui. Pendant l'Avent, nous nous souvenons que la repentance a été rendue possible parce que Dieu a fait naître celui qui est le Verbe, et l'a envoyé pour parler, pour servir, pour sauver.
JEN POLLOCK MICHEL est une écrivaine, une animatrice de podcasts et une conférencière basée à Toronto. Elle est l'autrice de quatre livres, dont A Habit Called Faith et Surprised by Paradox.
Traduit par Valérie Dörrzapf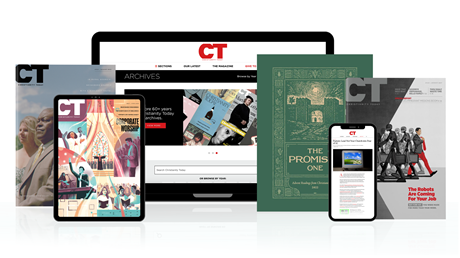 Subscribe to Christianity Today and get access to this article plus 65+ years of archives.
Home delivery of CT magazine
Complete access to articles on ChristianityToday.com
Over 120 years of magazine archives plus full access to all of CT's online archives
Subscribe Now
La repentance rendue possible
La repentance rendue possible