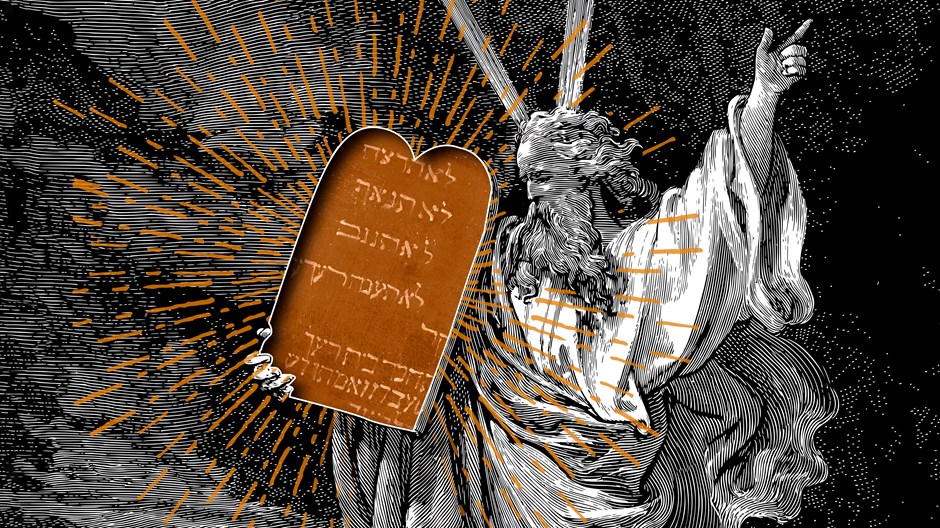 Image: Illustration by Rick Szuecs / Source images: Gordon Johnson / Pixabay / Wikimedia Commons
Teniendo en cuenta que se encuentran entre las palabras más influyentes jamás escritas, hay una serie de cosas curiosas sobre los Diez Mandamientos. Para empezar, hay dos versiones con una redacción sutilmente diferente (Éxodo 20:1-17; Deuteronomio 5:6-21). Nadie sabe cómo se dividieron en dos tabletas. La primera declaración («Yo soy el Señor tu Dios...») no es un mandamiento en realidad.
Lo más extraño es que parece que hay más de diez. Las frases imperativas que comienzan con «no» aparecen 12 veces en total, y eso no incluye los mandatos «Acuérdate del día de reposo» y «Honra a tu padre y a tu madre» (RVR1960). La Iglesia Ortodoxa y la mayoría de los protestantes resuelven este problema combinando todos los mandamientos sobre la codicia en uno. Los católicos romanos lo abordan agrupando las prohibiciones de la idolatría en una sola: San Agustín argumentó que el primer mandamiento (No tendrás otros dioses) incluye lo que muchos consideran el segundo (No te harás ningún ídolo).
Muchos admitirían que el recuento preciso de los mandamientos no importa realmente, siempre y cuando los obedezcamos todos. Estoy de acuerdo. Pero otra característica curiosa de los Diez Mandamientos que sí importa, y que con frecuencia pasa desapercibida, es el hecho de que hay diez afirmaciones teológicas, diez atributos de Dios, si se quiere, entretejidas en medio de ellos. Si bien es cierto que el texto nos dice quiénes debemos ser, también nos dice quién es Dios. La revelación se encuentra junto a la regulación.
Ya hemos notado la afirmación. Las palabras de Dios a Israel no comienzan con un mandamiento, sino con el nombre de Dios: «Yo soy el Señor tu Dios...» (Éxodo 20:2, NBLA). En otras palabras, soy Yahvé, el Dios que hizo un pacto con Abraham. Sabes mi nombre porque te lo revelé. Esta relación no comienza con tu compromiso conmigo (por importante que sea), sino con el mío contigo.
La misma frase apunta a los actos de redención de Dios: «... que te saqué de la tierra de Egipto, de la casa de servidumbre». Los mandamientos reales aún no han comenzado. Antes de dar instrucciones, Dios quiere que Israel sepa sin lugar a duda que Él es un Dios redentor, rescatador y liberador. Solo entonces comienza a aclarar cómo deben expresarse la obediencia y la gratitud. La gracia viene primero, después la instrucción. El rescate precede a las reglas.
Los dos primeros mandamientos (al menos en el recuento protestante) se relacionan con la adoración. Claramente, aunque implícitamente, resaltan dos atributos divinos más: que Dios es uno («No tendrás otros dioses delante de Mí», v. 3), y su invisibilidad («No te harás ningún ídolo, ni semejanza alguna», v. 4). Solo hay un Dios a quien adorar, y como no se le puede ver, es una blasfemia hacer una representación visual de Él, como Israel descubrirá para su vergüenza en Éxodo 32.
Este mandato es seguido, y de hecho explicado, por otros dos atributos divinos, a saber, el celo de Dios y su amor inquebrantable. Su celo significa que juzgará las iniquidades durante tres o cuatro generaciones. (Es importante distinguir entre la envidia, el deseo pecaminoso de lo que pertenece a otra persona, y el celo divino, que es el deseo santo de Dios de no permitir que lo que le pertenece a Él se le entregue a nadie más). Su amor inquebrantable, por otro lado, dura miles de generaciones (Deuteronomio 7:9), superando sus castigos en varios órdenes de magnitud. La misericordia triunfa sobre el juicio.
Eso no significa que los culpables queden impunes. Él sigue siendo un Dios de justicia, como afirma el tercer mandamiento: «no tendrá por inocente al que tome Su nombre en vano» (Éxodo 20:7). Pero a pesar de los truenos y relámpagos, los mandamientos posteriores enfatizan otros atributos. Él también es el Dios de la creación, quien hizo los cielos y la tierra y todo lo que hay en ellos, llenando el cosmos de abundancia, vida y maravillas (v. 11). Él es el Dios del descanso, que no solo se sienta y disfruta de lo que ha hecho, sino que bendice el día de reposo y lo santifica para que su pueblo también descanse (vv. 8-10). Y Él es el Dios de la promesa, que da bienes (en este caso, la tierra) como herencia a los que honran a sus padres (v. 12).
Los Diez Mandamientos son fundamentales para la ética cristiana, utilizados por Jesús y Pablo como marco para enseñar sobre la obediencia a la fe. Pero están llenos de la revelación de quién es Dios y lo que Él ofrece. Quizás deberíamos llamarlos también los Diez Compromisos.
Andrew Wilson es pastor docente en King's Church en Londres, Reino Unido, y autor de God of All Things. Síguelo en Twitter @AJWTheology.
Traducción por Sergio Salazar
Edición en español por Livia Giselle Seidel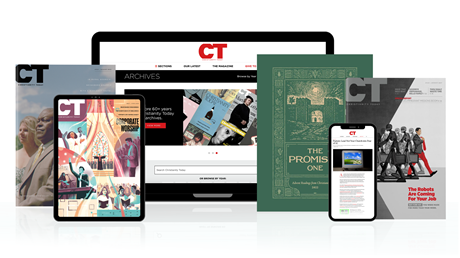 Subscribe to Christianity Today and get access to this article plus 65+ years of archives.
Home delivery of CT magazine
Complete access to articles on ChristianityToday.com
Over 120 years of magazine archives plus full access to all of CT's online archives
Subscribe Now
Los diez compromisos detrás de los diez mandamientos
Los diez compromisos detrás de los diez mandamientos