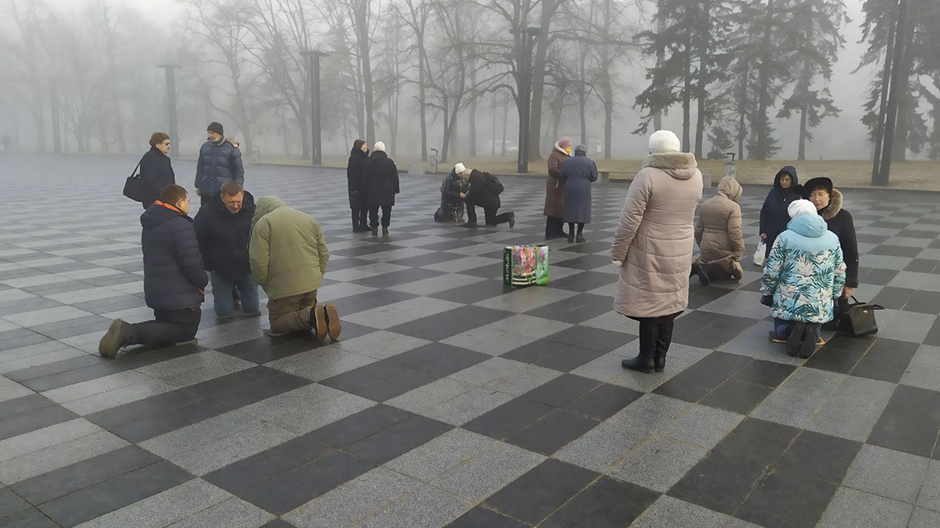 Image: Image: Courtesy of Ukrainian Bible Society
Ces derniers dimanches matins en Ukraine, des murmures parcouraient les Églises : Il paraît que les soldats à la frontière orientale sont équipés de lance-roquettes portables. Le fils Bondarenko a reçu une balle dans la jambe ; on dit qu'il ne marchera plus jamais. Saviez-vous que les Kovals sont partis ? Certaines questions sont restées inexprimées : Serons-nous de nouveau ici la semaine prochaine ?
Ce jeudi, ces murmures se sont transformés en cris lorsqu'une les missiles se sont abattus sur plusieurs villes d'Ukraine.
L'invasion place l'Église ukrainienne au cœur du conflit, les dirigeants chrétiens devant faire face au désespoir et à l'incertitude de la population. Ils restent debout, unis et forts, et aident les Ukrainiens à trouver l'espoir dans la Parole de Dieu.
En tant que responsable de la Société biblique américaine, j'ai été en contact étroit avec mon ami et homologue Anatoliy Raychynets, secrétaire général adjoint de la Société biblique ukrainienne. Au cours des derniers mois, il m'a fait part de rapports difficiles à lire : des mères pleurant leur fils devant les hôpitaux, des enfants qui ne se souviennent pas du visage de leur père, des milliers de personnes désespérées et craintives.
Mais Anatoliy a aussi observé autre chose : des responsables d'Église travaillant ensemble pour la paix, et des personnes cherchant l'espoir dans les Écritures.
Dans l'Église d'Anatoliy, les gens ont peur de tout perdre. En réponse, il partage le Psaume 31 avec tous ceux qui cherchent le réconfort. Les gens sont souvent surpris d'entendre des mots qui, selon eux, auraient pu être écrits à Kiev en 2022 : « Béni soit l'Eternel, car il m'a témoigné son merveilleux amour lorsque je me trouvais dans une cité assiégée. » (v. 22).
Alors que les gens sont aux prises avec l'inconnu, beaucoup découvrent le message de la Bible pour la toute première fois. Selon Anatoliy, ces dernières semaines, les prêtres et les pasteurs se sont rendus en masse au magasin de la Société biblique à Kiev pour acheter des bibles. La demande est si forte qu'ils sont à court de stock.
C'est, selon Anatoliy, l'un de leurs plus grands défis : « Nous avons besoin de plus de bibles. »
Une autre ressource offerte par l'Église en Ukraine est l'accompagnement des traumatismes à partir de la Bible. Un programme introduit en ce sens il y a seulement six ans s'est avéré incroyablement efficace, notamment pour les familles de personnes tuées lors du conflit avec la Russie. Il permet aux responsables de communauté de guider de petits groupes de personnes à travers un processus de restauration.
Cette méthode est à présent disponible dans de nombreuses Églises du pays, mais la Société biblique ukrainienne n'arrive plus à répondre aux demandes de ressources et de formation.
Que pouvons-nous faire pour aider dans ce domaine ?
Nos frères et sœurs en Ukraine ont besoin de bibles pour les personnes qui cherchent du réconfort dans ces moments douloureux. Ils ont besoin de ressources pour offrir le baume des Écritures à leurs traumatismes. Et ils ont besoin que nous intercédions pour eux.
« Je vous demande, au nom de Jésus-Christ, à tous ceux qui peuvent prier, de nous garder dans vos prières », déclare le pasteur Viacheslav Khramov. « Aujourd'hui, la guerre a frappé notre pays. Nous demandons à tous ceux qui peuvent prier de prier pour nous. Priez pour l'Ukraine. Priez pour que les vies soient épargnées, ainsi que nos corps et nos âmes. »
Anatoliy, lui aussi, se fait l'écho de cette supplique.
De tout ce qu'il m'a dit, c'est la solidarité de l'Église ukrainienne, par-delà les confessions, les frontières et les partis, qui m'inspire le plus.
« Nous parlons à nos collègues en Russie », m'a-t-il dit. « Nous, responsables d'Église, nous parlons les uns aux autres, et nous prions ensemble. Nous sommes unis dans le Seigneur. »
Voilà précisément le message évangélique que nous sommes appelés à faire rayonner dans ce monde en souffrance : la Parole de Dieu peut réconcilier les ennemis, chasser le désespoir et guérir les cœurs qui souffrent.
C'est une image de l'Église unie que nous voyons briller en Ukraine. Au milieu de la guerre, des manœuvres politiques et des divisions, l'Église de Jésus-Christ continue de répandre l'Évangile et de bâtir le royaume.
Robert L. Briggs est président et directeur général de la Société biblique américaine.
Traduit par Léo Lehmann
-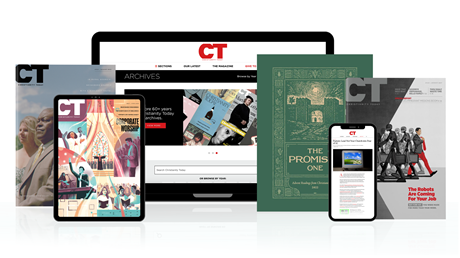 Annual & Monthly subscriptions available.
Print & Digital Issues of CT magazine
Complete access to every article on ChristianityToday.com
Unlimited access to 65+ years of CT's online archives
Member-only special issues
Subscribe
L'Église ukrainienne a besoin de plus de bibles.
L'Église ukrainienne a besoin de plus de bibles.