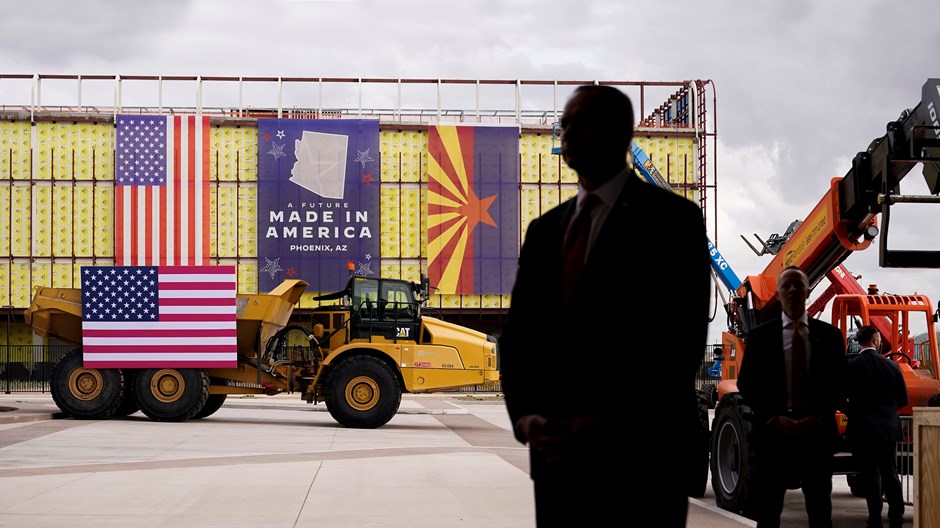 Image: Patrick Semansky / AP Images
In 2020, Michael Lin learned that the world's largest contract manufacturer of semiconductor chips was building a massive production hub nine miles north of his church. As the pastor of a Chinese church in Phoenix, he saw the arrival of the Taiwanese multinational as God "dropping a harvest field right at our front door." He just hoped they would be ready.
Taiwan Semiconductor Manufacturing Company (TSMC) plans to invest $40 billion in Arizona—an investment of such great geopolitical importance that President Joe Biden and Apple CEO Tim Cook attended a ceremony in December marking the company's expansion and upgrade of its chip production site.
For the US, this meant TSMC's leading-edge chips, which are needed for military equipment, cars, and Apple's smartphones and laptops, could be produced in the country rather than in Taiwan, where the threat of a Chinese invasion looms large. Further, TSMC's arrival promised to create thousands of construction jobs and employ 4,500 workers once the advanced factory, called a "fab," began production.
For Lin, who is originally from Taipei, his focus was on the 600 families who would be moving to Phoenix from Taiwan to help start operations at the Arizona site. He saw an opportunity for growth and revival at his Northwest Chinese Baptist Church, especially as the Mandarin congregation had been hit by COVID-19 and the divisive 2020 election. Attendance declined from 80 to about 60–70 people, and the average age of the congregants hovered around 60.
Lin and his church started praying for the Taiwanese newcomers in 2021 and talking with fellow pastors in the city about how to work together to reach them. They created a chat group on Line, a messaging app popular in Taiwan, inviting friends and contacts who they knew worked at TSMC and would be moving out to Arizona. Through this communication channel, they shared about the church's events and offered their help.
Then, as the TSMC families moved into town last year, the church started to hold English classes, sports nights, peer tutoring for their children, and informational sessions to help them adjust to life in the US. Today, 200 people attend their English classes weekly, and church attendance has doubled in both the Mandarin and English congregations. In September, Lin will be baptizing five new Christian converts.
"After that dip [caused by COVID-19], I do think that we are only going through the period of restoration and now we're on the path of revival," Lin said. He expects the church to reach about 150 attendees this fall, maxing out the seating. "So it's becoming a good problem to have."
Valley Life Church Tramonto, another church near the new fab, is also reaching out with English classes and tutoring, while members of Southern Baptist Convention (SBC) churches in the region have provided support and volunteers. Still, Lin notes that more workers are needed amid a plentiful harvest that is only growing: TSMC plans to build six fabs and has already asked the US government to approve visas for up to 500 additional Taiwanese nationals due to a shortage of specialized workers.
"We are praying that we are going to plant multiple Chinese churches in [God's] name," Lin said.
Welcoming a new kind of stranger
Lin and his wife Su-Ting are no strangers to welcoming newcomers. They spent 20 years working in Chinese student ministry at Arizona State University before Lin joined the pastorate. They recall the early 2000s as the "golden age," when about 2,000 students from mainland China would arrive each summer and the Lins would step in like surrogate parents, caring for them, cooking for them, explaining American culture, and counseling them through breakups. "We were baptizing 20–30 students every semester," he remembered.
Yet ministry to the recent Taiwanese newcomers is very different, said Lin. Most of the engineers are men in their 30s to 50s and have come with their wives and children. They are highly educated, at the heights of their careers, and accustomed to living high-end lives. They are very concerned about getting a good education for their children, and while most of the engineers can speak English, the wives of the TSMC employees often don't speak English well. While English is taught in Taiwan's schools, most don't have much practice speaking or listening to the language.
They also face cultural differences in their new home, some of which are becoming apparent as American and Taiwanese TSMC employees work together. Taiwanese workers are known to work long hours and unquestioningly follow instructions, unlike Americans who are harder to manage, according to reports.
To meet the needs of these families, Lin decided the church needed to organize a youth group and children's ministry. The church's young people opened an after-school tutoring program to help Taiwanese students make friends and learn about American culture from their peers.
Last fall, to help introduce the families to local Christians, Lin coordinated with First Chinese Baptist Church of Phoenix to host a sports night. About 30 Taiwanese families joined to play games both familiar (badminton and basketball) as well as foreign (pickleball) and eat a potluck dinner. A group of women mentioned to the Lins that they wanted to improve their conversational English, so the Lins invited them to their church service the next day to figure out how they could help. Lin admitted that he didn't expect any of them to show up.
Yet as he preached his sermon on Sunday, he looked up to see eight women standing outside the door waiting for him to finish. The Lins decided to hold an English class in their house, which was close to the apartments where the TSMC workers lived, and asked a couple of women from the English congregation if they could help teach the class the next day. They agreed.
"We didn't have a massive plan," Lin said. "We didn't have all the details, but God just made it happen."
Within a month, the class of eight women doubled, and soon they were sitting shoulder to shoulder in the cramped living room. After three months, they moved the class to the church. When the Lins announced the new class, 120 people signed up. "We did not prepare [for] this amount of people, so we just scrambled … asking people to help," he said. Lin reached out to their local SBC chapter, which mobilized members from five churches to help out.
Today there are three classes a week teaching beginner, intermediate, and advanced English to a total of 200 people, mostly wives of TSMC workers. Mixed with conversation practice, the class introduces students to American slang and culture and ends with a Bible verse. In total, they need 30–40 volunteers each day, half of whom are tutors and half of whom are translators.

"Our strategy is to cast the net, and we ask as many people to hold the net as possible to catch as much fish as possible," Lin said.
The work beyond the outreach
But Lin isn't content with just holding English classes. He wants to see them come to know Christ. So while the classes are a way to build bridges with the Taiwanese families, the church is also putting on evangelistic conferences, including a talk by Burn-Jeng Lin, TSMC's former head of research and a devout Christian. Lin is also planning monthly community outreach programs that teach about marriage, parenting, and family using biblical principles, as he's seen the high-pressure work at TSMC putting a strain on marriages.
The church also plans to start small groups for seekers and others at various stages of their spiritual walk.
All this takes manpower that Lin admits his church is lacking. Since many of the regulars in the Mandarin congregation are retirement-aged, it's difficult to get them to volunteer or minister to these families. Chinese people make up only .5 percent of Phoenix's population of 1.64 million, and finding more Mandarin-speaking Christians to help is a challenge.
So Lin is mobilizing and supporting the Christians within the TSMC community to reach their coworkers.
One believer who has signed onto Lin's vision is Karen Wu, whose husband works at TSMC. Wu remembered that when she first moved to Seattle from China as a teen, members of a Taiwanese church opened their arms and helped her settle in America. As her husband is part of this recent relocation, Wu saw many of the TSMC families struggling with the same culture shock she once faced and decided to get involved at Northwest last December.
Wu started to organize informational talks to help TSMC families adjust to their new homes. She found six local doctors to come give talks explaining the US healthcare system. Before Christmas vacation, she invited a deputy sheriff to give a talk about traffic safety and what they should do if they were ever pulled over. She also held sessions explaining the college application process and helping participants better understand women's mental health.
As they got to know more families through these general interest events, they invited them to the church's Christmas musical put on by the children in the church. Afterward, about 30 members went caroling at the TSMC apartments.
In January, Wu started a women's group, half of whom were from the church and half from TSMC, to pray and prepare to serve the newcomers. They divvied up the contacts they received from women who had joined their events and started visiting them in their homes, setting up playdates or coffee meet-ups. In April, they started Alpha courses with six of the women. By the end of the 11-week course, one woman said she wanted to be baptized and another said she now believes in Jesus but needs some time. A third was a lapsed Christian who now regularly attends Sunday service.
"I think it's wonderful," Wu said. "I'm a little bit surprised how I got [into this ministry], but when I look back I just think that I listened to God and had faith in him."
Northwest is about to start two more Alpha classes, but now they need to tackle the question of what's next. Who will nurture these young believers?
Lin is asking Chinese-language seminaries on the West Coast to send their seminarians to Phoenix for a semester-long internship to help them out. Wu said that whenever she hears of someone graduating from seminary in Taiwan, she asks them to come out to do missions to the Taiwanese people in Phoenix.
The need is also acute in the church's children's ministry, as they need a youth pastor and more volunteers to help out. Some of the TSMC families have started to ask if the church would start a Chinese-language school for their children on the weekends, yet Wu doesn't think the church currently has enough volunteers.
"We pray that we don't just bring them to church, but that we also have people who can regularly teach them the gospel and help them stay in church," Wu said. "Outreach is just the beginning; there's a lot of work after that, [and] we are praying for the solution."
Becoming essential to the community
Lin first reached out to pastor Brian Bowman of Valley Life Church Tramonto, which is located at the same freeway exit at the TSMC fab, at the end of 2021. Lin wanted to let him know about the massive construction just a few miles from their door and the Taiwanese families who would be moving in. The two churches met in March of 2022, with Lin sharing about the context and the needs of the Taiwanese people. Bowman said that before this wave of newcomers, Valley Life only had one Taiwanese-American congregant.
When they heard that ESL classes would be needed, Joy Longaza, Valley Life's church planting residency director, knew this was a service they could provide. Two weeks later, they held their first class with two teachers and two students. Today the classes, which are centered around fellowship and community, take place three times a week with class sizes of about 30.
One class over the summer brought students on field trips to Starbucks or restaurants where they would practice ordering food in English. Another class turned into a Bible study after one woman asked for a copy of the Jesus Storybook Bible that the church was passing out to the kids who attended their VBS program. Like Northwest, they also started tutoring classes for the children to help them stay caught up in school.
"One of the things that we prayed is that we would be good neighbors," Longaza said. "We just prayed that we would be able to share our lives and that Jesus would tell us when we get to share about him."
Longaza said that three of the women have come to Christ so far, and another seems close. Yet she noted that the language barrier poses an issue as they begin to talk about deeper topics.
To better serve the population, Valley Life has asked a former missionary couple to Taiwan to come serve in Phoenix and plant a Taiwanese church inside their church. The goal is for them to start the church but then to train Taiwanese leaders to pastor it. They also have plans to start a school where the families could come learn English and the children could take music classes.
As their neighborhood makeup changes, Longaza said Valley Life wants to continue to love and serve the people. She remembers a sermon where Bowman asked if their church was essential to its community: "If we were gone, all in one day … would the community even miss us, would they even know?"
"God bringing this company right here in our backyard, they are our community," Longaza said. "And we know that most of them don't know Jesus and so our hearts are burdened for that."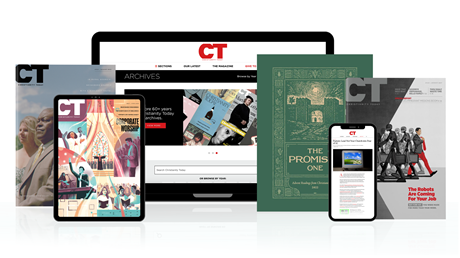 Annual & Monthly subscriptions available.
Print & Digital Issues of CT magazine
Complete access to every article on ChristianityToday.com
Unlimited access to 65+ years of CT's online archives
Member-only special issues
Subscribe
A Taiwanese Chip Maker Came to Phoenix. A Chinese Church Saw an Opportunity.
A Taiwanese Chip Maker Came to Phoenix. A Chinese ...