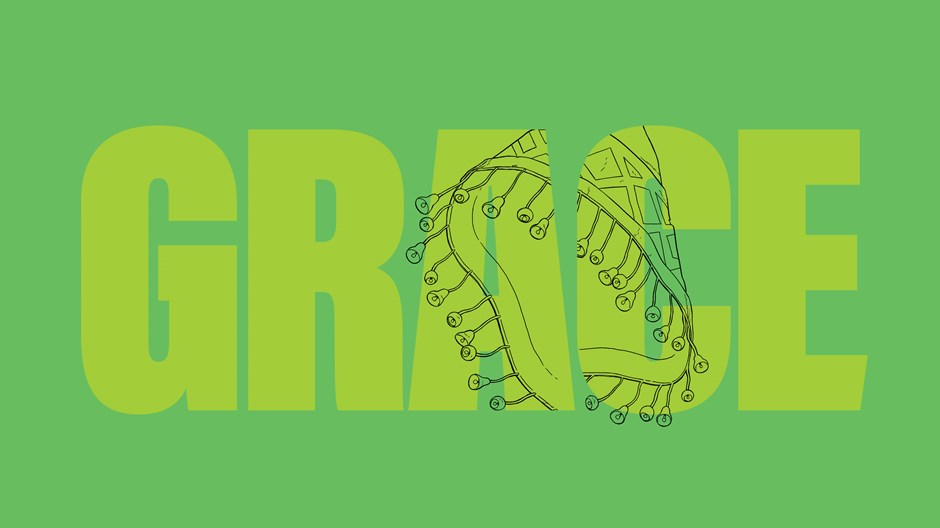 Image: Illustration by Simon Fletcher
In this Close Reading series, biblical scholars reflect on a passage in their area of expertise that has been formational in their own discipleship and continues to speak to them today.
In Paul's second canonical letter to the Corinthians, he hears the Lord say, "My grace is sufficient for you" (2 Cor. 12:9). For the first years after I made a profession of faith in Christ, these words brought me incredible comfort. At first, I interpreted them in terms of my own sins and shortcomings: When I was rude to my parents or gossiped about a friend, his grace was sufficient.
Later, I interpreted these words in terms of hardship or difficulty, like when I had knee injuries that ended my ability to run and play soccer and touch football—and so many other things that I enjoyed doing with my family and friends. Through those challenges and whatever other instability that I was experiencing, the graciousness of God was a strong thread. He truly was my ever-present help.
But one day, I found that things were different. During a season of prolonged chronic pain and illness, these words that had offered me balm morphed into a crushing stone, a suffocating weight that I couldn't throw off or pretend didn't exist. In church, all my friends stood with hands raised in rapturous joy, and everyone but me belted out the refrain to a popular worship song: "Your grace is enough." I sat in my chair, overcome by alternating waves of despair and rage. Joyful, healthy people surrounded me, singing. In a crowd of passion, I was alone.
When I heard some form of those words, I always found myself wondering, Your grace is sufficient? Sufficient for what, exactly? Questions like these consumed me.
It wasn't that I no longer trusted in God or that salvation would come eventually. It also wasn't that I no longer trusted God would heal and help those around me. I truly believed that God graciously answered prayers. But after a decade of pain, fatigue, and illness that left me hopeless and profoundly lonely, I no longer trusted that was true for me. I resigned myself to enduring, to simply surviving.
This despair led to plenty of dark places. When others offered me counsel, they often put Jesus forward as a model of faithfulness in suffering, and though I appreciated their care (and agreed with their premise), I would be thinking about the fact that the bulk of Jesus' pain took place in a week. Seven days. I admit that sometimes I found myself envious of his quick, though excruciating, death. (Like I said, I had some dark days.)
I'd been diagnosed with my first of many chronic conditions in 2007, and every year, things seemed to get worse. I spent most of 2015 in pain, constantly ill. It felt like someone had duct-taped barbells to my limbs. Every step I took felt hard, and some days I wept when I had to climb our stairs to go to bed.
I was completing a PhD in New Testament, constantly reading, writing, presenting papers, teaching, and still worrying about whether I was doing enough to get a job. I would push all day and then crash when I crossed the threshold of our home. Life felt impossible.
In hindsight, recalling how I felt, I do not understand how I could have been making progress in my work—except that research is sedentary and my husband is gracious. What I was conscious of in that time was the possibility that I might be doing this work in vain. If I could barely complete research, how could I ever teach full-time, as I dreamed?
My PhD research focused on spoken quotations in Hebrews. The author consistently portrays the Father, Son, and Spirit speaking words from Scripture. I had finished my work on what the Father says in Hebrews 1:5–13 and turned next to Hebrews 2:12–13, words the Son speaks.
The broader context of the latter passage highlights the humanity of Jesus, and as I wrote, I found myself ruminating on what it meant for Jesus to be made "fully human in every way" (2:17). Once I saw the emphasis on the humanity of Jesus in Hebrews 2, I saw threads like a web spread across every page. Jesus being human was crucial to the entire argument of Hebrews.
Hebrews 4:14–16 was also among the passages I researched. It remains one of my favorites in all of Scripture:
Since, then, we have a great high priest who has passed through the heavens, Jesus, the Son of God, let us hold fast to our confession. For we do not have a high priest who is unable to sympathize with our weaknesses, but we have one who in every respect has been tested as we are, yet without sin. Let us therefore approach the throne of grace with boldness, so that we may receive mercy and find grace to help in time of need. (NRSV)
This passage occurs at a very important point in Hebrews. Many scholars think this section (sometimes expanded to 4:11–16) serves as the author's transition from one major section to the next. These three verses contain several significant themes from the major section that follows (4:11–10:25). For example, though the author has already mentioned the priestly ministry of Jesus (1:3; 2:17; 3:1, 6), he is signaling that he will explain, beginning with 4:14–16, why it matters for the audience.
This passage and its surrounding context quite often are interpreted as shedding light on the superiority of Jesus to the Levitical priests (which builds upon the author's rhetoric around the better covenant in which Jesus serves, as referenced in 8:6) as well as perceived critiques of the Levitical priests. Many interpreters understand Hebrews 5:1–10 as a critique of the Levites, too.
But if you look closely, this passage is really about Jesus' own qualifications as a high priest. In other words, it's not a contrast; it's a comparison. This passage presents how important it is that Jesus is human, because "every high priest is selected from among the people" (5:1).
Returning to Hebrews 4:14–16, what I noticed was the fact that, in the midst of an argument about whether Jesus (the non-Levite) is qualified to serve as a priest, the author of Hebrews emphasizes Jesus' ability to understand the people he serves. He is able "to empathize with our weaknesses" and "has been tempted in every way, just as we are" (4:15). This fits with the author's earlier picture of him as a "merciful and faithful high priest" who is "able to help those who are being tested" because "he himself was tested by what he suffered" (2:17–18, NRSV).
Many people miss the richness of Jesus' humanity in Hebrews because the book also portrays a mighty Jesus—one who is called the "exact representation of [God's] being" (1:3) and who "laid the foundations of the earth" (1:10).
For depictions of Jesus' humanity, readers often turn instead to the Gospels. Some even seem to worry when the humanity of Jesus is stressed—as if it were at odds with his divinity.
In Hebrews 4:14–16, the emphasis on Jesus being human is unmistakable. Yet the author marries this picture of Jesus who is tested in every way with the fact that he is the Son of God who passes through the heavens (v. 14). Jesus is fully human, and he is fully God. Both are reflected in the Christology of Hebrews.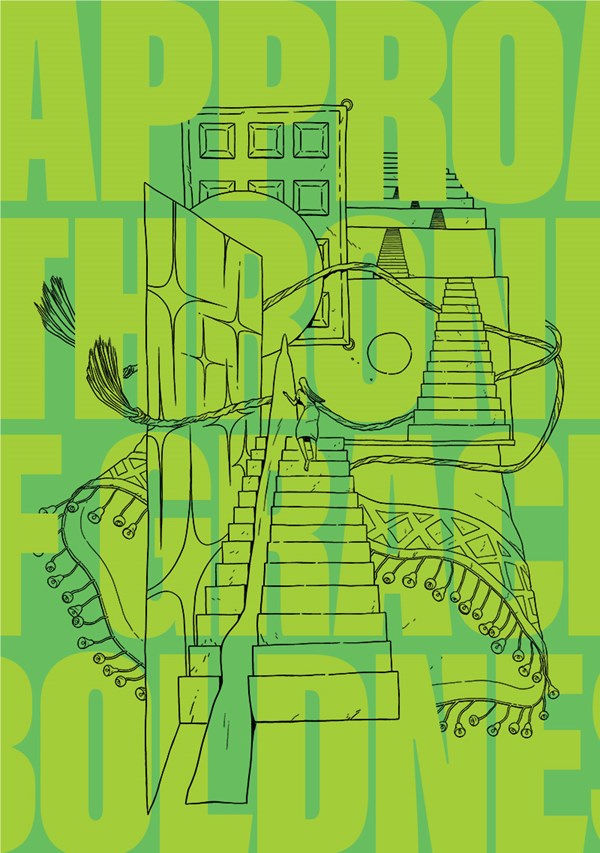 Image: Illustration by Simon Fletcher
Once these concepts came together for me, I understood that Passion Week was only a glimpse of Jesus' suffering. Although the most pronounced challenges that he faced occurred that week, he experienced weakness in the form of hunger (Mark 11:12) and fatigue (John 4:6) and presumably pain all throughout his earthly life.
Additionally, his omniscience married with his experience as a human being is something that warrants further theological reflection. After all, what pain does Jesus not comprehend?
Dragging myself up the stairs, willing my legs forward inch by inch, I fixed my eyes on Jesus, as the author of Hebrews urges us to do (12:2).
But when I looked, he was not sitting comfortably at the top, waiting. Jesus dragged himself up the stairs too. Jesus was weary and in pain. And he was with me.
This picture of solidarity transformed me. God was not asking me to endure anything that he had not endured himself. As I fixed my eyes on him, I realized that I could now see him more clearly, but he had never lost sight of me.
I'm not sure I have found the "right" answer to the question of what God's grace is sufficient for, but when those words hurt, I can say, "Your grace is sufficient for me because you are with me."
This new understanding of Hebrews 4:14–16 has also affected my relationships. Seeing that Jesus was empathetic and merciful to others because he was with them changed how I spoke to those in pain around me. For a while, I had been avoiding various unhelpful platitudes when I spoke to those in pain or mourning, knowing how little help they'd been to me; yet I hadn't found replacement language.
What this fuller understanding of solidarity taught me is the importance of presence—of saying, "I'm so sorry that you're going through that" and of trying to understand their pain.
If we are intended to imitate Christ—or to approach him, per Hebrews—then surely his empathy is a part of what we are to make our own. We do not have the ability to take on the experiences of others, as Jesus took on flesh, but we can enter more deeply into their pain. These passages in Hebrews lead me to ask God for a deeper understanding of what those around me are experiencing so I can care for them well.
The author of Hebrews offers comfort in the here and now—grace from God for the present. So often in my season of pain, people pressed me toward the hope of potential healing; they prayed fervently that I would experience relief. Those prayers were not misguided. Nor were they malicious. But they did not offer me the same comfort.
As I found solidarity with others experiencing chronic pain and illness, I heard them recount similar frustrations. We knew that prayers for healing were good and represented a trust in God's power, but we did not know if healing was God's will. We needed prayer and hope for where we were.
Ultimately, hope did not come in the form of healing for me. Hope came through a dear friend, also struggling due to the onset of a chronic illness, and hope came through the theology of Hebrews.
A year or two after I finished my research on Hebrews 4, another friend asked me to share about my faith in light of my chronic pain and illness. As I prepared, I realized just how gracious God had been to me. I had fallen in love with Hebrews during my undergraduate degree because I was fascinated by the author's use of Scripture and the priestly imagery. I had been drawn into this text, and now spending time with it was my job. But as I worked, just as God spoke through the prophets (1:1–2), he spoke to me through his Son.
Madison N. Pierce is an associate professor of New Testament at Western Theological Seminary and the author of Divine Discourse in the Epistle to the Hebrews.
Have something to add about this? See something we missed? Share your feedback here.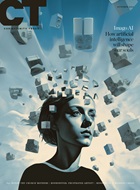 This article is from the October 2023 issue.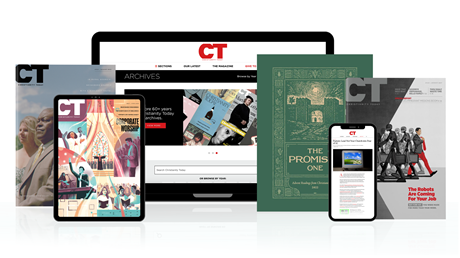 Annual & Monthly subscriptions available.
Print & Digital Issues of CT magazine
Complete access to every article on ChristianityToday.com
Unlimited access to 65+ years of CT's online archives
Member-only special issues
Subscribe
My High Priest Understands My Pain
My High Priest Understands My Pain