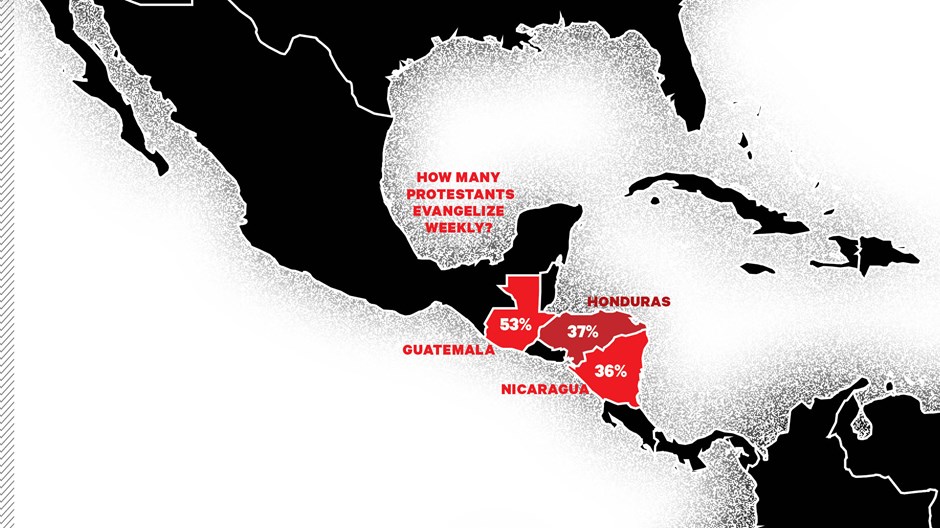 Durante la mayor parte del siglo pasado, casi todos (más del 90%) los latinoamericanos eran católicos. Pero décadas de desgaste han dado lugar a un registro de 1 en 5 latinos que ahora se identifican como protestantes.
Guatemala, Honduras y Nicaragua lideran el camino, donde los protestantes constituyen 4 de cada 10 habitantes de cada nación. Pero los protestantes en esos 3 países divergen en muchas medidas de lo que es una creencia y práctica ortodoxa, de acuerdo con un estudio detallado de 19 países y territorios de América Latina por el Centro de Investigación Pew.
Los protestantes de Guatemala están discutiblemente entre los más maduros. De los 19 grupos encuestados, ellos tienen la mayor probabilidad de evangelizar semanalmente (53%), de creer que sólo Cristo lleva a la vida eterna (74%), y de exhibir un alto compromiso (75% oran diariamente, asisten a servicios semanalmente, y consideran la fe algo muy importante). Incluso los de su Generación delMilenio o Generación Y (aquellos que nacieron entre 1980 y 2000 aproximadamente) son los más religiosos (71% son altamente comprometidos).
Los protestantes en Nicaragua y Honduras son más variados. Sólo 1 de cada 3 comparten su fe cada semana. Cerca de 6 de cada 10 están muy comprometidos a asistir a la iglesia y a orar. En cuanto al acceso exclusivo del cristianismo a la vida eterna, sólo dos tercios de los hondureños y la mitad de los nicaragüenses están de acuerdo. Y sólo el 45 por ciento de la Generación del Milenio de Nicaragua está muy comprometido con su fe.
Además, los protestantes de Honduras se encuentran entre los más sincretistas de América Latina, con el 42 por ciento que exhibe medio a alto compromiso con las creencias y prácticas indígenas (una cifra que es superior a la de los católicos en la mayoría de los países de América Latina). Los protestantes nicaragüenses mostraron niveles elevados similares (35%), pero sólo el 24 por ciento de los guatemaltecos protestantes son igualmente sincréticos.
La demografía no explica las diferencias. En cuanto al sincretismo, por ejemplo, sólo el 7 por ciento de los hondureños son indígenas, mientras que más del 40 por ciento de los guatemaltecos lo son. Si las raíces indígenas llevaron al sincretismo, esos porcentajes serían revertidos para cada país.
La educación no resuelve el rompecabezas tampoco. Los guatemaltecos ocupan el tercer lugar entre los protestantes latinoamericanos con más bajos niveles de educación; sólo el 25 por ciento tienen educación secundaria. Pero justo detrás están los hondureños (30%) y nicaragüenses (33%).
El aspecto misionero también falla en explicar las diferencias. Aproximadamente 1 de cada 3 protestantes en Honduras y Nicaragua dice que su iglesia mantiene estrechos lazos con las iglesias de Estados Unidos. Sin embargo, sólo el 22 por ciento de los guatemaltecos dice lo mismo.
Queda una posible explicación: un crecimiento rápido versus uno lento. En 1996, una cuarta parte de los guatemaltecos se identificaba como protestante. Pero Honduras y Nicaragua no vieron un crecimiento protestante constante hasta 1997 y 1999, respectivamente, según la encuestadora chilena Latinobarómetro. Honduras cruzó la marca de 25 por ciento en 2 años, en 1999; Nicaragua lo hizo en 2003.
Kurt Ver Beek, director del Programa de Honduras de Calvin College, cuestiona la idea de que los protestantes hondureños practican una fe menos madura que sus contrapartes guatemaltecos. Él cree que las diferencias encontradas por Pew tienen más que ver con los diferentes énfasis de las más antiguas y más grandes denominaciones protestantes y sus medios de comunicación.
"Puede solamente ser que esos temas se han predicados con mayor firmeza [en Guatemala]," dijo Ver Beek, señalando que muchas iglesias hondureñas ponen un mayor énfasis en no fumar, beber o bailar.
Guatemala tiene más mega iglesias que los otros países, dice Todd Hartch, autor de El renacimiento del Cristianismo latinoamericano. "Cuando las iglesias llegan a este tamaño, pueden tener escuelas, conferencias, estaciones de radio y programas de televisión."
Pero el tamaño y la familiaridad traen responsabilidades también. "En cierto sentido, la 'madurez' [en Guatemala], ha traído consigo la pérdida de la energía de la juventud," dijo Daniel Carroll Rodas del Seminario de Denver. Le preocupa que los escándalos recientes de pastores pudieran descarrilar el testimonio público. "El respeto moral . . . claramente no está allí como antes."
Puede ser que los protestantes no puedan seguir exitosamente "robando ovejas" de los católicos, dice Ver Beek, ya que los líderes católicos ahora se involucran más con los jóvenes, reclutan liderazgo más local, y ofrecen estudios más profundos de la Biblia y alcance a la comunidad.
"El crecimiento extremo en las iglesias protestantes ha empujado a la Iglesia Católica a volverse, en última instancia, más activa," dijo. "Cosas buenas y emocionantes están sucediendo."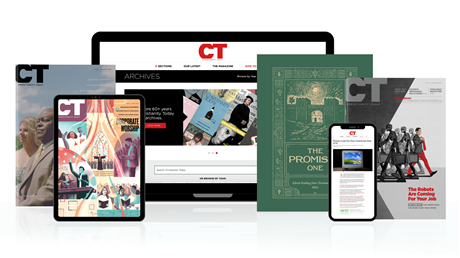 Subscribe to Christianity Today and get access to this article plus 60+ years of archives.
Home delivery of CT magazine
Complete access to articles on ChristianityToday.com
Over 120 years of magazine archives plus full access to all of CT's online archives
Subscribe Now
Cuidando las ovejas "robadas" en el floreciente cinturón bíblico de América Latina
Cuidando las ovejas "robadas" en el floreciente ...