Subscribe to this Podcast:
Renee Begay is no stranger to feeling unsure of where she belonged. Growing up in Pueblo of Zuni, Renee was blessed by being surrounded by the cultures and traditions of her people; the Sandhill Crane Clan flows within her. Yet, when she gave her life to Christ, the joy of knowing her Creator also came with the pain of figuring out what her new reality meant for both herself and her family. Join us as we discover how our cultural traditions and where we come from can help give us more confidence as we embrace our new lives in Christ.
Guest Bio:
Renee Kylestewa Begay is from the Pueblo of Zuni in Southwest New Mexico. She is a mother to three daughters and married to high school sweetheart Donnie Begay. During her undergrad, she founded the Nations movement—a national ministry that seeks to build relationships with the Native American community.
Renee currently works as the national director for Nations, is a conference speaker, and manages a resource website called The Talking Circle with her husband.

Read more from CT:
https://www.christianitytoday.com/ct/2017/may-web-only/jesus-frybread-of-life.html https://www.christianitytoday.com/ct/2023/september/naiits-indigenous-christian-seminary.html
Notes & Quotes:
And so just being respectful by praying the way they prayed and listening to their prayers. . . . My ears and eyes were open to just this new experience. But then also knowing like, "Oh, I have a different way of living when I go back home. And these people don't know that." And somehow I wish that they did.
If I do decide to follow Jesus, it's a very different introduction into what could be. And I know that even being in Christian environments, the gospel was always presented as it's an individual decision that you need to make. But to me it wasn't. It was like, this is a very collective decision. It might be an individual decision for me to make, but I know that it's going to affect the rest of my community.
So then what does that do to my identity? Am I not really Zuni? And so a lot of it was just like, if I do decide to follow Jesus, am I going to be kicked out of Zuni? Am I going to be denied my Zuni identity? And it was a really big fear that I had.
There were times where I was just so overtaken by this zealous faith, but I didn't really know how to do it in a way that was loving and respectful. . . . that really paved the way for a lot more trust-building with my family in the later years, because our silence together has really opened up a lot more engagement of the senses of not just the speaking, but more watching the hearing, the posture of how we interact as a family.
We [Indigenous people] need that space, because, over hundreds of years, we've been told how to believe. We've been told what to believe. We've been told what to wear. We've been told how to wear it. We've been told how to speak. Those things were stripped of us, and there needs to be a place or a chance or a season or just an awareness for Indigenous peoples to be able to self-theologize. We need a space to be able to make mistakes theologically. We need a space to be able to pose questions that are hard. If we can't do that, then where can we do it?
Links Mentioned:
Visit Renee's The Talking Circle website to learn more about her and Donnie's work with Nations and indigenous communities around the country.
Learn more about
Visit our website to sign up for emails. Get new episodes sent straight to your email.
Tell us how much you love Where Ya From? by rating us five stars and leaving us a review.
Check out our VOICES Collection from Our Daily Bread Ministries
Follow Where Ya From?on Instagram.
Follow VOICES on Instagram.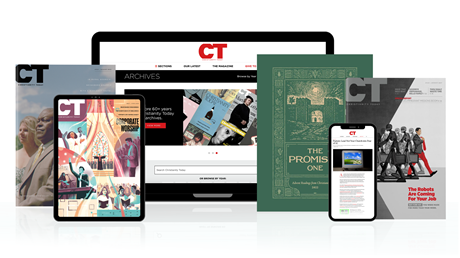 Annual & Monthly subscriptions available.
Print & Digital Issues of CT magazine
Complete access to every article on ChristianityToday.com
Unlimited access to 65+ years of CT's online archives
Member-only special issues
Subscribe
Would Jesus Eat Frybread? with Renee Begay
Would Jesus Eat Frybread? with Renee Begay