What US Sen. Tim Scott Taught Me About Leadership
Lessons for building a successful team.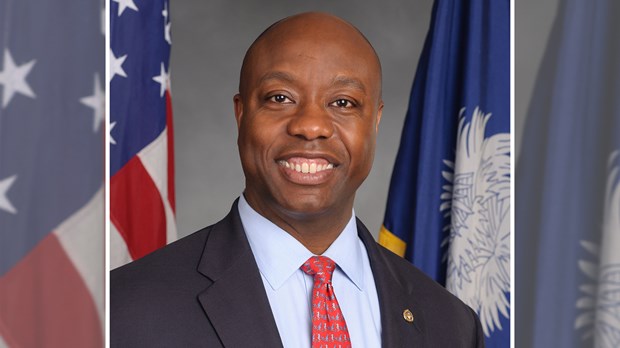 Image: www.scott.senate.gov/official-photo
The success of any organization––a family, local church, business, or government––is rooted in effective leadership. I recently attended the 13th annual Charleston Leadership Breakfast in Charleston, South Carolina. The purpose of the event is to bring together local Christian leaders to minister to the community and change lives. At breakfast I was seated at a table with US Sen. Tim Scott of South Carolina. We were able to connect for about 30 minutes and to talk about growing up and his faith story.
I must admit I was a little skeptical when he started sharing his faith story until I began to ask him deeper questions, and he responded with rich, theologically-dense answers, seasoned with personal conviction. As his convictions of faith in Christ and transparency challenged my skepticism, I felt compelled to ask him some leadership questions.
I'm a perpetual student of leadership, so I always want to learn especially from people who lead in high-pressure vocations that affect thousands of lives. He was a perfect person to learn from.
Last week, Scott became the first African American senator to win election in the South since Reconstruction. He is also the first African American to have been elected to both the US House of Representatives and the Senate. I asked him what was the key to building his team. He told me that he built it around loyalty and competency.
Loyalty
One of the greatest gifts you or I could ever give someone is our loyalty. In essence, loyalty means that I am committed to you. I am committed to seeing you accomplish your task. Scott surrounds himself with people who are loyal to him and his vision of leadership as a US senator. He told me that many of his team members are people who have been with him from the beginning.
Loyal people don't tell you what you want to hear, but what you need to hear.
Loyal people don't tell you what you want to hear, but what you need to hear. Loyal people are not yes men but true friends: "Wounds from a sincere friend are better than many kisses from an enemy" (Prov. 27:6, NLT).
Pastor, in your ministry do you have loyal teammates who are committed to the vision of your church and willing to speak out when they see you heading the wrong way?
Competency
Scott said he looks for competent people to be on his team as well. Competency means people who have the skill set to fulfill their tasks and expertise in specific areas of need. In the church world, this is an area where we can and must do better. God has uniquely gifted each of us with specific skills and abilities that can and should be developed so we may serve with excellence and competency in the areas he has set out for us.
It is the duty of leadership to equip and develop people more effectively for church ministry. Having an incompetent person in a ministry leads to frustration, failure, and hurt. Leadership development is key to effective organizations, including churches.
Pastors and other church leaders, are you investing in developing the competency of your teams? Are you identifying people who have the skills needed to complete the task?
US Sen. Scott achieved his historic win with a loyal, competent team of experts that inspired voters to believe in his vision for South Carolina and the nation. May his leadership advice help you build a great team. Who knows? You might make history, too.
Marinate on that.