Dear Andy Stanley, Please Be the Small Church's Ally, Not Our Enemy
A plea from the 90 percent about "that" sermon you preached.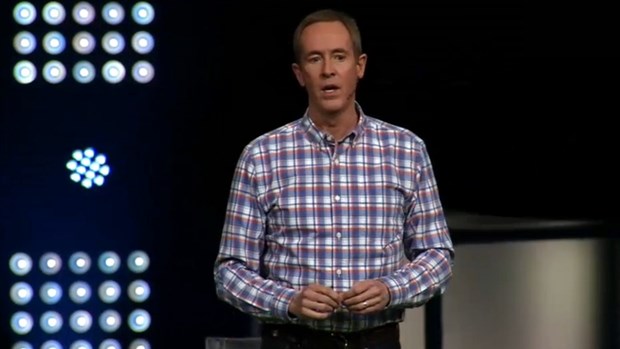 (This post has been updated – twice – with Stanley's apolog(ies). Scroll down to see them.)
I hate situations like this.
I just listened to a sermon from a guy I like, who insulted me, my church and 90 percent of the churches on earth for no good reason.
For over three years I've been blogging on the value of small churches. I've also written a book about it.
I don't prefer small or big churches. They all have value.
In everything I've written, I've been very careful to state that I don't prefer small or big churches. They all have value. In fact, the subtitle of my book, The Grasshopper Myth is Big Churches, Small Churches and the Small Thinking that Divides Us.
But now Andy Stanley – a guy I like, though we've never met – has engaged in some seriously small thinking by using some of the strongest insults I've ever heard uttered in a public forum against small churches.
Here are the two relevant quotes.
"When I hear adults say, 'Well I don't like a big church, I like about 200, I want to be able to know everybody,' I say, 'You are so stinking selfish. You care nothing about the next generation. All you care about is you and your five friends. You don't care about your kids…anybody else's kids.' You're like, 'What's up?' I'm saying if you don't go to a church large enough where you can have enough Middle Schoolers and High Schoolers to separate them so they can have small groups and grow up the local church, you are a selfish adult. Get over it. Find yourself a big old church where your kids can connect with a bunch of people and grow up and love the local church."
"Instead… you drag your kids to a church they hate, and then they grow up and hate the local church. And then they go to college and you pray that there will be a church in the college town that they connect with. And guess what? All those churches are big."
When I heard about this sermon from all the messages that have been blowing up my inbox, I figured the quotes had to have been taken out of context. So I listened to the sermon for myself. Unfortunately, the context didn't help.
Here's a link to Stanley's sermon. The quotes in question start at around 15 minutes.
(UPDATE: Shortly after posting this, I saw the following tweet from Andy. "The negative reaction to the clip from last weekend's message is entirely justified. Heck, even I was offended by what I said! I apologize."
Pivot is a part of CT's Blog Forum. Support the work of CT. Subscribe and get one year free.
The views of the blogger do not necessarily reflect those of Christianity Today.
Join in the conversation about this post on Facebook.