4 Reasons Our Church Stopped Doing 'Come and Watch' Events (And 5 Alternatives)
When a first-time guest comes to a church, they should see our faith at its deepest and best.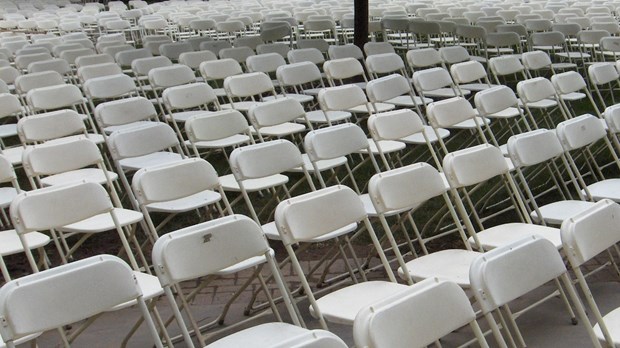 Many churches have experienced great success and growth doing big 'come and watch' events.
Even if choir cantatas on Christmas and Easter have been replaced by an illustrated message with stage design, lighting and video, the idea is the same – to draw people in so we can present the gospel to them.
The big 'come and watch' event may still work in some places, but many church leaders (like Carey Nieuwhof, in a recent helpful post) have found that they work less well than they used to – or we thought they did.
Several years ago, our church stopped doing 'come and watch' events on special Sundays, like Christmas and Easter. Then we stopped doing them altogether.
Here's why:
Why We Stopped 'Come and Watch' Events
1. It Encourages Passivity
A person's first encounter with a church sets the stage for everything to follow – including what they think is most important to us.
A person's first encounter with a church sets the stage for everything to follow – including what they think is most important to us.
When that first encounter is 'enjoy the show we're putting on for you,' they have every right to expect that this is what we're about – a weekly show for passive consumers of religion.
As I mentioned in a previous post, an attitude of 'Sit Back, Relax and Enjoy the Service' is probably hurting more churches than it's helping – even if the crowds are getting bigger.
2. They Cost More Than They're Worth
I've been a volunteer and a staff member at churches that did the all-hands-on-deck push for three to four months for our Christmas and Easter musical spectaculars. We often did very good work, and it was something I enjoyed.
But not once, after one was over, did we say "Wow! So many people came to Christ! That was so worth all the time, energy and money!"
Mostly, we were just one stop for Christians on the holiday church tour. And that cost us more than the time, money and energy we expended. It often made the walls of the Christian bubble even thicker.
3. We Can't (and Shouldn't) Compete
I live and minister in Orange County, California. Not only are we just eight miles from Disneyland and 40 miles from Hollywood, we're less than a half-hour drive from the original Calvary Chapel and Vineyard churches, Saddleback church, Mosaic, Hillsong LA and more.
For decades, the Crystal Cathedral, mounted Easter and Christmas spectacles that people literally traveled from all over the world to see. And they're just 8 miles from us.
Pivot is a part of CT's Blog Forum. Support the work of CT. Subscribe and get one year free.
The views of the blogger do not necessarily reflect those of Christianity Today.
Join in the conversation about this post on Facebook.