An earthquake. A hurricane. The East Coast is having one tough month.
Princeton political scientists Chris Achen and Larry Bartels say that voters will blame incumbents for many disasters, including shark attacks. For example, counties that are hit with drought are more likely to vote against the president's party.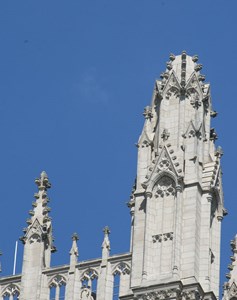 The effect is small—just a few percentage points—but real. Achen and Bartels find that incumbents are more likely to be blamed when the disasters are viewed as social or political disasters.
Even those who do not seriously believe God is sending a message with the week's disasters, the back-to-back disasters were fodder for humor at the expense of politicians.
GOP Presidential hopeful Michele Bachmann said at an event in Florida, "Washington, D.C. You'd think by now they'd get the message. An earthquake, a hurricane, are you listening? The American people have done everything they possibly can, now it's time for an act of God and we're getting it."
"Obviously she was saying it in jest," campaign spokeswoman Alice Stewart told Talking Points Memo.
With the current run of events, there are some who view the disasters as spiritual disasters, too. Some were quick to suggest divine retribution. As he has in the past, Pat Robertson saw the earthquake as a sign from God. Speaking as part of a weeklong "Sign of the Times" special on the 700 Club, Robertson saw a symbol comparable to the tearing of the Temple curtain following Jesus Christ's crucifixion.
"I don't want to get weird on this, so please take it for what it's worth, but it seems to me the Washington Monument is a symbol of America's power. It has been the symbol of our great nation, we look at that monument and we say this is one nation under God. Now there's a crack in it," Robertson said. "Is that a sign from the Lord? Is that something that has significance, or is it just the result of an earthquake?"
For many Americans, rare earthquake might be considered part of the dangers of life. A hurricane hitting New Orleans with flooding made worse by poor planning? That is not just a natural disaster; it's a political disaster.
Image: The National Cathedral, which was damaged in the August 23 earthquake.